This attacks are usually occuring because to gain more information data collection from the respective worlds. Soon after ISIS attacks in #Paris people are now curious to attack and get more information from ISIS to prevent future attacks.
[dropcap]T[/dropcap]he world was shaken by the recent attacks of the Islamic State to France. Obviously, the story was not cheap, and the country ruled by Francois Hollande hit back so almost immediate Last weekend, Tit for Tat. Russian, France, Germany, England and the USA is in a full strike over ISIS areas, the leaking of the exact location of ISIS such as Iraq and Syria – the hackers came front to help.
Want To Know the Current Cyber Wars? Click here
The independent hackers across the world as Anonymous and Ghost Security Group have shared the location of that ISIS depot. Now we can say that World War III might be happening at any time, the serious and tension situation going on the countries as Russia, France, England and the USA. It turns out that the war is not just happening in the real world, and a battle is being waged through virtual means. As shown in the site NORSE, fighting between nations has intensified in recent days.
See 'Live' CYBERWARS From Every Corner of The World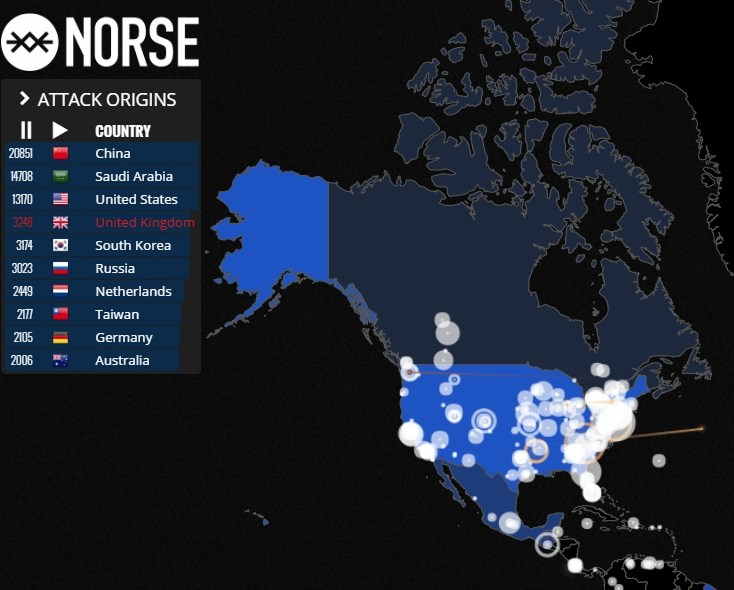 Every day there is alteast 100s of cyber attacks, the phishing attacks is from ISIS to acknowledge idea from where they should attack now and to where they should hideout from Russian missiles. During a monitoring almost four hours on Tuesday, we check how is the overall picture, which has been dominated by China and Saudi Arabia. These countries are the hits of champions, and they add up to nearly 40 000 attacks just in this short period of time.
The United States is the main target, having received more than 42 000 attacks in the time we left the page receiving updates. Obviously, the United States has been taking steps, being the third most active country among the attackers. Saudi Arabia and France are also getting attacks constantly.
Also Read:
The main technologies used for the attacks are Telnet, Netbios-ns and SMTP, but there are other methods that are constantly in this war. You can follow the virtual war clicking here. Unfortunately, no information on the damage caused, but the news comes slowly, showing that this fight still goes away.