Apple has finally unveiled the new and more powerful MacBook Pro. Apple Killed all the ports that you need in its new Macbook Pro.
Apple Kills Off All The Ports You Need in its New Macbook Pro
Yesterday Apple unveiled a long-awaited revamp of its MacBook Pro line in its "Hello Again" event in Cupertino, California. Apple had made some huge changes in its latest addition in Macbook Pro series. Apple's new MacBook Pro has a secondary display between the main screen and keyboard.
It is actually a Retina display which Apple named it as "Touch Bar". Touch bar has replaced ESC key as well as function keys. This retina display automatically recognizes the apps and show you different type of typing suggestions. The new MacBook Pro looks simply beautiful and the specifications are also promising.
The most striking change made in Apple's new MacBook pro is it eliminated the old-style USB ports for four smaller thunderbolts 3.0 ports. Apple also ditched MagSafe, which is the magnetic charging connector. Power supply to the laptop now can be done only via Thunderbolt ports.
If that is not enough then let me tell you that Apple has also removed the SD card Slot, Thunderbolt 2 ports, HDMI port and Standard USB port. Apple thinks that USB-C/Thunderbolt 3 are the ports of the future because they are smaller in size and all the way better than existing USB ports.
Users now need to buy USB to USB-C Cables, adaptors or a USB hub to connect the devices even Apple's own iPhone. By dropping the USB ports, Apple is simply pushing users to carry more dongles, adaptors, USB hub to connect their devices with the laptop.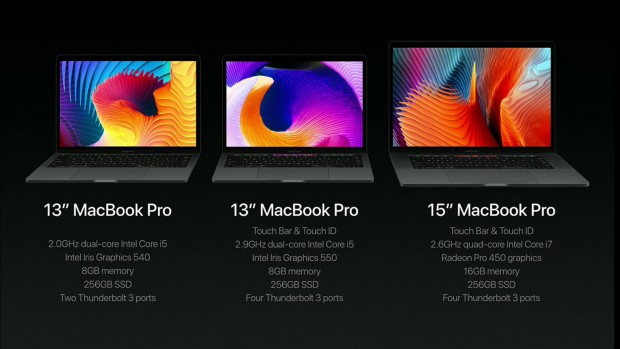 Apple's new MacBook Pro is available in both 13 inch and 15-inch versions. 13inch model starts from Rs 155,900 and the 15inch model starts from Rs 205,900. The specifications of new Macbook pro looks promising. So, what do you think about Apple's new Macbook Pro? Share your thoughts with us in the comment section below.