Let's have a look at some of the Best Google Earth Mods and Hacks that will help you to explore some of the hidden features of Google earth that we have discussed in the article. Have a look at the complete guide discussed below to proceed.
Google Earth is a superb map software for computer devices, with amazing content control and features to get the most advanced view of the earth. This Software is complete in itself, and there would be no need to modify it further. This tool has many applications, whether it is commercial, educational, or fun to use activity, and this is all because of its top-class versatility.
Although if you are still not up to the mark with the whole of the features and functionality on Google Earth and do want to have some more out of it, then for that, also this software has space. Users could easily extend the functions of this software by using some great plugins, all of which have been described below in the article. Just read out the article to know about the best Google Earth Mods and hacks too.
Also Read: How To Protect Your Google Chrome Browser With Password
5 of the Best Google Earth Mods and Hacks
Below are some of the best mods and hacks you need to know about Google Maps. So have a look at all these tricks below.
Also Read: 10 Tips and Tricks for Google Maps On Android
Access this feature of Google earth through the menu options Tools>flight simulator or press the "Ctrl + Alt + A" on Windows. On Mac, use the key combination "Command + Option + A". The box would be prompted after that from where you could select the airplane you wish to fly around various places on the Globe, just do your selections and start flying it through using the mouse and keyboard controls.
A Great multiplayer game that is based on Google Earth; it just explores the whole world and fights the creatures too. Collect the treasures and gain points in this game. To play this game, you need to have Google Earth v4.2 installed or the above version of the software.
Play the football game on the NFL field within Google Earth by using this simulator, and learn a lot about the football from this game which is actually not only the game but also provides great coaching stuff too.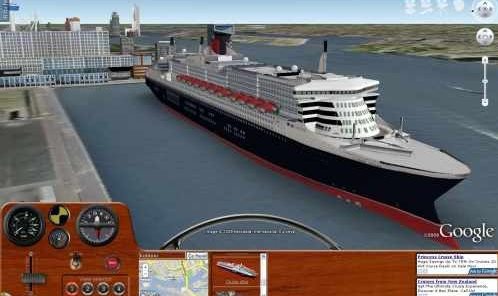 Want to experience the great Ships simulator on your Google Earth? Just try the Ships simulator. Yeah! the name would confuse you at first, but you would get to it soon. Play around the oceans on the earth and run the ships to various ports and all that at the speed of 2 Machs maximum.
Use the earth map to create your battlefield where you would acquire some place after fighting with the multiplayer playing online. Go through many different battle experiences using this one inside the Google Earth app only, and you wouldn't need to go out of it at any instant.
Also Read: How to get free Google Play Credits with Google Opinion Rewards
As you have read it now, you could easily extend the mobility of the Google Earths functionality by using external plugins and some tricks to modify and hack the various functions. You would also wish to use up these hacking and modify Google Earth plugins with your piece of software, so there is no point in denying it hence go and try it now only.