Casper (Snapchat Saver) is a custom client for Snapchat service where you can use your Snapchat account through Casper APK To bypass all the restrictions made by the official Snapchat app.
Free Download Casper (Snapchat Saver) APK Latest Version
We all have smartphones and computers. The digital world behind us is growing day by day. The growing numbers of Social networks are urging us to join and enjoy its features. If we talk about our Android smartphone, we use several instant messaging and social networking apps like WhatsApp, Telegram, Snapchat, and Instagram. These type of apps actually helps us to connect with our friends and relatives.
If we talk about Snapchat, it's is one of the popular multimedia messaging apps which is very much popular in North America and Europe. The app is created by Evan Spiegel, Reggie Brown, and Bobby Murphy, the former students of Stanford University, and developed by Snapchat Inc.
Well, all of these platforms let us share multimedia files like images, videos, and stories. However, these all social networking app have one thing in common, it restricts users from saving the media files to their Android smartphone. The same goes for Snapchat, the app doesn't permit users to save any image or videos shared to the platform.
Another thing is, Snapchat automatically deletes the media files within a few minutes after opening. So, after that, users have no option to see those deleted media files. So, to sort out this problem, we are going to share an awesome Android app known as Casper APK. Well, this is one of the best Snapchat saver app for Android that allows a user to save Snapchat photos, videos, and stories.
What Is Casper APK?
As we all know, Snapchat has gained some massive popularity overtimes. However, those who use this app will know that the app doesn't provide a feature to save those shared media files. In fact, a Snapchat app has some intentionally imposed limitations. So, Casper APK is a custom client for Snapchat service which bypasses many restrictions present in the official Snapchat app.
So, Casper apk is a custom client for Snapchat service where you can use your Snapchat account through Casper APK To bypass all the restriction made by the official Snapchat app. Not only these, but Casper apk also brings some new features to the Snapchat app. Another best thing about the Casper Android app is that you don't need to have a rooted Android smartphone to get additional features.
Talking about the features, the app actually has lots of features and the foremost feature is to let the user save snaps. When you save the snaps or media sent to you on Snapchat the person who sends them to you won't be alerted anymore. So, let's talk about some more features of Casper APK.
Features:
Casper hits at the main spot of Snapchat. Ever wished if you could save those temporary snaps permanently on your device? With Casper, you can! Casper will save all the Snapchat messages you send and receive without any hassle. People sending messages can't even know that their snaps are being saved from your end.
Snapchat can become boring when you have only a few filers. However, the Casper Snapchat app allows you to access more filters
With the help of Casper, you can send the received messages to your friends. This feature is not present in the official Snapchat app.
Casper APK has integrated emoji SDK into it, it allows users to search through the multitude of stickers options.
For users who are looking for more functions, Casper APK supports add-ons. There are lot more things you can do with this alternate IM client
If you have used GeoFilters with Snapchat then you will be quite at home with this feature, But you have to create them yourself and then load them into the Casper Apk Media Editor.
So, now that you have known a lot about Casper Apk, it's time to move towards the download section. However, make sure to download the app from trusted sources like us. Below we are going to share the latest version of the modded Snapchat app which you can use on your Android smartphone without any issue.
Steps To Download & Install Casper Latest APK On Android
Well, before we proceed to the installation steps, make sure that your device should be running on Android Jellybean or above. These are the minimum recommendation of the app. Therefore, if your device meets the requirement, then proceed to the installation guide given below:
Step 1. First of all, visit Apkmirror and Search for "Casper Apk".
Step 2. After downloading on your smartphone, you need to enable the Unknown Source on your device. For that, you need to visit Settings > Security > Unknown Sources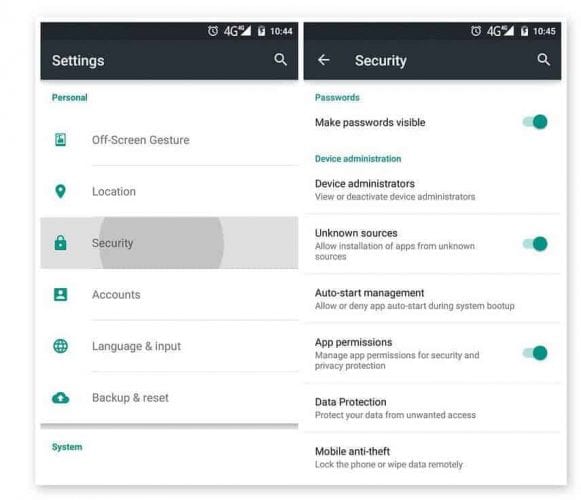 Step 3. Now browse the location where you have saved the Casper apk file and then install it. The installation process will automatically start on your Android.
Step 4. Now open the app from your Android's app drawer and accept the terms and conditions of the app.
Step 5. Now you will be asked to log in with your Snapchat account, where you need to log in with your original account.
That's it, you are done! This is how you can install Casper APK on your Android smartphone. Isn't it was easy? Now you can enjoy all the benefits of Casper on your Android smartphone. If you are facing trouble at any step mentioned above, discuss with us in the comment box at the end of this article.
Frequently Asked Questions
This is one of the most popular questions that users search before installing the apk file. Well, it's safe to use because it's just a modded version of Snapchat which brings some extra new features. There are many people who are using this app for the last two years and everything is going pretty well.
There Are Few Other Mods Available, which one is best?
Well, this is one of the most important questions and a genuine one. If you're going to install the Casper Apk on your Android, then without any doubt you will love the app for sure. The main reason behind why people love this modded version of Snapchat is that it brings some features which are restricted to the official version. So, obviously, Casper is better!
Does Casper Need To be Rooted Smartphone?
No, you don't need to have a rooted Android smartphone to enjoy this awesome app. Casper is meant to be run on a rooted and non-rooted smartphone.
Using The Modded Version Will Ban Me?
Well, a few days back, we came across the news that Snapchat is putting a ban on those user accounts who are using the modified or cracked version of the Snapchat app like Casper Apk. However, let us tell you that the latest version of Casper carries an anti-ban feature which makes sure that you don't face a ban anytime shortly.
Casper APK for Android is undoubtedly one of the best media saving app you will ever use. The Apk file actually contains many features which you will find super useful. Whenever any new update will release in future, we will update the article in the future with a download link. Make sure to bookmark this web page and visit regularly for more awesome stuff like Casper Apk. So, what do you think about Casper Apk? Discuss with us in the comments below.