Earlier this month, Google launched two new flagship smartphones – Pixel 5 and Pixel 4a 5G. Out of these two, it was the Pixel 5 that is receiving love from all parts of the world. As expected, Pixel 5 comes with some great specs and price.
Along with the specs, the new smartphone also offers a set of wallpapers. What's more interesting is that Google has released two new categories of wallpapers in Google's Wallpaper app for Pixel devices.
Download Pixel 5 Wallpapers on any Android
So, if you are interested in trying out the new wallpapers of Google Pixel 5, then you are reading the right article. In this article, we are going to share the best method to get Pixel 5 wallpapers on any smartphone.
1. Using WalP
Well, WalP is an Android app that extracts and lists all stock wallpapers of different phones. As of now, WalP has over 30+ brands stock wallpapers. You can use the WalP Android app to download the Pixel 5 wallpapers.
Step 1. First of all, download & install WalP on your Android smartphone from the Play Store.
Step 2. Once installed, open the app and grant the permissions.
Step 3. Now tap on the 'Home' button as shown in the screenshot below.
Step 4. Now scroll down and find 'Google'. Next, tap on the 'Models' button.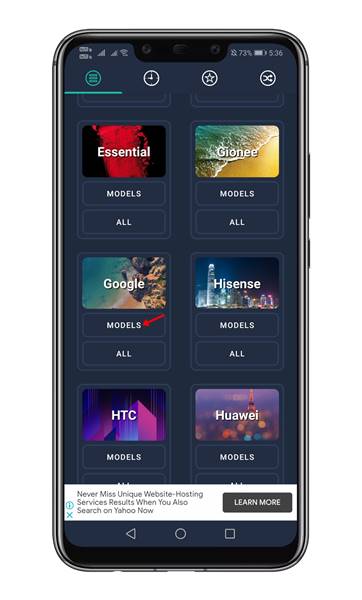 Step 5. On the next page, tap on the 'Google Pixel 5'
Step 6. Now you will see all available wallpapers of Pixel 5 smartphone.
Step 7. To download the wallpaper, tap on the 'Save' button.
Step 8. If you want to set the wallpaper on the home screen, tap on the 'Set' button.
Step 9. On the next popup, select whether you want to set the wallpaper on Home Screen, Lock Screen, or Both.
2. Download Pixel exclusive wallpapers
As we have already mentioned above, along with the stock Pixel 5 wallpapers, Google also introduced two new categories of wallpapers in the Wallpapers by Google App. However, the exclusive wallpapers were only available for Pixel devices.
If you want to download the newly released Pixel exclusive wallpapers, then you need to check out this post from XDA developers.
Google Pixel 5 Specification
Compared to previous Pixel phones, Pixel 5 arrives with a fresh new design, with a punch-hole camera up front for selfies. On the front, there's a 6-inch display with a 90hz refresh rate. If we talk about the hardware specifications, the Pixel 5 smartphone is powered by a powerful Snapdragon 765G Processor.
Other than that, you get 8GB of RAM and 128GB of onboard storage. If we talk about the battery, the phone supports 18W of fast charging to fill up a 4,080mAh battery.
If we talk about the camera specification, Pixel 5 offers a 12.2 MP primary camera with EIS and OIS. Along with that, it also provides a 16 MP ultra-wide lens. On the front, there's an 8MP selfie shooter with Night shot capabilities.
So, that's all from us for today. You can easily download Pixel 5 wallpapers on any Android by following the method that we have shared. I hope this article helped you! Please share it with your friends also.