In a time span of just a few years, short-form videos have completely taken over the internet. Well, the culprit behind this is none other than the insanely popular social media platform Tiktok.
If you prefer downloading TikTok videos from your favorite creators to watch them offline or you simply want to backup your TikTok account then you need a feature-packed and easy-to-use TikTok Downloader.
In this article, we have shared details about a feature-packed TikTok Downloader that goes by the name 4K Tokkit. So without further ado let's get started.
How To Download TikTok Videos On PC
With a simple google search, you can find countless apps and services that can help you download TikTok videos. Sadly, most of these services are fake or simply do not work as intended.
So if you are a TikTok content creator or an active TikTok user who regularly downloads TikTok videos then 4K Tokkit will definitely impress you.
This cross-platform desktop application supports mass TikTok video download and gets the job done without much effort.
4K Tokkit can be installed on any modern laptops and desktops that run on mainstream OS like Windows, macOS, and Ubuntu.
Three Major Highlights
In this section, we have shared the three noteworthy features of 4K Tokkit that are super useful and help the app to stand out from the crowd.
1. Clean And Intuitive Interface
4K Tokkit has a very well-developed and easy-to-navigate user interface. Everything is placed where it needs to be and first-time users can straight away get started.
The search bar can be used to search for accounts, hashtags, or even songs. Once you have found the TikTok you want to download simply press the big pink Download button.
2. Bulk Download Support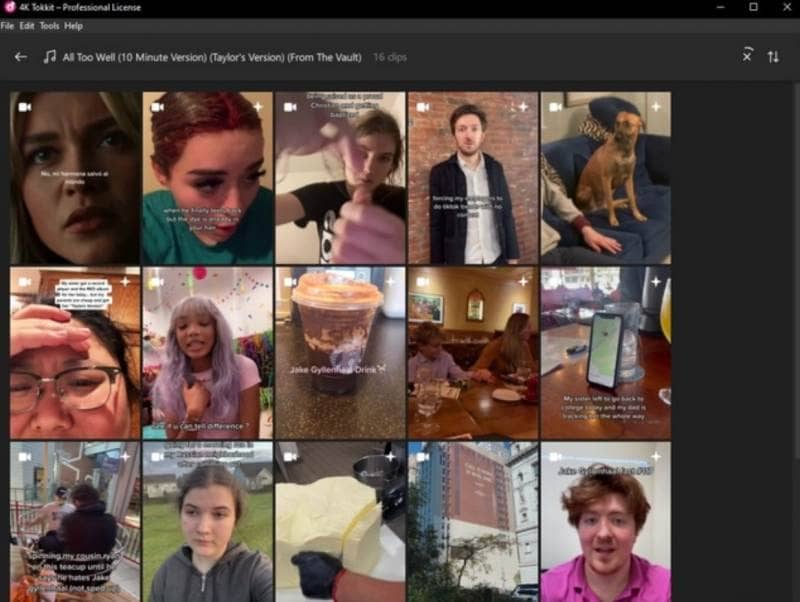 Downloading one video at a time can be quite frustrating. It will be a nightmare if you want to backup your profile or download all of the TikToks of your favorite creator.
Luckily, bulk download support in 4K Tokkit completely resolves this problem.
4K Tokkit allows users to download all of the TikToks from their preferred account in one go.
Auto-downloads acts as icing on the cake as it automatically checks for new clips periodically and makes the entire download process automated.
3. Great Upcoming Features
You will be surprised to know that the team behind 4K Tokkit adds new features to the program on a regular basis.
Some of the great features that will soon be launched for 4K Tokkit are the ability to save TikTok clips individually with just a URL, access to private content and recommended clips, and the ability to change TikTok location.
Once these features are released you can simply update the app to use them instantly.
How To Use 4K Tokkit To Download TikTok Videos?
Luckily, 4K Tokkit is one of the easiest software to use. However, we would still share an easy-to-follow tutorial for first-time users.
NOTE: Before downloading the app on your computer please ensure that your PC supports the operating system requirements for running 4K Tokkit.
System Requirements:
Windows (version 7 and newer)
macOS (version 10.13 High Sierra and newer)
Linux (Ubuntu 18.04 and newer, 64-bit only)
Now follow these simple steps to download and install 4K Tokkit on your PC,
1. Firstly, download the 4K Tokkit setup file from the official 4K Download Website.
2. You have to now install the setup file on your PC and launch the program. To do so, simply follow the on-screen instructions.
3. Lastly, search for your favorite creator and press the pink download button.
Pricing And Availability
Since 4K Tokkit is a computer software it can be used anywhere in the world. The only thing you need is a computer running any mainstream modern OS.
As you might have guessed by now, 4K Tokkit is available for free. That said, it's worth noting that there are certain limitations to the free version of this app.
In order to remove the limitations, we advise our readers to acquire a pro version of 4K Tokkit. It's a worthy purchase and a must-have for both content creators and active TikTok users.
The Personal plan that retails for $15 gives you access to 10 account subscriptions and 500 daily video downloads. On the other hand, the Pro plan that costs $45 offers features like video captions, URL exporting, and commercial use permit.
All of the paid versions of the app are completely advertisement free.
We hope that after reading this article you have learned all about the feature-packed Tiktok downloader 4K Tokkit. If you have any questions or thoughts and opinions on this useful software then do share them in the comments section below.