Sometimes you forgot your user account password in windows, and you can't access all your files and folders. So, we will share a method that will help you crack your Windows password. You need to follow some of the simple steps discussed below in the post. Today most of our users are using Windows as an operating system in their laptop and computer, and as we all know, windows have lots of features and lots of vulnerabilities. However, in windows, sometimes you forgot your user account password, and you can't access all your files and folders.
Hence, you have only one option to format your windows operating system at that time. However, it leads to loss of data which does not appear to be a better choice. So, we will share a method that will help you crack your Windows password. You need to follow some of the simple steps that we have discussed below, and after that, you can easily reset your forgotten password.
Also Read: How To Find and Kill All Remote Connecting Malware On Windows 10
Note: This tutorial is just for educational purposes. All contents of this article are provided for information and educational purposes only.
How To Crack Windows 7, 8 & 10 Login Password
This method actually works on the boot screen. That is the only way to access the internal settings of windows that will Hack Windows Password for you. It would be best if you had a windows bootable Pendrive that will allow you to reset the settings of the current windows. Now follow some simple steps discussed below to proceed.
Also Read: How To Fix The Windows 10 Slow Boot Issue
Method 1: Using a Windows 10 Bootable USB"
Steps To Crack Windows 7, 8 & 10 Login Password
Step 1. First of all, create a bootable Pendrive/CD/DVD of current windows (e.g., we use windows 8.1). Now insert that bootable media in your computer and restart your computer. We can go through our post How To Create Windows 10 Bootable USB/Pendrive if you need any help regarding creating Bootable windows Pendrive.
Step 2. Now, as soon as the computer starts, click on the F12 button to select the bootable media to boot, or you can change the priority order of the bootable device by going into BIOS settings. When you media boots, it will ask you to press any key to boot; just press any key on your keyboard.
Step 3. Now windows will start loading their select language and then click on the next option. Now select Repair Your Computer, and after that, select troubleshoot option there.
Step 4. Now select Microsoft Diagnostics & Recovery Tool and then click on next.
Step 5. Now there at next option select your OS type
Step 6. Now you need to select Locksmith Option and click on the next option.
Step 7. You can now select any of the accounts whose password you want to change. Select any of the accounts, change the password, and type a new password and then confirm the password.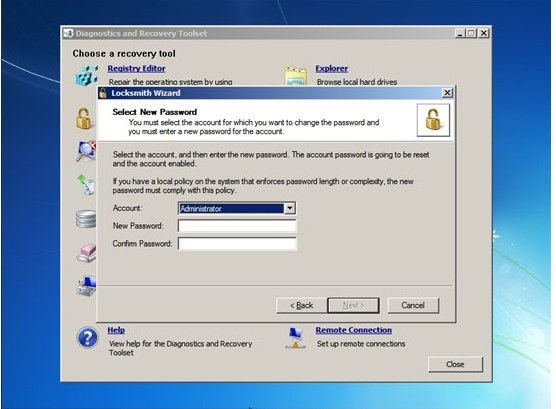 Now click on the Finish button and restart your computer.
That's it! YouWhenu comes to a login screen; just enter the password you have set, and you will get logged in.
Method 2: Using TunesBro WinGeeker Ultimate
TunesBro WinGeeker Ultimate Windows Password Recovery is another great utility you can use to easily crack the password for Windows 10, 8, and 7 machines. It is intuitive and user-friendly, and you only need to go through a few steps before your PC is unlocked.
The software works by using a built-in application to create the password reset disk on a different computer, after which you only need to insert the media into the locked PC and let the program do its job.
There are several reasons why this method is recommended.
First of all, with most other methods, there are problems like data loss, data corruption, etc. With this particular method, you don't have to worry about any data issues because the software doesn't touch your data. All it does is remove the password for the user or admin account you specify, as you'll see in the process section below.
Another reason to do it this way is that you don't need any additional utilities or programs. With other software, you will often need an ISO burning application separate from the password reset tool. Also, some programs require you to input commands in the command prompt. Any mistakes here, and you could end up doing something that you weren't supposed to.
Finally, you won't have to manipulate the ISO file with this software to create bootable media. Since this functionality is built into the software, all that's required from you is an additional PC, and that's because your system is locked, and you can't access it before you crack the password. Once you have this, all you need to do is carefully follow the simple stepwise instructions below, and you'll be accessing your Windows machine in no time.
We've described the specific steps to get it done quickly and easily. Just follow them and unlock any Windows 10, 8, or 7 PC.
Step 1: Download and install TunesBro WinGeeker Windows Password Recovery from the authorized website onto a different PC with an account that has admin rights.
Step 2: Now launch the software and insert the USB drive or DVD/CD for the bootable media, and you will be able to see the burning options on the interface. Select the appropriate one. The software will automatically detect the storage device once you insert it.
Step 3: Next, select the ISO file with the correct Windows version, select the user for which the account is locked, and click on "Reset Password."
Step 4: That's it. Once the password has been reset, click on "Reboot," and your system should boot up normally, allowing you to log in without a password. Your Windows password has officially been cracked!
Both these methods work, but Method 2 is obviously the one with much less user input. Since the software has everything built-in, you won't need any additional utilities, plugins, command inputs, or anything. The application's convenience makes millions of users around the trust and uses it for all their Windows password recovery needs.
By this simple method, you can easily reset the password of any account in any version of windows just with your magical media device and your magical brain that you will use to implement this method. I hope you like the discussion, don't forget to share it with your friends and leave a comment below if you need any help.