Good news for the iPhone users! Reliance Jio just announced amazing offers only for its new iPhone customers.
Do You Own An iPhone? Don't Miss This Mind-Blowing Offer By Jio!
Reliance Jio till now offered high-speed mobile Internet to the 90% of the Indians along with the voice calls and messaging services. Reliance Jio which was previously available to users of only Lyf Smartphones had launched a preview offer for its JIO Sim and extended its services to many other smartphone manufacturers too.
A few months later, the company then extended the service to the small range of Samsung smartphones like Samsung J series, the A series, as well as flagship Samsung Galaxy S and Galaxy Note series. Later it was made available for almost all Android phones.
However, now it's time for iPhone users! Mukesh Ambani-led Reliance Jio will now offer services to iPhone users which are worth Rs. 18,000 and include free voice calls, 20GB of 4G Data and unlimited SMS for 12 months.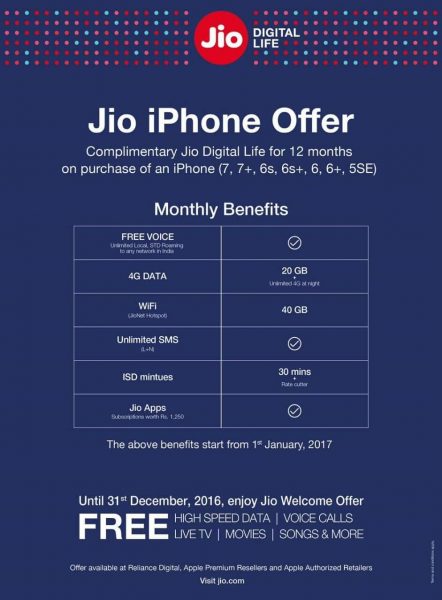 Reliance Jio had announced that the offer will not be available for buyers of the new iPhone 7 and iPhone 7 Plus, it will be available to the users who buys iPhone 6, iPhone 6s, iPhone 6 Plus, iPhone 6s Plus and the iPhone SE.
Users will get the Welcome Offer from Jio which will be valid until December 31,2016 and later the offer will be extended and get the Rs 1,499 plan that is completely free for 1 year. However, the offer will only be applicable if you purchase the device from Reliance Digital Store or through selected Apple Premium resellers.
Reliance Jio is also providing an additional discount of 25% on the device along with attractive tariff plans to corporate customers. That's really an incredible offer! What do you think about this exciting new offers provided by rJio to iPhone users? Share your thoughts in comment section below.