Are you looking for Lucky Patcher App? We have decided to share an amazing app that will give you real control over your apps and games by getting free-in-app purchases.
As we all know there are right now countless apps available on Google Play Store. As an Android user, I personally choose to explore more and more new apps. Since Android is an open-source operating system, we can enjoy almost every feature of Android via some apps. Almost every must-have apps for Android are available on Google Play Store and are free to download. However, this doesn't stop developers from making more and more apps that could add some useful new features to the platform.
Also Read: How To Crack and Patch any Android Apps using Lucky Patcher
Lucky Patcher APK Latest Version Free Download
The best thing about the app is that the Android app works well with non-rooted devices. However, if you have a rooted Android device, you can get to enjoy the maximum advantage of this app.
Features Of Lucky Patcher:
1) Block Ads
Everyone hates annoying ads from their Apps and games. However, with the help of the app, you can actually block those annoying google ads.
2) Free In-App Purchases
One of the best features of Lucky Patcher is it allows users to get free in-app purchases in various apps and games. After installing the app, you will no longer need to pay for coins, boost, gems, and other resources from your apps & games.
3) Removes License Verification
The Lucky Patcher app is so powerful that it can remove license verification from apps and games and make them able to run. So, if you are getting an error for license verification, then this app can fix it.
4) Force Remove Bloatware
As we already mentioned, Lucky Patcher has numerous features and one of those is to forcefully remove pre-installed apps on your Android devices. However, this feature needs a rooted Android smartphone to work.
5) Custom Patches
There are many custom patches available for the app which be used to activate the pro features of some apps. The Custom Patches can actually mod or change features of several games and patches.
How To Download & Install Lucky Patcher App:
Now you all must be wondering that Lucky Patcher might be very hard to install. However, this is not true at all, in fact, Lucky Patcher is very easy to install and run. Users who were planning to give Lucky Patcher a try must follow the detailed instructions that we are going to list below.
Step 1. First of all, visit Apkmirror and Search for "Lucky Patcher".
Step 2. After download, enabling the "Unknown Sources", You might get an error message, choose the "Install anyway (unsafe)" option and tap on "OK"
Step 3. This will install the Lucky Patcher App on your Android smartphone.
A Small Guide On How To Use Lucky Patcher:
As we already mentioned that most of the features of lucky pather are easy to use. So, you just need to start using the app to explore more and more features. Below we are going to share a tutorial on How to hack in-app purchases with this awesome App:
Step 1. First of all, open the Lucky Patcher app and tap on the app which you want to patch. For example, here we have selected the Utorrent app. Click on the Open Menu Of Patches.
Step 2. From there you need to tap on Create Modified APK File.
Step 3. Now there tap on Apk rebuilt for InApp and LVL emulation.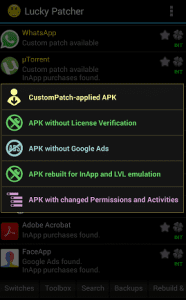 Step 4. Then Click On Rebuild The App and then wait for few seconds or minutes (Depends on Processor speed)
Step 5. The app will now show if the patch was successfully applied or not. If it shows Success then tap on Go to File.
Step 6. Tap on the file and then select the option Uninstall and Install.
Step 7. Now the app will ask you to uninstall the installed app. There you need to tap on OK. In the final step, you need to open the Modified app that you have installed in the previous step and then click on 'Upgrade to Pro'
Step 8. The app will now pop a menu. There you need to leave all the checkboxes as it is and then tap on Yes.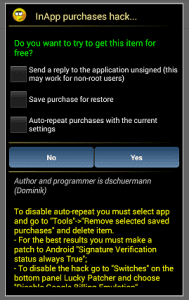 That's it, you are done! Now you can enjoy the premium benefits of uTorrent.
In the above tutorial, we have shown the uTorrent app. However, you can apply the same process in different apps or games. Similarly, you can remove Google Ads, change app permissions, and can do even more interesting things with the help of the Lucky Patcher app. You just need to start using the app to know about its features.
The app doesn't collect any sensible user data. It just asks for permission which is needed for the app to run properly. However, you should always download Lucky Patcher APK free from the safe website. So, this is an article on How To Use Lucky Patcher's latest App. We will be publishing more articles like this on regular basis. Make sure to bookmark our blog to find more interesting stuff!