Although Windows 10 is not open source by nature, but its highly customizable. If we talk about Windows 10, Microsoft introduced lots of visual changes to the operating system. Windows 10 has an entirely different interface, and Microsoft does provide users with lots of customization options.
By default, you can change the taskbar colours, set custom icons, change themes, etc. If you are an advanced user, then you can edit the registry files to make more visual changes. If you are using Windows 10 for a while, then you might know that Windows 10 includes an option in its personalization settings to make the Taskbar transparent.
But, do you know that by editing the registry file, you can give the Taskbar an even higher level of transparency. Forget about the registry editing; you can use software to change the taskbar transparency.
How To Make Windows 10's Taskbar Fully Transparent
So, in this article, we have decided to share a working method to increase taskbar transparency by using Classic Shell software.
To change the taskbar transparency, we need to use a utility known as Classic Shell. It's a free tool that provides users with hundreds of useful options for customizations. Follow some of the simple steps given below to increase Windows 10 taskbar transparency 2020.
Step 1. First of all, download and install Classic Shell on your Windows 10 PC.
Step 2. Once installed, open the tool. You will see an interface like below.
Step 3. You need to select the style for the start menu. Select the one you like.
Step 4. Next, you need to enable the 'Show all settings' option.
Step 5. Now you need to select the 'Taskbar' option.
Step 6. Under the Taskbar options, enable the 'Customize taskbar.'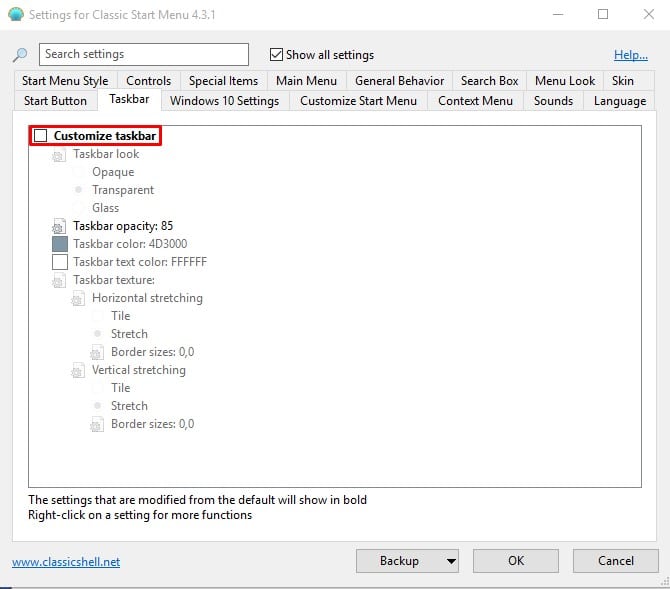 Step 7. Now select 'Transparent' and set Taskbar opacity to '0.'
Step 8. Finally, click on 'Ok' to apply the changes
That's it! You are done! This is how you can make your Windows 10 taskbar fully transparent by using Classic Shell.
So, this article is all about how to increase the Taskbar transparency in Windows 10. If you have any other doubts related to this, let us know in the comment box below. I hope this article helped you! Share it with your friends also.