Get the app that will make your device such that each time you unlock your phone, the app will switch to your next pattern, pin or password. And this will protect your device from being accessed by others that noticed your finger swipe on screen.
[dropcap]T[/dropcap]here are million of a user who are using android right now. And android is the platform which implements more features than any other operating system. And on the security point of view there are lots of vulnerabilities but with little knowledge of tweaking your android you can actually make your android a most secure device to secure your privacy and here we are discussing the same. As the method we are going to discuss right here will help you to get the cyclic lock on your android device that will change your screen lock password after one unlock. So have a look on complete guide discussed below to proceed,
Also Read: How To Password Protect Any Particular Files & Folder In Android
How To Protect Your Android Like a Pro with Cyclic Lock
The method is quite simple and just need a rooted android device that will allow Xposed installer to run on device. And after having Xposed installer you will be using a Xposed module app to protect your device by having the cyclic lock in your android. For this follow the guide below.
Also Read: How to Enable Multiple User Accounts On Any Android
Steps to Get Cyclic Lock Feature In Your Android:
1. First of all you need a rooted android as Xposed installer can only be installed on a rooted android, so Root your android to proceed to get admin access of your android device.
2. After rooting your android device you have to install the Xposed installer on your android and thats quite lengthy process and for that you can proceed with our Guide to Install Xposed Installer On Android.
3. Now you need to download and install the cool Xposed module Cyclic Lock the app that will allow to have cyclic multiple lock screen protection on your device.
4. Now after installing the app in your device you need to enable this in the Xposed module and for that just tick on the app in the Xposed installer.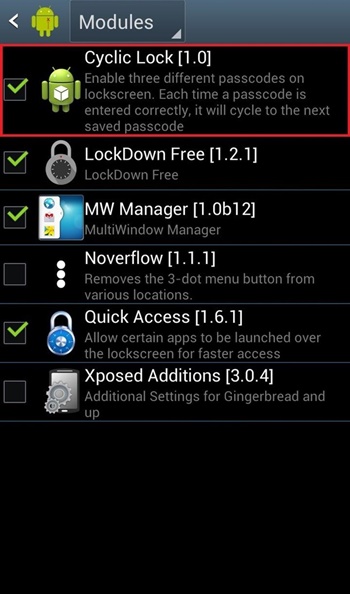 5. Now simply reboot your device to make this xposed module to work properly in your device.
6. Now open the app and you need to add the locks that you need to set on your device after every unlock, app will record all the lock and will set them in the cyclic look and you just need is to remember the lock cycle.
7. Thats it your are done, now you have secure your android with a cool ways using cyclic lock on it.
Also Read: How To Hide SMS On Android to Keep Your Messages Private
So above is all about How To Protect Your Android Like a Pro with Cyclic Lock, Use this method an this will add a great security to your device as someone will not able to unlock the device by seeing just your pattern. So implement this today and keep on sharing with others. Leave a comment below if you have any queries regarding this.