Samsung had recently announced the Industry's first 512-gigabyte NVMe SSD in a single ball grid array package. This SSD can triple the performance of a typical SATA SSD and can store up to 512GB and the best part is, it weighs just 1 gram.
Samsung's 512GB NVMe SSD weighs just one gram, is smaller than Stamp
[dropcap]T[/dropcap]he South Korean tech giant Samsung had recently announced that they are going to launch the first NVMe SSD that fits perfectly into a single BGA package and it will be used in the upcoming next-generation ultra-slim notebooks.
As we all know, Samsung is one of the world's largest memory chip maker so we can assume anything exceptional from them. Therefore, this time, they made the first NVMe SSDs, which is really smaller than a normal postage stamp.
The new BGA NVMe SSD weighs merely 1gram and its dimensions are approximately 20mm x 16mm x 1.5mm and guess what? It had complete SSD components including NAND flash memory, DRAM, and controller.
It also comes with TurboWrite technology which facilitates the read and write speed of up to 1,500MB/s and 900MB/s that indicates you can quickly transfer FULL-HD movie within 3 seconds. The new Samsung SSD will be more than 1500 times faster than a regular Hard disk drive.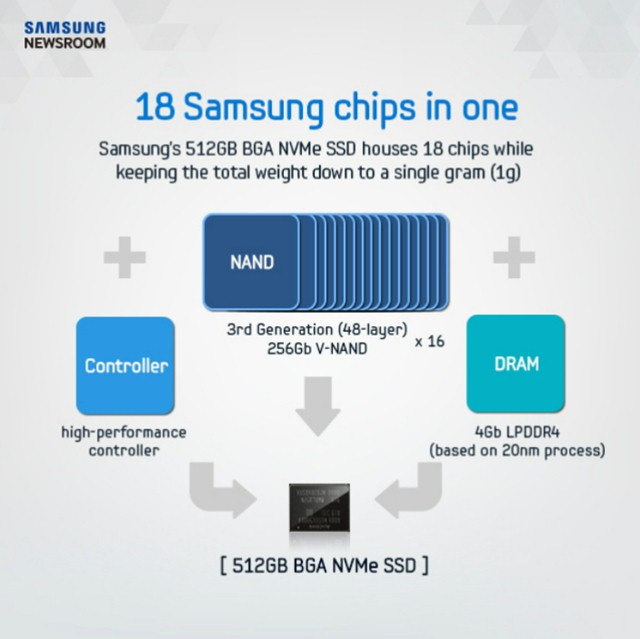 Jung-bae Lee, the senior vice president of Samsung's storage division also mentioned that-
"Samsung's new BGA NVMe SSD triples the performance of a typical SATA SSD, in the smallest form factor available, with storage capacity reaching up to 512GB," said Jung-bae Lee, senior vice president, Memory Product Planning & Application Engineering Team, Samsung Electronics. "The introduction of this small-scale SSD will help global PC companies to make timely launches of slimmer, more stylish computing devices, while offering consumers a more satisfactory computing environment."
Samsung also stated that they are preparing to introduce more high-capacity and ultra-fast NVMe SSDs to satisfy the consumer demands for improved performances and greater density
The all new PM971-NVMe SSD line-up will be available in 512GB, 256GB, and 128GB storage options. The south Korean tech giant intends to start providing the new SSDs to its clients this month worldwide.