Just like Android, iPhone also has a built-in navigation app. The stock navigation app of the iPhone is known as Apple Maps, and it provides users with directions, details about any location, and more.
Apple Maps is very feature-rich, but if you're new to it, you may be unable to find all features and options. Few would know, but Apple Maps also has a feature that could help you avoid tolls.
Since no one likes paying Tolls to use a road, having a feature that could help prevent paying for road tolls could be very useful.
Set Apple Maps to Avoid Tolls and Highways
Hence, this article will share a step-by-step guide on setting up Apple Maps to avoid tolls and highways. The steps will be very easy; follow them as mentioned below.
1. First of all, open the Settings app on your iPhone.
2. Now, on Settings, scroll down and tap on Maps.
3. You will now see the settings related to the Maps, and it's working on your device. To avoid Tolls, go to the Driving and Navigation settings.
4. The steps are extremely easy now; you will have to toggle the Tolls and Highways buttons to enable under the Avoid section on the screen.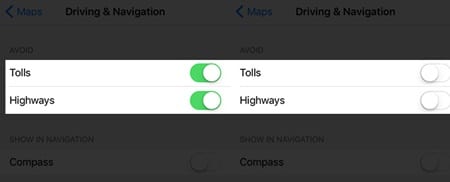 The process is easily reversible, so you can follow the above steps again to toggle off those avoids in the Maps.
So, this guide is about setting up Apple Maps to avoid tolls and highways. The steps we have shared are very easy. If you need more help setting up Apple Maps to avoid tolls, let me know in the comments below.