Meet MEEM! a mobile phone charger and a backup device, both in one cable. You just need to charge your phone using this power cable and it will automatically reserve your data.
This Smart Cable Backs Up your Phone while you Charge with it
I am sure that you usually neglect to backup your smartphone. Meem's new product is what you might be hunting to have a decent backup system for your Smartphone. This is a power cable which is available for both iOS and Android that is used to backup your device every time you plug in.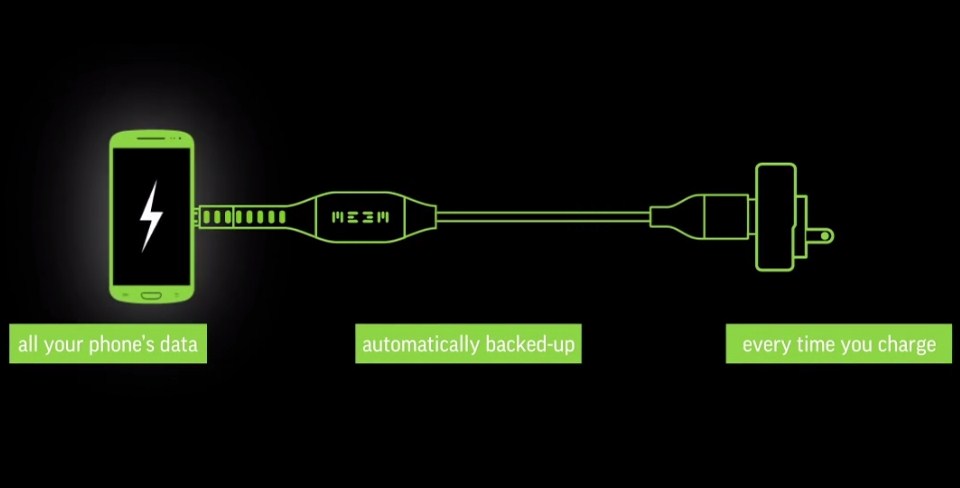 This little cable actually holds flash memory which is utilized to backup the contents of your phone as soon as you plug in. Moreover, it will be also used as charging cable too. This is the first time a charging cable has also been used as a backup program.
For in-depth detail about MEEM, it is a phone charger cable that automatically backs up the personal data of your phone to its cable itself every time you charge your Android or iPhone using this. This chargeable cable comes in two variant 16GB and 32GB for both iPhone and Android
It seems to be indeed an exceptional idea because at least once a day, we charge our smartphone and charging the phone and backing up the data at the same time seems to be an incredible approach. The more important thing is that you don't need any cloud service to backup up your data.
The CEO of MEEM said "We created MEEM to protect your memories if your phone should get lost, stolen or damaged and to make it easier to move memories when you upgrade" and he also stated that " Your private information is always under your physical control. No hacker abuse. No corporate exploitation. No government intrusion."
How to Setup MEEM ?
You just need to plug in your MEEM cable with your smartphone and the app will automatically download on your smartphone (iOS and Android). You need to set a 4 Digit passcode to get go. Meem works on Android OS 4.1.2 and above whereas it will work on iOS 7 and above.