Here is the latest version of Spotify Premium Latest APK Free Download in 2020. This app is available for almost all the android devices With the premium version of Spotify Android app, you can easily store or download more than one favorite song of that wins your heart.
Spotify Premium Latest APK Free Download 2020 (No Root)
If you are a music lover like me, then you might be familiar with Spotify. Well, Spotify is a music, podcast, and video streaming service that was officially launched on 7th October 2008. In this article, we have decided to discuss the Spotify App which is one of the most used and best music streaming app available for Android and iOS.
Also Read: How To Crack and Patch any Android Apps using Lucky Patcher
However, due to some limitations, the official version of the Spotify app 2020 is not available in many countries. So, if this is the issue that is stopping you from enjoying your favorite music, then you can always use Spotify premium latest for listening to the best music.
What Is Spotify Premium APK?
Well, as we already said Spotify official app is restricted in many countries due to some limitations. So, the premium version of the Spotify app actually removes all the restrictions. Not only that, the Spotify Premium app is an online music app that gives you access to millions of different music and podcast for free.
Spotify Free v/s Spotify Premium APK
We are pretty sure that a lot of you might be thinking that what's the need for Spotify Premium if you can use the free app. So, do you really need a Spotify Premium account for your daily music dose? Well, in short, yes! One of the major differences between Spotify free and premium is audio quality.
On the free version, Spotify users can only listen to songs and music at 96 kbps audio bitrate. On the other hand, Spotify premium users can enjoy the 320 Kbps audio bitrate. Well, if you are strict with your data consumption, then the free version will be good for you. But if you don't care about the data consumption, then you could notice a massive difference in the audio quality with Spotify Premium.
Apart from that, some of the useful features like Unlimited skips, offline support, ability to choose track are also missing in the free version of the Spotify app. Another thing is that Spotify free plays ads every four or five songs. So, there's a lot of difference between Spotify Free and Premium.
You can also check the image given below to know the difference:
After knowing about the major differences, we are pretty sure that you all might be waiting to know the features. Below, we have shared some of the key features of Spotify Premium app.
Features Of Spotify Premium App:
There are numerous features available in Spotify 8.44 mod apk latest. Therefore, you can enjoy almost every premium functions of an official Spotify app for free. Some of the features include unlocked shuffling, unlocked seeking, unlocks the track selection and more. Here are some of the key features of the Spotify app latest version:
User-Friendly Interface
As we already mentioned that Spotify is used by many users online. So, the developers of Spotify premium have made the user interface so friendly that anyone would love to use it again and again. You will find many relevant shortcuts that ensure an easy interface.
Unlimited Downloading
With the premium version of the Spotify Android app, you can easily store or download more than one favorite song that wins your heart. Moreover, you will also get the option to share your own playlist with your friends.
Unlocks Shuffling, Seeking, Repeating
Yes, you read that right the premium version of Spotify actually unlocks shuffling, unlocks seeking and unlocks the repeating. That means you can shuffle your songs, you can repeat your song and more.
No More Ads
Unlike many other premium apps, Spotify premium also offers an ad-free interface. Ads are something that consumes internet and irritates users a lot. Therefore, on the premium Spotify apk, developers have enabled the anti-ad feature.
Premium Sound Quality
Well, the sound quality of Spotify Premium Apk is fully controllable. Even users can set different qualities while listening to songs. Users can choose from Normal, High, and Extreme. Here the Extreme Quality means 320Kbps which makes the music quality ultra-premium.
Save Some Storage
One of the prominent reasons why Spotify or other music streaming services are used is to save some storage. Well, these services require internet to stream audios, which means, you no longer need to save music files on your phone's internal and external storage which leads to better storage management.
Offline Support
Yes, you read that right! The latest version of Spotify Premium apk also gets an ability to save our music for offline playback. The great thing about Spotify Premium for Android is that it allows users to download unlimited music which can be later used for offline listening.
So, these are just a few features of Spotify Premium App which we have mentioned above. Apart from all of these, the app can do lots of other exciting stuff that you can explore while using the app.
Also Read: GBWhatsapp APK Free Download Latest Version
Free Download Spotify Premium APK:
Welcome to the download section, from here you can download the Spotify premium app for Android. Well, the link is recently updated and it's not working, please report in the comment box at the end of the article. We will fix the link as soon as possible.
The Latest Version Of Spotify Premium FREE
For those, who want to purchase the Subscription plans and want to get original Spotify Premium plans. They can look into the Subscription plans from the Spotify official website.
The above Apk is free, and if you want to upgrade to the premium, you need to pay some money to upgrade to the same. However, we have listed the latest and the upgraded and modded version of Spotify which will help you to save a few bucks!
How To Install Spotify Premium APP On Android?
Well, the installation guide that we are going to share below is really very easy. So, if you hold an Android smartphone. You need to follow the simple steps. However, make sure to read the whole step-by-step procedure to avoid errors if any.
Step 1. First of all, download the Spotify latest apk file, that we have given above in the downloads section. You need to download the file and extract it. If you have already had a Spotify app, uninstall it and reinstall the latest version.
Step 2. Browse to the location where you have saved the latest Spotify apk file and then open it. Simply grant all the required permissions and install it on your device.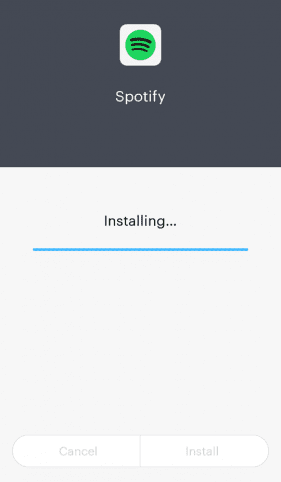 Step 3. In the next step, you will be asked to make a Spotify account. However, the best thing is, you don't need to pay any bucks for the registration.
That's it, you are done! This is how you can enjoy the premium version of the Spotify app on your Android devices. Now just start searching your favorite songs and stream them endlessly.
Also Read: How To Fix Spotify Not available in your Country Error?
Well, Spotify Premium APK is basically a modded version of the official app which provides premium features for free. So, if you are on a tight budget, then you can always go for the modded file. Moreover, in some places Spotify is not supported, users need to use a VPN service which completely ruins the experience. So, this app actually provides a value that you can enjoy! Hope this article helped you share it with your friends and relatives. Bookmark our blog for more awesome tricks like this.