As of now, there are hundreds of video streaming sites out there, but it is YouTube that dominates the video section. YouTube is a free video site that allows users to stream unlimited hours of video content.
If you are an active YouTube user, you might have left hundreds of comments on the videos shared on the platform. But, do you know that YouTube provides you an option to apply text formatting while submitting a comment on a video?
You can use YouTube's text formatting options to apply strike-through, bold, and italic styles to your comment text. Applying the formatting options will make your comment stand out and attract more visibility and likes.
Steps to Write YouTube Comments in Bold, Italics, or Strikethrough
Hence, in this article, we will share a detailed guide on how to Strike-Through, Bold, or Italicize text in YouTube comments. Let's get started.
1) How to Bold Comments on YouTube
Applying the Bold formatting option will increase the thickness of your text in the YouTube comment. It's pretty easy to bold comments on YouTube.
To bold comments on YouTube, you need to put your comment text between the *(asterisk) sign. You can check the example shared below.
*Welcome to the Techviral*
2. Strike-Through Comments on YouTube videos
Like bold, you can add strike-through formatting to your texts on YouTube. To use the Strikethrough formatting, you need to type – (dash) before and after your comment text.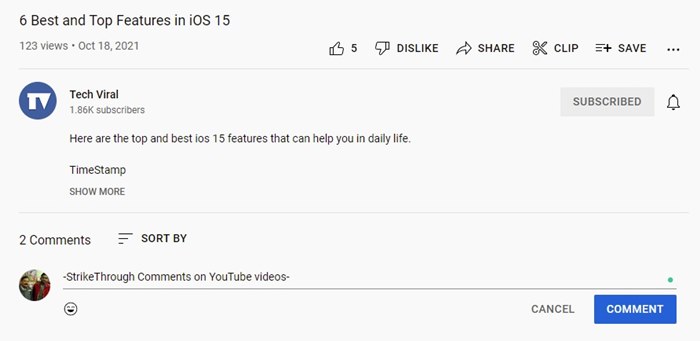 When you add a dash on both sides of the text, a line will be added which will cross out your comment text. You can check the example shared below.
-StrikeThrough Comments on YouTube videos-
3) Italics Comments on YouTube Videos
The last formatting option is italicizing your text in YouTube videos. Applying this formatting option will make your text italics.
To write a YouTube comment in Italics, you need to put the text between two _ (underscore). You need to put the underscore on both sides of the text to make it italics.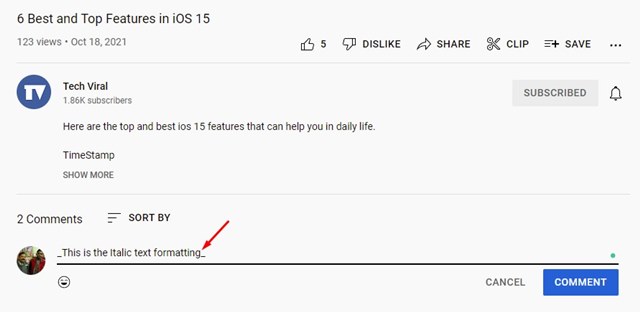 _This is the Italic text formatting_
As soon as you put the text between the two underscores, YouTube will format the text into Italics.
4) Apply Multiple text formattings in YouTube comments
YouTube provides three text formatting options, but you can use multiple formatting on a single comment. For that, you need to blend the characters for styling your text.
Here we have shared an example where all three text formattings had been used:
This is how you can apply *_multiple styles_* to a -single- comment
So, that's all about how to bold, italicize, or Strike Through text in YouTube comments. You can use these text formatting options to make your YouTube comment stand out. Applying text formattings in comments will also help you get more visibility and likes.