YO WhatsApp APK latest version comes with some unique feature that goes missing in the regular and official version of WhatsApp. With the help of YOWhatsapp, you can enjoy some of the extended features of the most popular instant messaging app WhatsApp.
YOWhatsApp Latest APK Free Download in 2020
As we all know, social media and instant messaging app like Facebook Messenger, WhatsApp, Telegram, and more have become a part of our life. The craze of these instant messaging app has grown up to the extent that we can't even survive a day without it. For example, the first thing we do after waking up is to check the instant messaging app.
Well, whenever we talk about the instant messaging app, we simply can't forget WhatsApp, the instant messaging app is one of the most popular and most used apps that is used to exchange messages worldwide. Well, it goes without saying that there is a 99% chance that you will be having WhatsApp installed on your smartphone.
We must admit that we spent countless hours on the instant messaging platform for purposes like chatting & calling. Moreover, WhatsApp already got some awesome features that are attracting more and more users. However, WhatsApp has some restrictions when we talk about its features.
To remove all those restrictions, we are going to introduce a new app that is super easy to install and awesome to use. The app which we are talking about is known as YO WhatsApp. YoWhatsApp latest apk latest version comes with some unique feature that goes missing in the regular and official version of WhatsApp. With the help of YOWhatsapp, you can enjoy some of the extended features of the most popular instant messaging app WhatsApp.
Whats IS YOWhatsApp Apk?
Well, as we know that developers are building several versions of modified apk for WhatsApp, and YOWhatsApp is one of them. So, basically, YoWhatsApp apk is the modified version of WhatsApp app that is made by some of the third-party developers. However, the modified version has some exclusive features which make it super addictive.
YoWhatsApp comes with some awesome features like hiding the blue ticks, hiding the second ticks, changing the chat themes, inbuilt app lock and much more. Without any doubt, there are several version of Modified WhatsApp apk available on the internet, but YOWhatsApp and GBWhatsApp Apk is among the best ones.
Features:
As we already said, the YoWhatsApp apk comes with many benefits. Some of the best features are hiding the blue ticks, hiding the second ticks, changing themes and much more. Below we are going to list out several features of YOWhatsApp:
Unlimited Themes: This is one of the best features of YOWA Apk, the latest version of YOWhatsApp comes with unlimited themes which you can use to change the layout whenever you want to and that too for unlimited times. Isn't it was cool?
Privacy Options: With the latest version of YOWA, You can hide your online status. Well, hiding the status is also available in the official app. However, you can also hide the blue ticks, hide the double ticks, typing status with YoWhatsapp.
App Lock: Don't confuse the feature with other app lock apps available in Google Play Store. This app lock works in a different manner. With this feature, you can protect your chats with the help of Pattern or PIN or Password or Fingerprint protection.
Call Filter: Well, with the help of YOWhatsApp, you can filter out who can make you call and who can't separately. So, if a guy is disturbing you by calling again and again then, you can simply block them from calling you in the WhatsApp itself.
Share Images Without Compression: Well, WhatsApp compresses the images before sending which saves data and use less storage on Phone. However, nobody likes those low-quality images. So, the modified version of WhatsApp actually let you send images without compression. So, you can enjoy full resolution images.
Anonymous Messaging: Well, it's one of the new features of YoWhatsApp Apk which allows users to message someone without saving their contact number. This feature is missing on any other WhatsApp Mods. So, with YoWhatsApp, you can message anyone without giving up your real identity.
Anti-Ban: One of the major drawbacks of using modded WhatsApp is the ban issue. WhatsApp bans accounts which are associated with third-party apps. However, that won't be an issue with YoWhatsApp as the app has an Anti-ban feature.
Dual WhatsApp Accounts: Well, if you don't want to enjoy the extended features of YoWhatsApp Apk, then you can simply use the app to login with another WhatsApp account. In this way, your phone will be running dual WhatsApp accounts.
Steps to Download And Install YOWhatsApp On Android:
Well, before we proceed to the installation steps, make sure that your device should be running on Android Jellybean or above. These are the minimum recommendation of the app. So, if your device meets the requirement, then proceed to the installation guide:
Step 1. First of all, visit Apkmirror and Search for "YOWhatsApp".
Step 2. After downloading on your smartphone, you need to enable the Unknown Source on your device. For that, you need to visit Settings > Security > Unknown Sources
Step 3. Now browse the location where you have saved the YOWhatsApp apk file and then install it. The installation process will automatically start on your Android.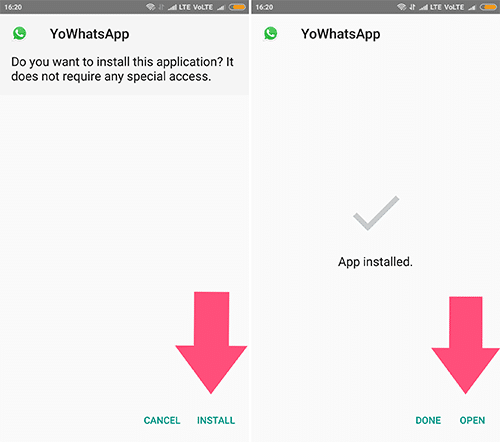 Step 4. Now you will see the screen like below, here you need to confirm your phone number just like you do on official WhatsApp app.
Step 5. Once the verification process completed, you need to tap on the three-dotted option on the top-right corner and click on YOSettings or YoMods. From there, you can enjoy almost every feature of YoWhatsApp.
So, this is how you can download and install YoWhatsApp APK on your Android smartphone. If you are facing a problem at any of the mentioned steps, make sure to discuss it with us in the comment box at the end of the article.
YoWhatsApp Compared To Other WhatsApp Mods
Since there are plenty of WhatsApp mods available on the internet, users often search for terms like YoWhatsApp vs GBWhatsApp, YoWhatsApp vs WhatsApp Plus, etc. All modded version of WhatsApp available on the web are literally the same, but only a few of them are reliable.
Modded version of WhatsApp like GBWhatsApp, WhatsApp Plus, YoWhatsApp Apk provides users with extended features. We personally feel that YoWhatsApp is best amongst all other WhatsApp Mod because of its Anti-ban and anonymous messaging features.
Not only that, but YoWhatsApp for Android is also used by millions of users. Another thing is that the risk of an account ban is relatively low on YoWhatsApp compared to any other WhatsApp mods.
Frequently Asked Questions (FAQS)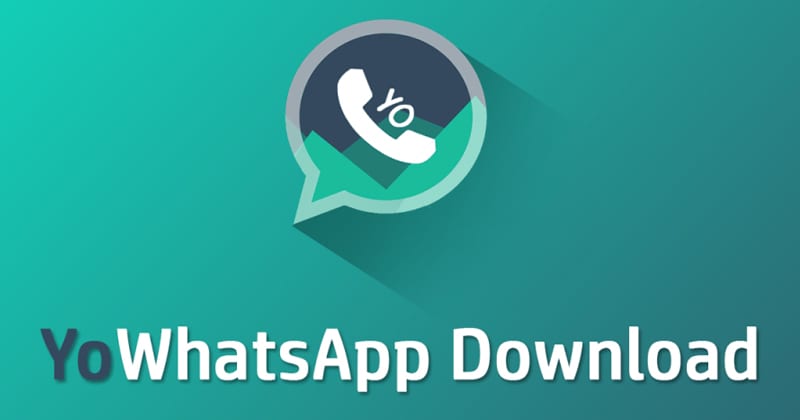 Can I use both official WhatsApp and YoWhatsApp?
Well, you can actually use both the apps simultaneously on your Android smartphone. Not only these, but you can also use other mods like GBWHAtsApp on your smartphone.
As we already mentioned, YoWhatsApp APK is just the modified version of WhatsApp. So, it was completely safe and secure to use. The app will not harm you in any way.
Can I use the same phone number for both apps?
No! You can't because as soon as you will try to register with the same number on another apk, it will ask you to log out from other devices. So, you need to have different numbers to enjoy both the devices at the same time.
Is YOWhatsApp Better than other mods?
It's not like other mods are not good. Every app comes with its own unique feature. YOWhatsApp has a material design that makes the app unique from its competitors.
The official version of the WhatsApp app is quite secure and is really simple to use. However, as we already mentioned that it comes with few restrictions. Therefore, Free Download YOWhatsApp latest version is for those who want to try the WhatsApp app with some extra features. Another most awesome thing is that unlike other modded versions of the app, the YOWhatsApp doesn't lag and it does not consume much battery or cache memory. So, this app is fast and it doesn't slow down your phone.
If you are looking at the YOWhatsApp for iPhone then we are sorry to say that the app is not developed for the iPhone and iPad. So, overall YOWhatsApp is quite an awesome app and it's very much similar to the official version of WhatsApp. So, what do you think about this? Discuss with us in the comment box below.