We are going to show you how to activate the Android's Camera flash as the notification light for incoming calls. The method is very simple you just need an Android app to do it. Go through the post to know about it.
[dropcap]W[/dropcap]ant a fun way to receive a call? I am going to share you one of the coolest methods to receive a call what if I assure you your phone flash will get activated during incoming calls. It's hard to believe I comprehend but this is possible, so this is going to be a short post because I will be sharing you the trick in very short.
Suppose your phone is in silent mode, and we all know that we couldn't listen to any noise of incoming calls or message tones. However, we used to get vibration, but that was not enough nowadays because the upgraded series of upcoming phones doesn't have the decent vibration to aware people so what if a flash will be lighted in your pocket? It will not cause any harm like vibration does. So here is the tricky and easy part.
Also Read: Best WiFi Hacking Apps For Android
How To Activate Your Android's Camera Flash As Incoming Call Notification
You need to install an app named Flash Alert 2 on your Android Smartphone this is a trustable app, and you can install this app via third-party or via Google Play Store. Download Flash Alert 2 by clicking HERE.
Step 1. Download Flash Alerts 2 App on your Android Device and install it. Give it enough permission to handle your flashlight and incoming calls and notifications.
Step 2. After installing Launch the application, it will hardly take 10-15 seconds to launch for the first time because it takes some priority on your phone flash. After the installation completes it will ask you to do a test, you need to follow the onscreen instruction to complete the test.
Step 3. Make Sure the Flash Alerts is on in the App, and the incoming Call option is enabled. After you had updated the setting, make sure to save it and then reboot your phone.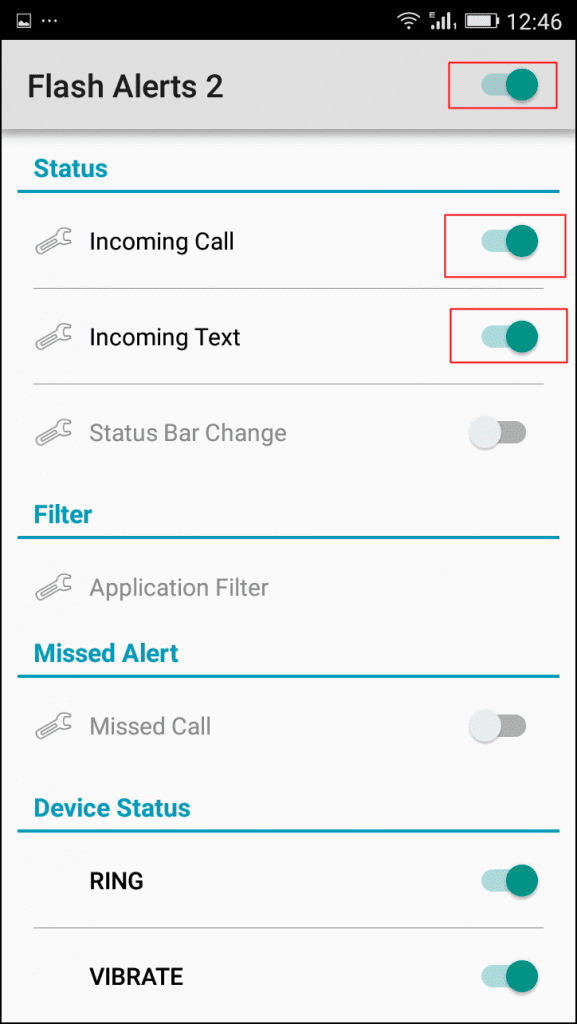 Step 4. After the reboot, Open the app and activate it once again. and now its time to wait and receive an incoming call. And you will see that your phone LED flashlight will be blinking while receiving any call.
That's it! You are done you have successfully activated Your Android's Camera Flash As Incoming Call Notification.
Also Read: How To Convert Your Android Device Into A Portable Scanner
Using Flash Alerts On Call/SMS
One of the cool flashlight alert or flash alert application in the play store. Very useful in the dark or at night when you do not want to hear ringtones. This is another handy tool which will enable flash alerts for you Call/SMS
Step 1. First of all, Download and install Flash Alerts On Call/SMS on your Android smartphone and launch the app.
[appbox googleplay com.fantasticdroid.flashalerts]
Step 2. Now you will see the screen like below here you need to tap on "Settings".
Step 3. Now you can set everything as per your wish.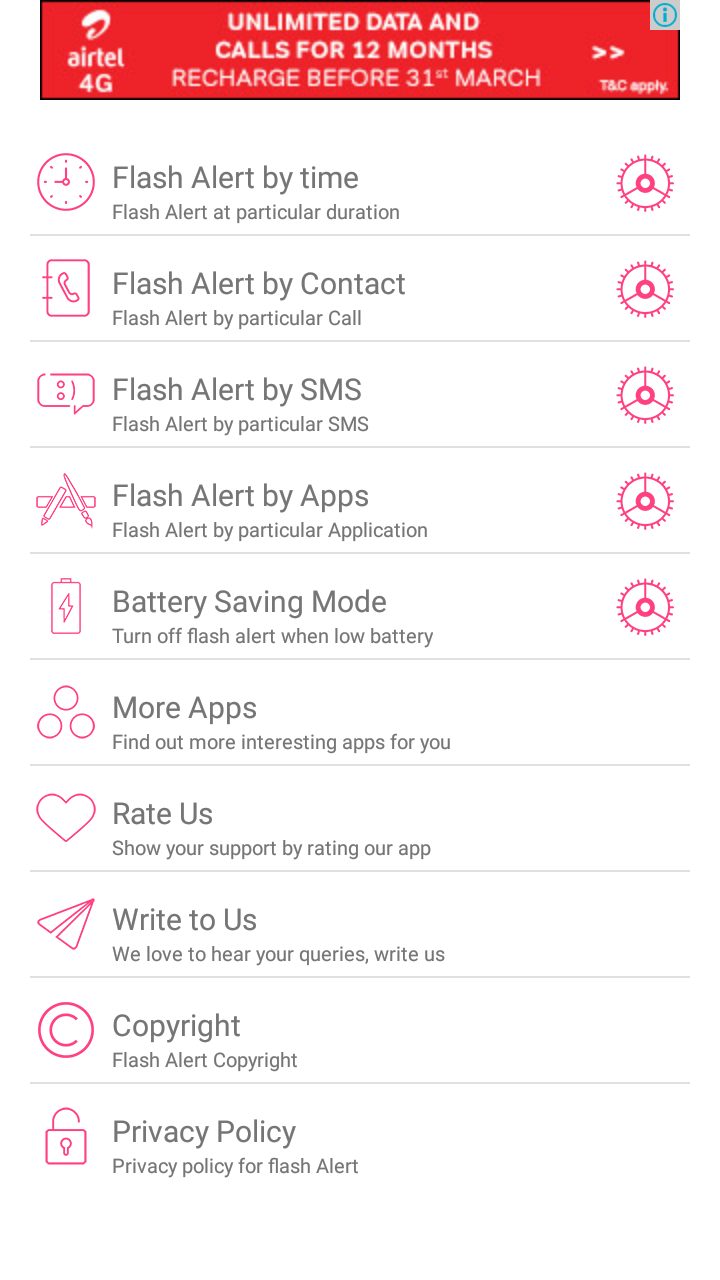 Step 4. Now move backward and then tap on "Start" button. Now you need to give it few permissions. Simpy "Allow" it.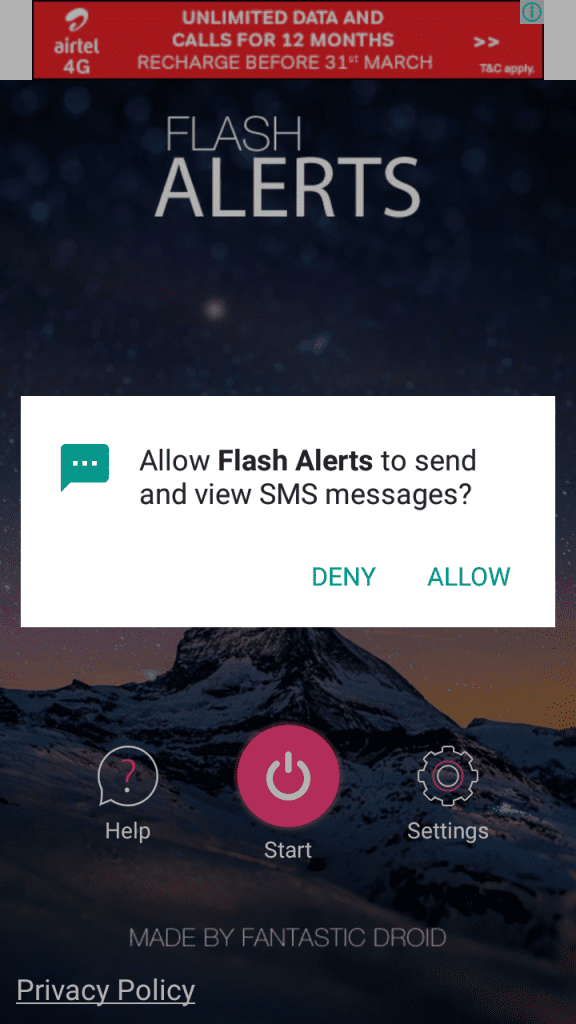 Step 5. Now you need to enable the option "Flash Alerts On Call" and every other thing as shown in the screenshot below.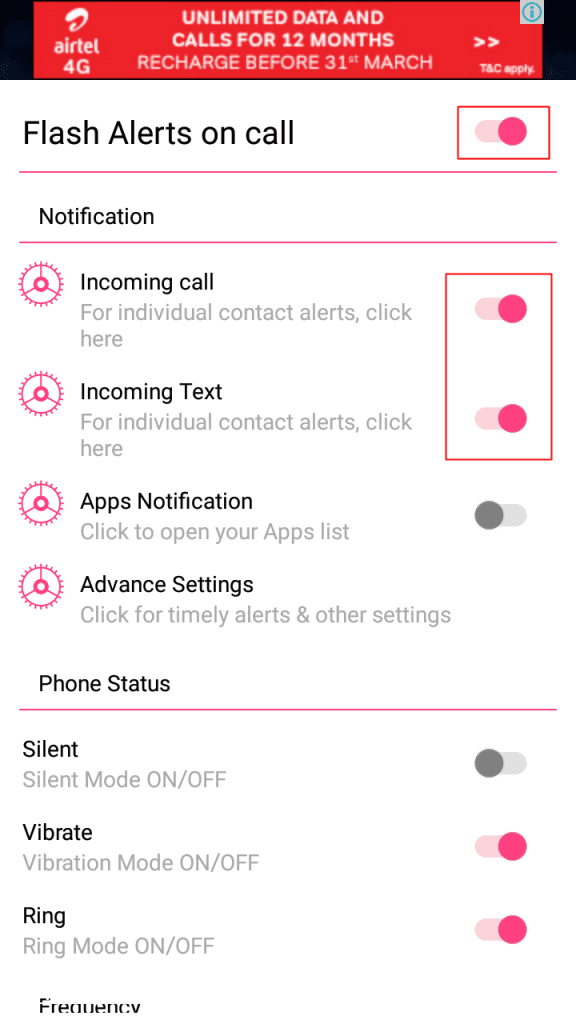 That's it! You are done. Now if anyone calls you or text you then your Android's camera flash will blink.
Also Read: How To Enable Ambient Display Feature on Any Android
Alternatives:
#1 Flash on Call and SMS
[appbox googleplay com.unidroid.flash.on.call.sms]
Flash on Call and SMS is a smart and Top Rated application available on the Google Play Store. Flash on Call and SMS app gives flash alerts on incoming calls and SMS with the flash blink of your camera.
Features:
Turn all flash on call and SMS ON or OFF with one tap button
Turn On or Off LED flash alerts on incoming call
Turn On or Off LED flash alerts on incoming SMS
Set the flash on call and SMS working in any mode
#2 Automatic Flash On Call & SMS
[appbox googleplay com.latestnewappzone.autoflashoncallsms]
This is another awesome android app that automatically activates the flash of Calls and SMS. This feature is extremely beneficial for those who do work at night and keep their phone in silent mode.
Features:
You can regulate blinking frequency.
Disable / Enable Flash Alert at any time you want with a simple click.
Control the phone mode from inside the app ( normal mode / silent mode / vibrate )
Turn off flash alerts when battery low, help you save battery.
#3 Ringing Flashlight
[appbox googleplay com.ndtsoft.ringingflashlight]
This is another awesome android app which will let your Android camera flash to blink everytime you receive a Phone Call, SMS, and notifications. The interface of this Android app is really good and it is one of the most download apps on Google Play Store.
Features:
You can enable/disable Flashing feature individually for Phone, SMS, Notifications.
Ringing Flashlight allows you to control the Flashlight speed individually for incoming Phone, SMS, Notifications ( customizable or each application ) or the blinking flashlight widget.
For the SMS & Notifications blink you can set the blink times, up to thousands of blink if you want.
You could temporary enable/disable the Flashlight blink when your Phone is in Vibrate or Silent Mode
Also Read: How to Get Pixel 2 Boot Animation on Any Android Device
So now there will be no hard time receiving any call every incoming call will be the cool one. And it was one of the tricks you will love to share with your friends because this is very rare and new. So without wasting any time make use of this app and activate your phone flashlight as your incoming call notifications. But beware of overuse of this feature, as it might create battery issue.
[su_youtube url="https://www.youtube.com/watch?v=NRQlGlezad8″]