As we all know, Android is an open source operating system. Therefore, here is the list of five best free and open source Android apps available on the internet. Go through the post to discover the apps.
Let's talk about Open Source first. It can be defined as the source code which is available with a license in which the original holder provides the right to change, modify and distribute the software to anyone or anywhere.
Android is an open source operating system. However, most of the apps that we find on Google play store are not open source. We can get the wide range of apps on Play store, however, only few Android apps out there which are open source. Therefore, today we are going to share 5 best Android open source apps that you could find on Google play store for free.
Also Read: Top 7 Best Prototyping Tools for Web Designers
Top 5 Best Free and Open Source Android Apps
#1 DuckDuck Go
DuckDuckGo is the search engine that doesn't track you. This Search & Stories app offers you real privacy, smarter search, and stories that you'll love! It could easily replace your Google search engine. The more you use the app the more you will love it. This app is open source so anyone can contribute to its development or examine the source code.
#2 Muzei Live Wallpaper
Muzei is a live wallpaper that gently refreshes your home screen each day with famous works of art. It also recedes into the background, blurring and dimming artwork to keep your icons and widgets in the spotlight. Simply double touch the wallpaper or open the Muzei app to enjoy and explore the artwork in its full glory. It is an open source app, therefore, you are always welcome to use your own photos.
Also Read: Top 15 Best Antivirus For Your Android Smartphone In 2016
#3 QKSMS – Open Source SMS & MMS
QKSMS brings a refreshingly beautiful and responsive material design touch to the stale state of text messaging. In a world with clunky SMS and MMS apps cluttered with bloat and ads, QKSMS is something to get excited about. The best part of this app is it is the fully open source!
#4 Amaze File Manager
As the name suggests this file manager will amaze you. This file manager becomes handy if you are looking for few advanced features like Samba support and root browsing. It also looks stunning. You can change to color of the file manager and also modify few things because this is an open source app.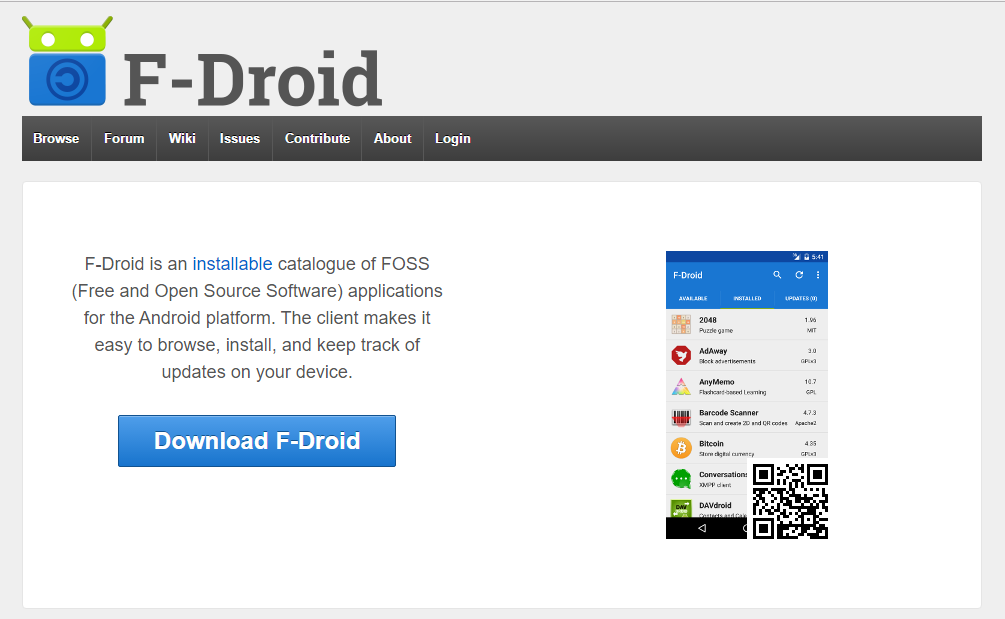 F-Droid is an installable catalog of FOSS (Free and Open Source Software) applications for the Android platform. The client makes it easy to browse, install, and keep track of updates on your device.
Android will always remain an open source operating system. These are the 5 Free Open source Android apps that are available right now. Do you know any Open source app that is missing from the list? Discuss with us in the comment box below.
COMMENTS
AUTHOR