InShortViral: Computer virus usually a malware program, there are many different types of virus that works as per the programmed given but the intention of all those viruses are to wipe off your entire hard disk or to corrupt your overall system.
[dropcap]T[/dropcap]he Computer virus usually a malware program, there are many different types of virus that works as per the programmed given but the intention of all those viruses are to wipe off your entire hard disk or to corrupt your overall system, this viruses are also replicates by inserting number of copies by itself. Usually virus suffered $8.5 billion customers loses of computer data which is in 2008 alone.
Some of the experts have also said that some of the computer virus are so invisible unable to detected even by your computer Anti Virus and for that one example is famous tennis star Anna Kournikova who have been targeted of such virus in her computer, the virus was so infamous that it blackout thousands of servers all over the world.
List of Most System Damaging Virus of All Time
1. Virus Code Red (2001)
The last but not the least, the made up of 2001 but the origin took place is still suspense, the Code Red had attacked over 225,000 PCs world wide, not only computer system being targeted but also websites – the program which hunt and down the site – after each site hacked it shows a message "Hacked by Chinese".
The researcher from eEye Digital Security Marc Maiffret was first to discover the worm in first place, and the name Code Red is usually the genuine name of the virus infact the researcher at the time of discuss the virus they were drinking Code Red Mountain Dew for the first time and from where they given it a name.
Basically this malware spread all over the world because it itself using very common types of vulnerability programme 'Buffer Overflow' and Kenneth D. Eichman was the first to discover the block of this malware and later on invited to the White House in 2001. The discover of the worm using buffer overflow by using a long string of continuous repeated letter 'N' which helps the malware to overflow a buffer and it allows the worm to carry out arbitrary code and then final workout is to infect the whole computer.
2. Gameover Zeus (2014)
The second most popular and most damaging malware became headline when the US authorities in an interview in June 2014 said that computer system are being targeted by some of the sophisticated malware which till not not been identified but continuously many computer system are became target of this malware stealing millions of dollars from USA, UK people and Russia.
Basically this virus has main target to attack small and big firms in such countries, Gameover Zeus botnet workout from a network to inject a virus in different computers however the same type of malware Cryptolocker which has a favorite target Windows PC, this malware reproduced sends malicious attachment email to the victims computer and then if victim follows the instruction of opening the email and all then the malware can able to access all over the system data and will me encrypted in which later on the program will ask to pay ransom to unlock all drives and files and folders.
Basically even if the victim pays off then also it has no guarantee that the program will unlock all the files and folders. The same as Gameover Zeus who was responsible for over $ 100 million losses and all the money from the victim of the United States. And Cryptolocker was also one of the culprit that is responsible for the attack in 2013 around 200,000 pc infected in which $27 million loss occurred.
3. ILOVEYOU Virus (2000)
Hong Kong is the first place where this malware spotted and soon after the infection so several computer it become the prominent malware tool for the attackers an criminals so it also spread to Western world and middle-east. U.S based security companies in 2002 have reportedly receiving complains regarding the virus and some of the complain reported as misbehave of computer unable to control by own.
The analysts have reserved that this malware occurred damages worth of $100 million all over the world later which can moved to $1 billion. perhaps officials have not put any bounty on the creator of the malware but even after it has also infected the United States Senate computer system, all the transaction over email have blackout at that time.
4. Virus MyDoom (2004)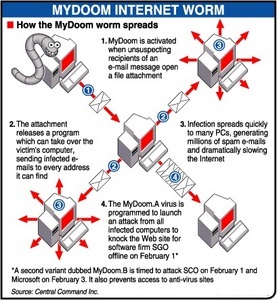 This is most real damaging virus which has a capability to block even a server and overall a network, MyDoom also moniker as Novarg which has programmed to get access to any computer without prior knowledge of victim's owner, this virus can roll out authorisation in file sharing network also able to open Back Door of any computer even if the victim using latest Antivirus at that time but still some of the anti Virus unable to identify this as a malware of a such programmed file.
The vast majority of the messages were appeared to be sent from foundations, associations, or any instructive organizations so it can trick its beneficiaries to open the email. MyDoom harvest email addresses from contaminated PCs and from that point it will pick another location as the following sender. In MyDoom, it is difficult to decide the genuine sender.
A great many messages were activated inside of hours after revelation of MyDoom. The worm had contaminated the PCs utilizing the Microsoft Windows stage. Microsoft had reported that they would give a prize of $250,000 for any data which can prompt the capture of inventor of MyDoom infection.
5. Conficker (2008)
In the year 2008 Conficker has landed first to an Microsoft windows users, this malware can infect computers as well as the entire networks connected with the computer however it also can fix the computer bug if it found the same malware doing same activity, after the availability of Conficker in 2008 Microsoft released an update to all Windows users to fix up the bug, at that time Microsoft strongly suggested its users to apply this update to avoid this bug and free from vulnerability.
In 2008 itself the bug Conficker have infected more than 500,000 computer with their respective networks. One of the website was also infected when it acceded to one of the server and it found that the file they stored inside the cpanel it was not there, and one month later security researchers Census revealed that near by 1.5 million computers and networks being compromised by that bug.
The code narrated below:
GET /default.ida?NNNNNNNNNNNNNNNNNNNNNNNNN
NNNNNNNNNNNNNNNNNNNNNNNNNNNNNNNNNNNN
NNNNNNNNNNNNNNNNNNNNNNNNNNNNNNNNNNNN
NNNNNNNNNNNNNNNNNNNNNNNNNNNNNNNNNNNN
NNNNNNNNNNNNNNNNNNNNNNNNNNNNNNNNNNNN
NNNNNNNNNNNNNNNNNNNNNNNNNNNNNNNNNNNN
NNNNNNNNNNNNNNNNNNN
%u9090%u6858%ucbd3%u7801%u9090%u6858%ucbd3%u7801
%u9090%u6858%ucbd3%u7801%u9090%u9090%u8190%u00c3
%u0003%u8b00%u531b%u53ff%u0078%u0000%u00=a HTTP/1.0
That's how they really become a researcher.