InShortViral: HidrateMe is an absolutely brilliant bottle of water. It is connected to your smartphone and lights up every time you need to drink.
[dropcap]H[/dropcap]idrateMe is an absolutely brilliant bottle of water. It is connected to your smartphone and lights up every time you need to drink. It takes into account many factors in order to meet all your water needs, whether you are doing sports, work. With it, you moisturize all day and keep fit! Soo Curious tells you more on this invention makes good sense.
HidrateMe is an ingenious water bottle connected with your smartphone. She is able to warn you when you are dehydrated, in lighting up until you drink. At the initiative of this incredible project, a small team wanted to simplify our lives.
This Water Bottle Lights up to Alert You When Your Body Needs to be Hydrated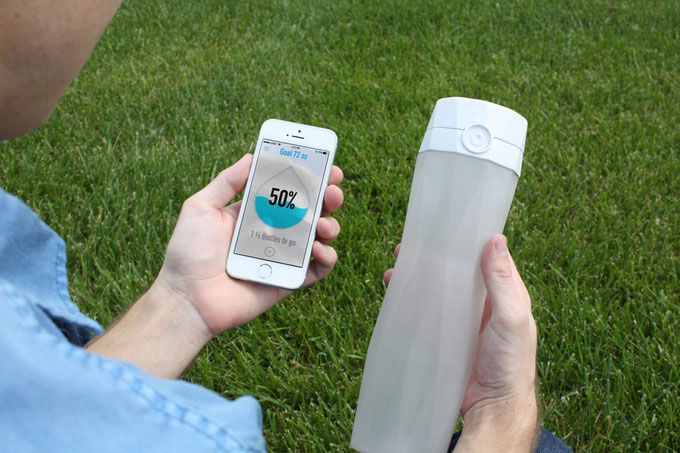 A bottle of water that hydrates you daily
HidrateMe comes in the form of a plastic water bottle 710 ml: everything is more simple, at first, glance. Its simple design hides yet more innovation than one would think.
It is true that it is quite complicated to remember to hydrate during a busy work day or during an intense workout. Fortunately, the ingenious team HidrateMe developed this bottle connected that informs you of the amount of water you need and at what time of day so you must drink.
Thus, the water bottle lights up when you are dehydrated and tells you exactly how much water you need, with a display on your smartphone. Whether for people practicing sports or for anyone in everyday life, HidrateMe is good idea to keep fit and healthy. In an illumination, you know immediately if you need to drink.
A bottle of water connected to your smartphone
An application specially designed for your smartphone allows you to track your "hydration" in everyday life, through a small gauge that varies. Beforehand must, of course, have filled some essential fields, such as age, sex, weight. Information that is then aggregated to create your profile.
A profile which can then be adjusted according to your sporting activity, depending on where you are, or even the temperature and humidity level. HidrateMe can then analyze you for sticking to your needs perfectly.
And thanks to this real-time monitoring, the bottle can prevent the risk of colon cancer and bladder, helps reduce bad mood, confusion, and could help weight loss, all that encouraging you to drink water! Great right? Besides, drink water allow better flow of nutrients in your body. Eventually, the bottle could also be used to monitor your alcohol consumption.