A Turkish inventor from Diyarbakir invented a new way to hide all the information on your iPhone using a special invisible screen, which will help you to read or hide all your private and personal data, messages, chats and emails on your smartphone.
Inventor Builds Invisible Phone Screen That Only You Can See
Reading private messages, chats, and emails on your smartphone in public, then you can never be too assured that which interfering eyes could be stealing a peek. Yes, this is one of the most prominent and annoying problems that we always encounter while traveling on any public transport or while commuting in any public places.
So, today we will share something really astonishing and I bet it will really shock you. Yes, now many of you might be thinking that what am I talking about which will shock you all, ok then let's break the suspense. Earlier in this post we discussed about the privacy in public transport and public places, let me ensure you that whatever I am going to share with you all, will ensure you that private messages or chats and emails whatever you are reading on your smartphone in public transport or in public places will be visible to you, yes, just for your eyes only.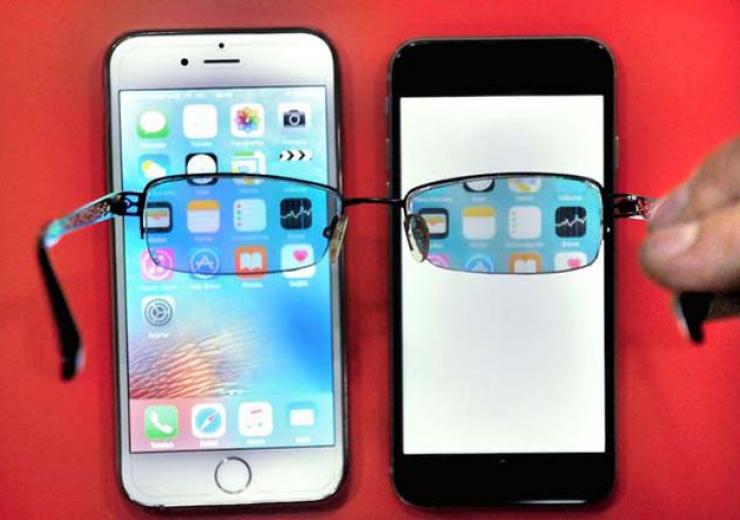 In just four months a Turkish inventor Celal Goger from Diyarbakir invented a unique way to hide all the information on your iPhone using a special screen. The Turkish inventor came up with the 'invisible iPhone', which he plans to name C.COGER I. Basically, the display glows white while the iPhone is in use, and you need a special set of glasses to see the contents on the device.
"If I can get funding I am planning to take this project further and install an "on/off button" on the phone which means that the user can decide whether to activate the function or not" stated the Turkish inventor Mr. Celal Goger from Diyarbakir.
According to the Turkish inventor Mr. Celal Goger, the phone is modified using a chip which makes the screen appear or glow white and the second chip in a pair of glasses then connect to the phone which making the screen visible to the wearer, as mentioned earlier.
"I made the first one in six months, the second one in four months. The third one took me two months. Now I can make them in ten days," said the Turkish inventor Mr. Celal Goger. After making all trials, Turkish inventor Mr. Celal Goger decide to take the invention to the streets in Goger's hometown of Bismil where the residents were surprised and impressed after testing the device.
https://www.youtube.com/watch?v=CAns2e0l_C4&feature=youtu.be
One of the Bismil residents said after the trial of the product that "I hope he will begin mass production so we can benefit from this invention because people can have private photos, text messages, emails or they can make personal calls. We have things we don't want others to see and we cannot currently look at those private messages and feel secure".
The Turkish inventor Mr. Celal Goger from Diyarbakir also added that "Someone's phone is a very private and personal thing and I think that it is extremely disrespectful when other people stare at it. When I finished my invention I started telling people about it but nobody believed me. They thought it must be some kind of magic trick until they saw my invention which left them absolutely gobsmacked".
Next the Turkish inventor Mr. Celal Goger plans to build a nanochip variant of his invention which can be fit to any pair of glasses and turn the screen visible or invisible with a single switch. But, yet no other information have been published so far regarding the invention, as well as it is also still unclear when this 'invisible iPhone' will be available in the market and how much it will cost.