Learn to Remove Leftover Files and Folders After Uninstalling Apps on Android with the help of simple android apps that will help you in this matter. So follow the below tutorial below to proceed.
We do install the third party apps on the Android devices, and moreover, we also tend to remove or uninstall many of the apps after finding those to be not useful or precise. In most of your understanding, you might think that after installing your apps on Android every of the single data packet related to the app would have been deleted, but the actual thing is that many of the files and folders get to left behind after uninstallation process that remains as the junk inside your Android system. Now you would never let all those junk to be left behind and give it away to space your device performance as well as space; you might wish just to remove that up. Here in this article, we have discussed the method through which you could be able to remove those unwanted files and folders which get stuck to your storage as a junk after you have uninstalled any apps on the Android device. If you wish to make your android device free of all those unnecessary files and folders so that it might keep on running smoothly, then you must read and apply up that method. Just go and read up the method in this article now!
Also Read: Top Best Multitasking and Shortcut apps for your Android
How to Remove Leftover Files and Folders After Uninstalling Apps on Android
We have 3 ways by which you can implement this, So have a look at all these ways below.
Also Read: Top 7 Best Android Apps For Developers or Programmers
#1 Clean it By Yourself
If you don't want to install any third party apps for cleaning up those junk files left over after uninstalling the apps on your Android device, then you could preferably set up the amount of data limit that's leftover behind. It would not help you greatly and perfectly to remove all those junk, but indeed, it would bypass that requirement of cleaning your device every time after installation. To set up the limit for the garbage data go to the device's settings and then from there choose up the Apps option. Now from the list of apps choose the apps you wish to uninstall and then select up the Clear data or Clear cache from there. This would wipe that additional data which the app have installed, and you could easily proceed with the installation.
Also Read: Top 6 Best Android Apps For Downloading Free Music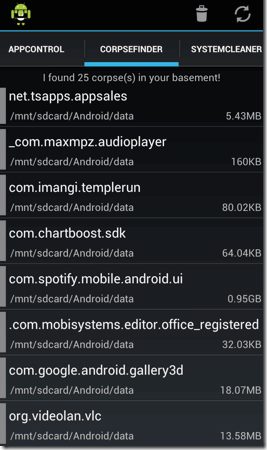 This is the great app which could be used to clean away all that useless leftover files and folders from your Android device. In general, this app is superb to make your device's memory fresh and clear of any available junk data. To clear the junk folders and files after uninstalling apps run this app and then tap on the CorpseFinder button, click on the circular arrow to view the files that are leftover by uninstalled apps and manually select up the files you wish to delete or rather just select up the bin icon to remove all those files in single click.
This is the best file manager app out there and is grunge of almost every single feature that you would require to keep your device data as well as storage clean and managed. Considering about the leftover files by the uninstalled apps this file manager also have the capability to search for these and hence delete these away. Start by using the cleaner tool inside the ES File Explorer and then under the results you would be able to see all those junk files that are on your device. From these data, the leftover files and folders would also be there under the Residual Junk section. Just feel free to select and remove all those data that you don't want your device.
After reading up the above article, you have got about all the first steps or the method to set up the fixed level of volume for any of your Bluetooth accessories. This could be highly beneficial to help you out in preventing the high-level volumes that might suddenly arise from the accessories connected over the Bluetooth in case you have set it like that unknowingly. Hope that you liked up the article and found up the method from this section to be useful to you. If you are getting any issues applying the method or any other problem related to the steps, then please comment for that, we would love to help you out!
AUTHOR