InShort Viral: Facebook is planning to integrate linking option that will provide cross communication between Facebook and WhatsApp.
Latest WhatsApp build reveals Facebook linking option
Facebook purchased WhatsApp for $19 Billion in year 2014. It has not changed much in its features, apart Voice Calling Features between Whats App users. It seems that Facebook and Whats App have been acting as two different bodies.
According to new leak, WhatsApp is looking forward to allow cross communication between WhatsApp and facebook accounts.
Just a week after WhatsApp proclaimed that it is not charging $1 as annual fee, and it further said that they are seeking to see new information that points to a convenient relationship between messaging service "WhatsApp" and its parental company, Facebook.
A German based blog leaked screenshots of a new beta build, which adds a new option for WhatsApp users to share their account details with Facebook to improve facebook user experience. It is still doubtful that how this integration will benefit facebook user. The users will have to agree some new service terms in the new build.
Facebook and WhatsApp worked like two different companies, even after facebook acquired this for $19 Billion in 2014. WhatsApp's founder Jan Koum said that, WhatsApp Messaging Service will remain unchanged and will operate independently and user's will not be affected. However, it seems that Facebook is entirely changing the statement as said by Whats's App's founder.
WhatsApp is popularly know for end to end encryption that safeguards users from being snooped on. The latest beta feature of WhatsApp is enabled with security tab which allows users switch on a setting to see whether their messages are encrypted. By default, messages are encrypted, depending upon what you select, but it provides user a new option which enables the user to see whether their messages are really safe.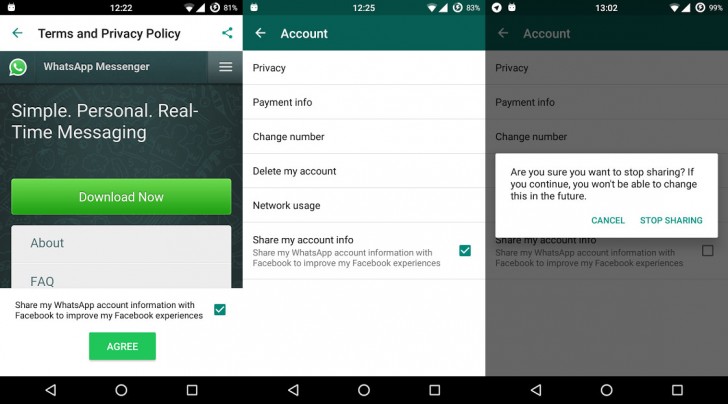 A post on Reddit discussing about the WhatsApp's new beta build also revealed screenshots about its new build. It also revealed a tool for users to confirm whether their conversation are encrypted by scanning QR codes. The screenshot leaked at Reddit also shows about an upcoming feature which will allow the users to manage files received through the app
The use of linking of WhatsApp and facebook may not be clearly known, the doubt of all the features will be cleared only when it is released publicly. Also, one thing is clear that WhatsApp user will be able to post concurrently on the timelines of both WhatsApp and Facebook respectively.
WhatsApp, the most popular messaging services earlier made WhatsApp free rather than charging $1 as annual fee. The Messaging Giant is currently working to provide Video Calls feature in WhatsApp.
So, this was all about the integration of Whats App and Facebook to allow cross communication. We hope that you enjoyed this article, feel free to share this with your friends.