After a series of beta testing, Microsoft has officially started rolling out Windows 11 2022 update, also known as windows 11 version 22H2.
This is the first big update for Windows 11 after its launch. As the company has said, it is rolling it out in 190+ countries, but still, there's an issue. Let's discuss it and every new feature.
Windows 11 2022 Update Comes With Many New Features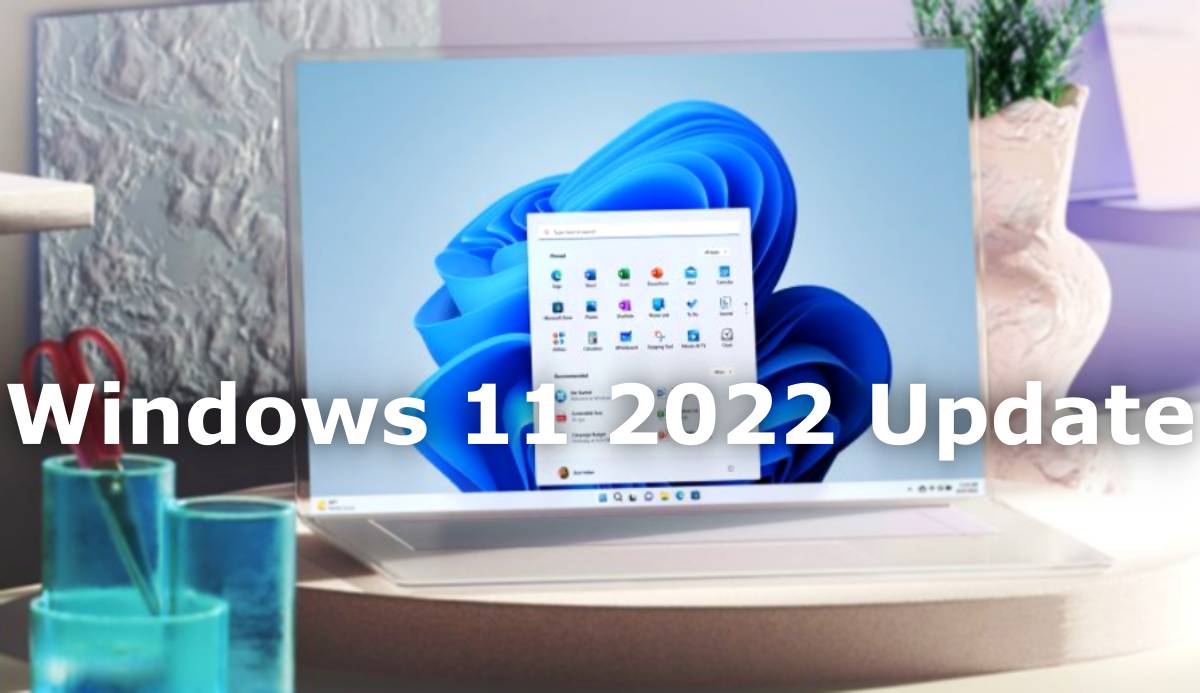 This update arrives with multiple new features and changes such as Start menu folders, improvements to Snap Layouts, Live Captions, and even a new Taskbar.
Start Menu
The start menu got a new App folder feature with you can manage all your apps in their folder according to their category or personal preferences. To create these folders, simply drag one app onto another.
Also, there are three new options to customize your start menu pins area by changing the layout.
Taskbar
There are many new UI improvements in the taskbar. You can now pin apps in the taskbar by dragging and dropping apps from the start menu list.
There's a new notification system by which you will only get important notifications. As we saw earlier, the new notification system shows four notifications at once, which include three high-priority and one normal priority.
Calls, reminders, and alarm notifications come under the three high-priority notifications, and normal priority includes notifications from the browser or app.
Besides, a new taskbar overflow will shift extra apps in the taskbar to the overflow section if there is less space left to add apps.
New Voice Access & Live Captions Feature
We have already seen this Voice Access accessibility feature in the Windows Insider program. Its functionality allows users to control their System through their voice, but this feature is only available in English and only four users in the US.
Finally, the feature list also includes the famous live caption accessibility feature that will show you captions of every audio and video content that will be played on your device, and Windows will automatically generate this.
Currently, this feature only supports the English language for both detecting content and showing captions. And you can also customize the captions by changing their color, size, and position as it is floatable.
Snap Layout Bar
There's a new change for the snap layout feature, and it is now more helpful for touch device users. And while you hover your mouse over any layout, it will show your already present tab.
It will also show you snap layouts in our group visual, making it easy to identify and shift to a layout. Also, check out some new options in the System> Multitasking.
New Task Manager
The task manager got a new design which also includes a new dark theme, which you can see in the above image. Also, it includes a new Efficiency mode that will notify & restrict an app that is consuming high resources.
File Explorer
The most awaited feature, Tabs in File Explorer available in this update. As we already know, this feature allows to create tabs for different folders like browsers. But this feature is not available yet, and it will be available in October.
Additional
With all that, Windows 11 version 22H2 also contains countless UI improvements and new gestures and animations for touch users.
To improve the user experience, Microsoft will also introduce a new "Suggested Actions" feature in October.
How To Install Windows 11 2022 Update
To install this latest update, firstly go through your windows 'Settings' and then find 'Windows Update' and run 'Check for Updates' and check if there is an optional update available with the name "Windows 11, version 22H2".
If it is there so, simply download it by clicking on "Download and install now". And if it is not there so, just wait for one or two days, and you'll get it. By October, it might reach every user.
Microsoft official has already mentioned, "You may not see the update on your device as we are slowly throttling up this availability over the coming weeks".
This delay might be because it is a very significant update that is coming for every Windows 11 and Windows 10 user.