Google has created up to the Easter eggs while till the version 2.3 of the Android platform and was available for it and also for other upper versions till v5.0. So have a look on a method to play Flappy Droid in Android 7.0.
[dropcap]A[/dropcap]fter gaining a lot of success in the easter egg, the Google has then created the addictive and more entertaining version of an easter egg and named it as Flappy Bird. Now for the latest version i.e Android 7.0 the Google has introduced another Easter egg that is actually a different version of Neko Assume and the Flappy Bird was therefore removed. Many people would like to go with the Flappy Bird only on their Android 7.0 device too so they don't have to worry as this is possible, the only thing you will have to do is to go through some method and get that easter egg running again on your device's. That method is described very well in this section of the article so go and check it out.
Also Read: How To Activate Android's Camera Flash As Incoming Call Notification
How to Play Flappy Droid in Android 7.0 Nougat
The method is quite simple and easy and you just need to follow some of the simple steps discussed below to proceed. So follow the below steps.
Also Read: How To Change Android's Screen Resolution Without Rooting
Steps To Play Flappy Droid in Android 7.0 Nougat:
1. At the beginning of this method, you will need to install and run a third-party launcher on your Android Naught device that can actually support the shortcuts for the various activities. We have chosen the Nova launcher for the method but you can still go with any of the others too. After installing up the launcher, remember to make or set it as your default launcher.
2. While your device is running up the custom launcher, you have to go to its home screen and then long press and hold anywhere on the empty part of the screen. This shall bring up the options on your device from where you have to select the "Widgets" option. Now from the panel showing you up the various widgets, you will have to drag and drop the "Activities Shortcut" widget on your home screen.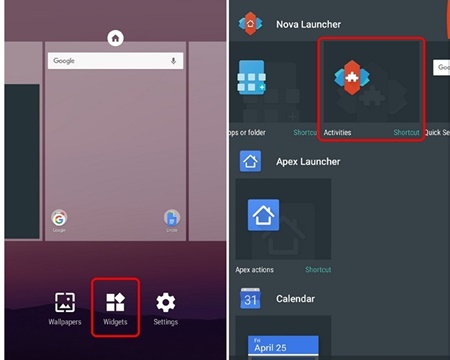 3. After the completion of above step the activities page should open up automatically, from there select "System UI" and select "Marshmallow Land" as the activities. This shall be performed every time you click on that widget, and that widget shall be named as Marshmallow Land.
4. This shortcut for the widget will open up the Flappy Droid on your device every time you will click on that, hence you can enjoy playing that game on your device.
Note: You can also avoid to install and use any another third party launcher by just using up the Activity Launcher that just helps to add activities to your Device's home screen.
Also Read: How To Set different languages For Each of your Android Apps
So this was the method which when used can help you to easily play up the Flappy Droid on your Android device running on version 7.0 Nougat. The best thing is that this has been only possible because of the Flappy Bird code that the Google hasn't removed even on the Android 7.0 Nougat. Now to activate and run this on your device, you have to go through some method and for that only we have written up the above article.