ReactOS is an open-source operating system for x86/x64 PCs intended to be binary-compatible with computer programs and device drivers made for Windows Server 2003.
"ReactOS 0.4.2" An Open-Source Windows Clone Released
The development of ReactOS started way back in 1996, as a Windows 95 clone project. So users who were looking for an open source replacement of Windows OS can go with ReactOS. However, you will not get look and experience like Windows 10.
Actually, ReactOS shares a similar look like Windows 95. First, let me clear you few things, first ReactOS is not a system based on Linux and not shares anything from UNIX architecture. React OS is written completely from scratch. ReactOs will allow its users to run Windows compatible apps and drivers effortlessly.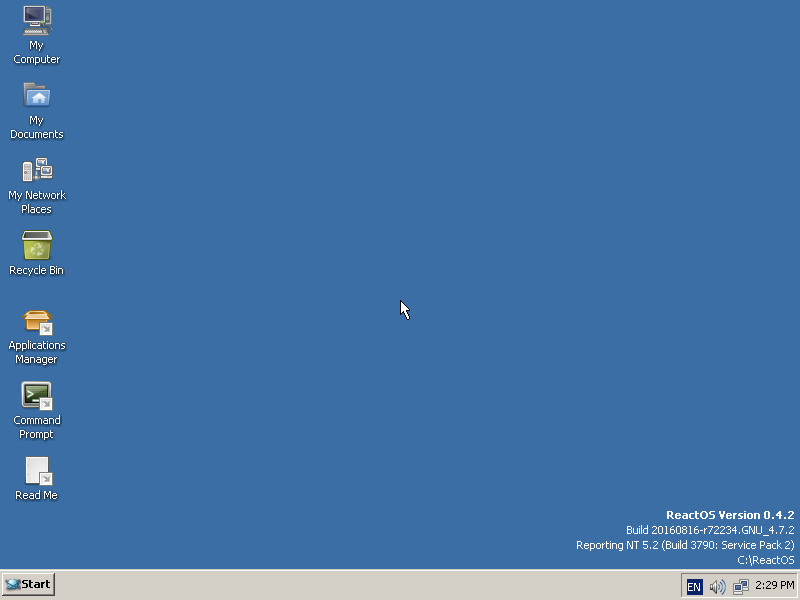 ReactOS project had recently released the upgraded version of its previous series 0.4. Let me tell you the latest version that is 0.4.2 came just 3 months after the release of the previous one.
ReactOS wrote in a blog post "The project is reaching a point where rapid releases are viable, where disruption from an introduction of major components or restructuring has been greatly reduced from the tumultuous early years and even as recently as the late 0.3.x series."
The recent release comes up with some good new features which includes updates to external dependencies such as Wine and UniATA. The team also worked to improve overall user experience. As we already stated that it shares the similar look like Windows OS, therefore, you will get a familiar look of windows desktop, Control panel etc.
What's more appealing in ReactOS 0.4.2 is it includes the ability to read and write various file systems for Linux/Unix namely ext family, ReiserFS, and UFS. ReactOS only needs 96MB RAM and 500Mb of Storage space to run.
Those who wants the download link for ReactOS BootCD can get it from here. If you want more information regarding ReactOS then you can visit their website.