Time to secure yourself from the phishing attacks by easily recognizing the spam links from emails and website with the help of the guide that we have discussed right in this article to secure users from cyber crimes.
[dropcap]T[/dropcap]oday hacking is a very popular thing in our virtual environment and this hacking begins to threaten sensitive data of numerous users. Today beyond this are many hackers that hack for money. Moreover, today there are many beginners that learn to hack and start testing their hacking attacks on many other users that don't know the even a single thing about it. And many non-involved users get caught in this attacks and their sensitive data can get leaked to hackers. And today the most common hacking attack is the phishing attack, it is very much common in the noobs that tries to hack the credentials of anyone using the scam pages that seems exactly same to the official webpages. And this attack mostly gets proceeded through the emails and from the social media networks by sending the link of the phishing page to the target user. Many of our users were asking for the guide to protect and recognize these links thats why we are here to serve you the guide that will allow you to easily Recognize Phishing Emails and Pages To Stay Protected. So have a look on complete guide discussed below to proceed.
Also Read: How To Set Always changing Pin for Increased Security of your Android
What Phishing Attack Actually Is?
Phishing attacks is a type of hacking attempt in which an attacker sends a link that opens an exactly similar looking page of site whose account or details criminals want to hack. Like if someone want to Hack Facebook Account then they will send you a link that will look accurately like Facebook and when you login in with that link your id and password will automatically be transferred to attackers and you will be hacked. So read out the measure to protect yourself from these phishing attacks.
Also Read: How To Create A Super Secure Password To Defeat Hackers
How To Recognize Phishing Emails and Pages To Stay Protected
Here we are going to discuss the various methods by which you can easily identify the phishing links and emails. So read out the complete guide and stay protected.
Also Read: Top 10 Best Secure Android Browsers To Browse Web Securely
#1 Identifying Phishing Email
First of all main source of the phishing link to arrive are the emails and the emails you will get will be named from any of your trusted site or service, but don't get befooled from that. And for that below points will be beneficial.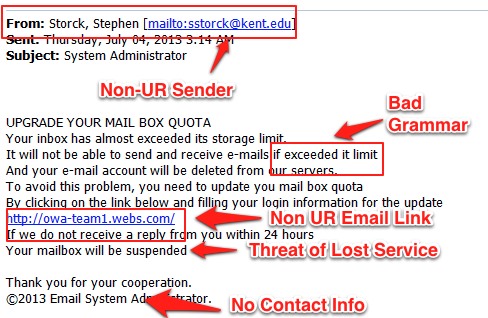 Check the Sender Email Address :- First of all you need to explore out the email details to stay secured, firstly check the senders email address address and if you find any of divert from the exact official address then don't proceed with that email address. You can get the sender email address to be changed from "[email protected]," it will be "[email protected]". etc.
Check Misspelling and Grammar Mistakes :- Most of the noobs and sometime experts commit these type of silly mistakes, so be patient and carefully read the content first to figure out these mistakes.
Figure Out Scammy and Forcing Language :– If emails content is forcing your with the language to get your details or the popup that asking your login then that must be a phishing attacks and you must be aware from that.
Don't Open Emails Of Spam Folder :-  By default email services separate the spamy content in the spam folder, so its better to stay away from all the mails that you find in the spam folder.
Avoid Clicking Phishing Ads :- Sometime in the spam sites you will get some of the spam ads that can be phishing ads and can cost you a lot, So better to be aware from these ads.
Also Read: How To Secure PC from Hackers that Keeps Tracks on your Activities
#2 Identifying Phishing Websites
The another way is when you open the link and the site gets open then there is the way by which you can judge that the site is official or not.
Here we have a great extension that you can add up on your browser and your browser will automatically detect the phishing page and will alert you.
The Netcraft Extension is a tool allowing easy lookup of information relating to the sites you visit and providing protection from Phishing.
Key Features:
• Detailed site reports – simply click the Netcraft logo to access a wealth of information about the sites you visit, helping you to make informed choices about their integrity.
• Risk Ratings – we evaluate the characteristics of the site and compare these against those depicted by fraudulent sites. The result is a simple visual summary displayed on the site report.
• Protection against phishing sites – The Netcraft anti-phishing community is effectively a giant neighborhood watch scheme, empowering the most alert and most expert members to defend everyone within the community. As soon as the first recipients of a phishing mail report it, we can block it for all users of the extension providing an additional level of protection from Phishing.
• Protection against cross site scripting (XSS) – The extension optionally traps XSS and other suspicious URLs which contain characters with no purpose other than to deceive.
• Conveniently report suspected phishing & fraudulent sites – At the click of the button you can report suspected web forgeries to Netcraft, helping to protect the community. Netcraft operates an incentive scheme for Phishing site submissions, including iPads, backpacks, mugs, and more… http://news.netcraft.com/phishing-report-competition
• PFS indicator – check if sites using SSL for encryption support Perfect Forward Secrecy (PFS). PFS ensures that if the private key of the site is compromised – for example by a court order, social engineering, an attack against the site, or cryptanalysis – your historical encrypted traffic is still safe.
• Heartbleed indicator – check if sites are still using an SSL certificate that was potentially compromised by Heartbleed. The extension uses data from Netcraft's SSL Survey to determine whether a site offered the heartbeat TLS Extension prior to the Heartbleed disclosure. If this is the case, the extension will also check to see if the site's SSL certificate has been replaced; if it has not, then the site is considered to be unsafe, as the certificate's private key could have been compromised.
Download Netcraft Extension For:
Also Read: How To Secure Your Computer By Automatically Blocking Dangerous IP's
So above discussion is all about How To Recognize Phishing Emails and Pages To Stay Protected. Remember the things that we discussed in this article and you will surely gonna protect your self from the phishing attacks. Hope you like this, do share with others too. Leave a comment below if you have any related queries with this.