Every time you create a file on your computer or mobile, it stores some of your personal information in its properties. For example, the word document created on a PC will keep your name as Author data in its properties. Similarly, the photos you capture on your smartphone will have location data in their properties. This data is known as Metadata.
These little pieces of data, when collected and analyzed, become information. Every time you upload files from your computer to the web, the metadata goes along with it, and it can feed someone with more information about you than you've assumed. And if this information lands on the wrong hand, it can invite many troubles and privacy issues.
Hence, if you are worried that the File's metadata might compromise your privacy, it's best to cut out the metadata from the files you plan to upload on the internet. Hence, this article will share a step-by-step guide on removing Metadata from a file in Windows 11.
Steps to Remove Metadata From Files in Windows 11
We have used a word document to demonstrate the method. You also need to follow the same steps for removing Metadata from other file types. Here's how to remove Metadata from files in Windows 11 operating system.
Important: The type of information saved in the File's properties depends on the File type. For example, an image file will have information like date taken, camera model, a program used for editing, copyright information., etc., on its metadata.
1. First, locate the file you want to remove the metadata—next, Right-click on the file and select Properties.
2. On the File Properties Window, switch to the Details tab as shown below.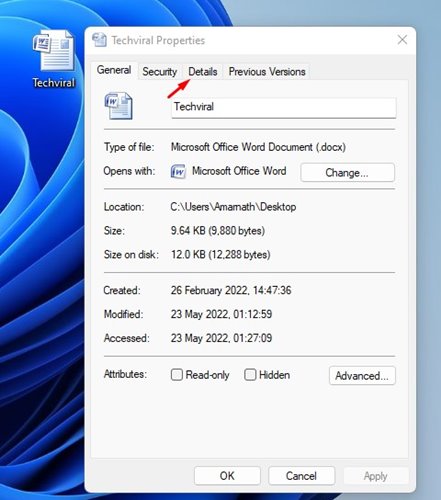 3. On the Details, click on the Remove Properties and Personal Information link.
4. On the Remove Properties Window, you will find two options – The first one will create a copy with all possible properties removed, and the second one will let you remove selected properties from the File.
5. If you want to remove selected information, select the second option – Remove the following properties from this File.
6. Now, you need to check the properties you want to remove.
7. Once done, click on the Ok button and close the Properties Window.
That's it! This will remove your personal information from File metadata in Windows 11. You need to follow the same steps to remove metadata for any file type.
You should always remove sensitive details from your files before uploading them to the internet, as this can pose a severe threat to privacy. So, this is the easiest way to delete your metadata before sharing your files. If you need any more help, let us know in the comments.