Although most PDF files uploaded on the web can be downloaded for free, some may require a password for unlocking. We are talking about the encrypted PDF Files.
If you have downloaded a PDF file from the internet, and when you try to open it, it asks you for a password, it's encrypted. The only way to unlock PDF content is by entering the right password.
Steps To Remove Password from PDF Files
However, since you don't know the password of the PDF file you just downloaded, you need to rely on third-party tools to remove the password. Below, we have shared two best ways to remove passwords from a PDF file. Let's get started.
1. First, you must open the password-protected PDF file on your Google Chrome Web browser. You can do that by just dragging and dropping the file into the Chrome browser. Enter the password for the file and then open it up on the browser itself.
2. From the "File" menu of Google Chrome, go to the "Print" option and select it. This will be used to print out the file. You can also use the key combination of "Ctrl + P".
3. You will then be prompted with a dialogue box, select "Save as PDF" and click on the Save button. Next, check the option that says "Save to Google Drive" before you press the save button.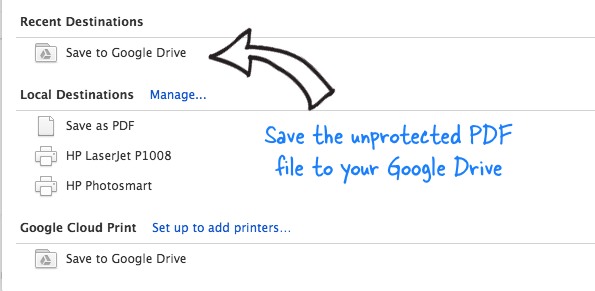 4. After all that, your file will be uploaded to Google Drive, and it can be downloaded from there. Just download the file from Google Drive, and you will find that the PDF file password has been removed.
Using Online Tools:
Some websites provide online tools to unlock your PDF files, like SodaPDF and Smallpdf. You can try these tools to unlock your files instantly on the internet
The method is very simple; you won't have to go through multiple processes to remove password encryption from the PDF files. If you need any more help removing passwords from PDF files, let us know in the comments below.