Learn How to Remove Password from PDF Files: PDF files are a sort of data in which the documents are in the form of text, images, etc. and are all put together in the form of pages which you can access easily and read them quickly. If you want to break password of any pdf file then you can easily do that by reading up the guide below.
[dropcap]I[/dropcap]f you wish to print out the PDF pages or files, then it is also very easy to do that all in just a few clicks. You can find up the books; tutorials to in the form of PDF files on the internet or websites, etc. Although most of the PDF files are available to be downloaded for free of cost, there are some PDF files that need to be paid before you can have access to these. The paid PDF files are encrypted with a password that you will come to know only after you buy these files and you could also find this type of password encryption on some other free PDF files too so you may need to fill up the password before gaining access to them. But there is a method by which you can remove up the password encryption from the PDF files and hence gain full control and access over these. This method has been described below in this article so just read up the article to know about that.
Also Read: Best Hacking Books Free Download In PDF
How to Remove Password from PDF Files
In the below steps, you will be learning the way by which you can remove up the passwords from PDF and all that with Google Chrome.
Also Read: How To Edit PDF File
Steps To Remove Password from PDF Files:
1. First of all, you will have to open up the password protected PDF file on your Google Chrome Web browser. You can do that by just dragging and dropping the file to the Chrome browser. Enter up the password for the file and then open it up on the browser itself.
2. From the "File" menu of the Google Chrome go to the "Print" option and then select it up. This will be used to print out the file but in general, we won't be printing it up in real. You can also simply use the key combination of "Ctrl + p" if you want.
3. You will be then prompted with a dialogue box, and from there you just have to select up from the options "Save as PDF" and then click on the Save button. Now the thing that you will have to remember is that you will have to check up the option that says "Save to Google Drive" before you press the save button.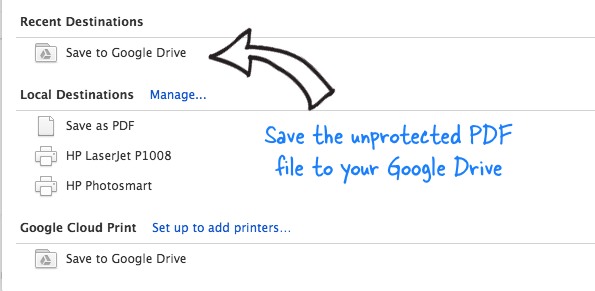 4. After all that your file will be uploaded to the Google Drive, and it can be downloaded from there. Just download the file from there and your will find that the PDF file password has been removed. You can now open up the file easily without any password.
Also Read: How To Save Webpages As Pdf Without Any Extension
Using Online Tools:
There are some of the online websites that provide up with the online tools that can quickly help you unlock your PDF files. Some of these online sites include 'pdfunlock.com', 'smallpdf.com/unlock-pdf'. You can try to use these tools if you want to unlock your files instantly on the internet and not want to download any third party application for that very purpose.
The method is very simple, and you won't have to go through multiple processes so as to completely remove the password encryption from the PDF files. From now onwards, you can easily remove up the password from the PDF files and hence you might not need to buy up the files but only apply the method from this article. Just go and try up this method on your PDF files that were encrypted before so as to gain access.