We already know the "sad" story of the Galaxy Note 7. But, Samsung recalled its Galaxy Note 7 devices. However, now the replacement phones are also in question. Yes, in a recent incident, a safe and replacement Samsung Galaxy Note 7 suddenly caught fire on a plane.
A replacement Galaxy Note 7 Catches Fire On A Plane
Since you might be familiar with the "sad" story of the Samsung Galaxy Note7. The mobile of the South Korean company had everything to be one of the most coveted and sold flagships of the world, but the constant serious problems have it turned into a nightmare for Samsung.
The company made the replacement program of the device Galaxy Note 7, but it seems that serious problems remain same.
It all happened on a flight from Southwest Airlines. A Galaxy Note7, which, curiously, had already been replaced by the South Korean company, exploded and caught fire which is still inside the plane. The passengers and crew were immediately evacuated through the door next to the cabin and have not been registered any injured.
Speaking to the website The Verge, Brian Green, owner of Galaxy Note 7 revealed that he had replaced the device last September on 21st in the AT&T store. The owner of the device, Brian Green sent, including a picture of the device box where you can see the black square symbol indicating that it is a device replaced and apparently without problems.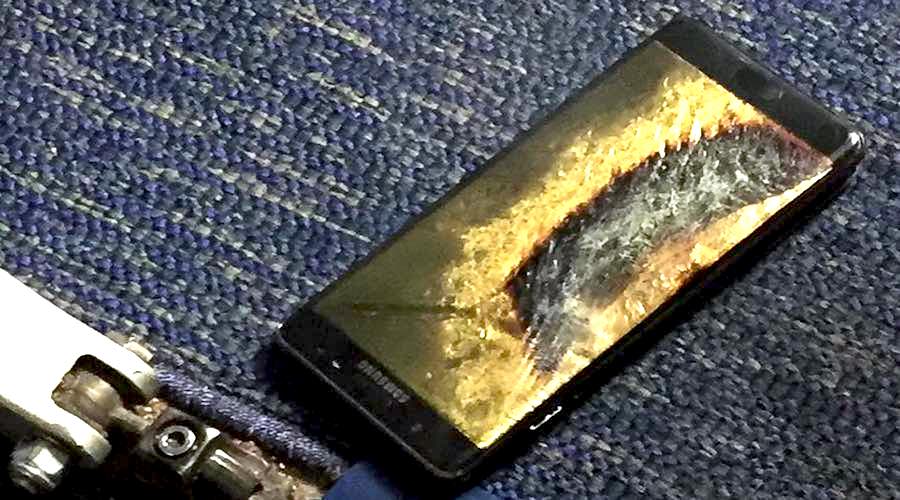 The owner of the device, Brian Green revealed that, interestingly, the smartphone was turned off in his pocket, as requested by the aircraft. Suddenly it began to smell smoke, pulled it from his pocket and dropped it on the floor of the plane as he watched a liquid, along with smoke which is actually released by the device. The device eventually burned the carpet and subfloor of the Airplane.
When Brian Green put the smartphone in his pocket at that time he noticed that his device battery status was about 80%. Even, the owner, Brian Green also stated that he always use to charge his device through a wireless charger that comes with the smartphone itself.
However, this is another case of Galaxy Note 7 occurred again. Hence, Samsung investigates and try to give an answer to clarify all these situations that have happened. But, if we notice then it is clearly visible that, it already starts to get difficult for the consumers to believe or have confidence in this device, as, it may simply explode in the hands of an adult or even on the hand of a child, making a more comprehensive use of this type of device.