Time to unsubscribe all annoying emails in Gmail at once because we are here with an awesome trick that will let you unsubscribe all your annoying emails in Gmail with one click. The better part of this trick is you don't need to use any extra 3rd party software to perform this action.
[dropcap]G[/dropcap]mail is very successful mailing interface. Today millions of people are using Gmail account daily to send and receive emails. And more than billions of users are there on Gmail that uses this mailing services daily, but somehow disturbing Emails in inbox really provokes that by falsely get's subscribe by us in some different network.
Also Read: How To Sign Out From Your Gmail Account Automatically
You may often try to unsubscribe from these network by opening each and every mail and that take lots of time and it's really troublesome to find all the subscribed network. S,o here we have a trick by which you can easily unsubscribe From All annoying Emails in Gmail within a single minute. So have a look on complete guide discussed below to proceed.
How to Unsubscribe All Annoying Emails In Gmail At Once
The method is very simple and depends on a cool portal that will allow you to get unsubscribed from all the networks that irritate you in your emails. So follow up some simple steps below to proceed.
Also Read: How To Get Gmail Notifications On Your PC
Steps To Unsubscribe All annoying Emails In Gmail:
Step 1. First of all, you need to visit the site unroll.me in your PC browser. Now there, simply click on Get Started Now.
Step 2. Now you just need to sign up for your email account there where you want to unsubscribe from annoying emails.
Step 3. Now you simply have to allow the access  to your account.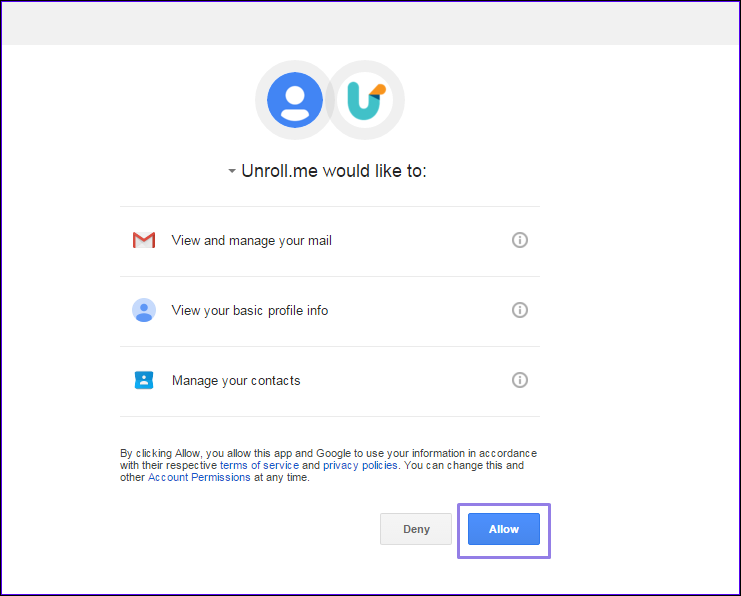 Step 4. Now on the next screen, you will be able to find your subscription, you  just have to click on continue to proceed to next step.
Step 5. Now simply click on unsubscribe in the front of services that you want to unsubscribe from your email.
That's it! You are done, now you will get unsubscribed from all other annoying emails from your account.
Also Read: How To Automatically Back Up Photos & Videos With Google Plus
Similar Type Of Websites
SaneBox gives you everything you need to fly through your inbox and finally make email work for you. You can unsubscribe from mailing lists and individual senders with ease, Set reminders for your future self and be notified if someone doesn't reply, Avoid false positives that send legitimate emails to your Spam folder.
After you sign up, an Unsubscribe folder is created in your inbox. Drag in unwanted email and Unsubscriber will block emails from those senders from entering your inbox. Unsubscriber notifies the sender that you want to unsubscribe from their email list. Until that happens, new emails from that sender will be moved to your Unsubscribe folder. Unsubscriber works across major email providers like Gmail, Outlook, Yahoo! and more.
Alto can organize all your emails from all your accounts, or you can look at each account separately. It also helps you organize your mail based on what's in it, not who sent it or when it was received. In simple, Alto organizes all your mail accounts in one place, so you can find what you need even faster.
Also Read: How to Send Free Text SMS from Gmail Account
Unsubscribe Using GMAIL's Default Option:
Step 1. Here you need to log in with your Gmail account. Step 2. Once you opened the inbox, select the email you want to unsubscribe.
Step 3. After you opened GMAIL, you need to look for "Unsubscribe" option. It will be behind the email address itself simply click on it.
Step 4. Now you need to confirm it by selecting the "Unsubscribe" option.
That's it you are done! It is a lengthy process but it's effective. You just need to look for Spam emails and unsubscribe it as soon as it arrives in your inbox. It will make it easier for you!
Also Read: How To Create Multiple Gmail ID with Single Inbox
So above is all about Unsubscribe All annoying Emails in Gmail At Once. So use this manageable method and easily get unsubscribed from all the emails that you won't like in your inbox. Hope you like this cool trick, share with others too. Leave a comment if you have any related queries with this.