WhatsApp, the popular Meta-owned instant messaging platform, is reportedly testing out a new feature that allows users to pin messages to the top of their group chat conversations.
WhatsApp Rolls Out Pinned Message Feature For Group Chats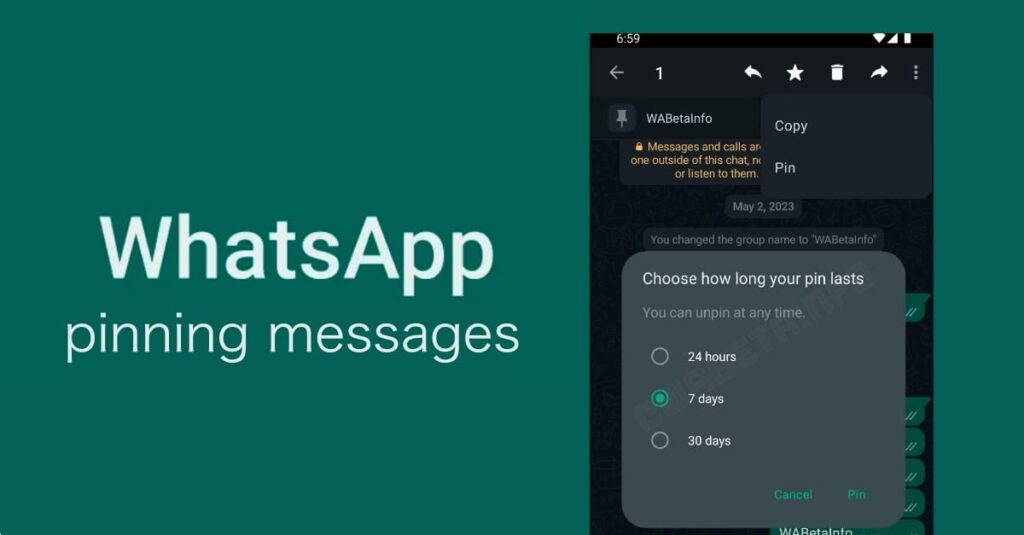 According to a report by WABetaInfo, a known WhatsApp tipster publication, the new pinned messages feature is currently in testing in beta. It is being rolled out to a limited number of beta testers on Android.
After installing the latest WhatsApp beta for Android 2.23.21.4 update from the Google Play Store, users will be able to view a new pin action within the message options. This feature will allow users to emphasize a message by pinning it to the top of their group chat conversations, making it easier for others to quickly access important or frequently referenced messages.
The report further added that users can select how long the pinned message will last at the top of a group chat — 24 hours, 7 days, or 30 days. Users can also unpin a message at any time, even before the selected duration expires. For those unaware, the pin messages option is already available in individual chats.
To pin a message in group chats, users will need to long-press a message to get the context menu, which will allow them to choose a new 'Pin' option. This will keep the message at the top of the chat window, which can then be easily accessible even when other messages have been sent and received.
Meanwhile, the same beta update also supports a redesigned chat attachment menu with new colorful and modern tiles for options like Gallery, Camera, Location, Contact, Document, Audio, and Poll so as to provide WhatsApp users with a modern and user-friendly chat share sheet interface.
"The updated menu still features the process of sharing various types of content, but it is now definitely clearer and more intuitive with the latest tweaks," WABetaInfo reported.
Currently, the pinned messages feature and the redesigned chat share sheet are available to a limited group of beta testers who have installed the latest update of WhatsApp beta for Android from the Google Play Store. These features are expected to roll out to a wider audience over the coming weeks.