5G is all the rage now, and everyone wants to buy a smartphone that supports 5G connectivity. Famous smartphone makers like Samsung, OnePlus, Google, Realme, etc., have already launched smartphones with 5G support.
If you have just purchased a smartphone but don't know whether it supports a 5G network or not, you may find this guide very useful. In this following guide, we will share some of the best ways to check 5G band support on your smartphone.
4 Best Ways to Check 5G Bands Supported on Your Phone
Even if you know your phone supports 5G connectivity, you still want to check what are the 5G bands that your phone supports. So, let's check out the best ways to check 5G bands supported on your smartphone.
1) Check your Phone's Retail Box
Smartphone manufacturers often list their phone's detailed specifications in the retail box. So, if your phone's retail box, you can easily check it to find the supported 5G bands.
You need to check the radio information on the back side of your phone's retail box. If your phone supports 5G, you will see NR (New Radio 5G) or SA/NSA 5G band.
Some smartphone makers list their phone's 5G frequency band on the backside. So, the best option is to check your phone's retail box to find the supported 5G bands.
2) Check Your Phone's Official Website
For example, if you use a OnePlus smartphone, you must open OnePlus.com and check your phone's specifications. Today, almost every smartphone maker maintains a specification page for their available smartphone on their official website.
You can check those web pages to find full details of your phone's specifications. The phone's specifications list all hardware/software details, including the 5G network connectivity and bands. Below, we have shared a list of official websites of all major smartphone makers to check your phone's specifications.
3) Check 5G Band Support on a non-official website
The official site may be complicated to navigate, and if you have phones from multiple makers, it's best to rely on dedicated websites that maintain the specs sheet of smartphones.
For example, gsmarena.com is a popular website that maintains detailed spec sheets of any smartphone. GSMArena also shares smartphone reviews; you can read user comments before purchasing a smartphone.
If you want a dedicated website to grab the 5G bands' information, we recommend using cacombos.com. cacombos.com is a very popular site for maintaining various smartphones' 5G bands information.
4) Check Supported 5G bands on iPhones
You can use GSMArena to check the 5G bands of your iPhone, as it lists all details related to the network. GSMArena shows you the 2G, 3G, 4G, and 5G bands, along with speed.
However, since GSMArena is not an official source, you can't trust the listing fully. For cross-checking the supported 5G bands on iPhones, we recommend following the steps we have shared below.
1. First, open your web browser and visit this webpage.
2. You can use the search bar to find the iPhone model you're interested in.
3. Once located, you need to scroll down and check the specs sheet.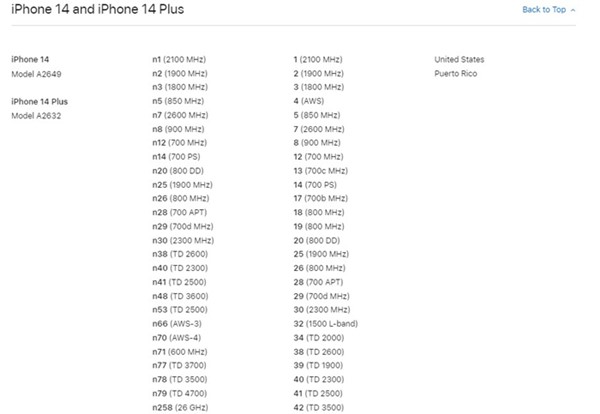 4. The official website shows you all supported 5G bands.
That's it! This is how you can check the supported 5G in iPhones. The official site is easier to navigate, and you will be able to get all details about a particular iPhone.
Also read: How to Get iPhone type Dynamic Island on Android
So, this guide is all about how to check the 5G bands supported by your Android or iPhone. If you need more help knowing which 5G band your phone has, let us know in the comment section below.