Several times we need to access some very important web pages, but we can't access it due to some internet service problem. Therefore, we are going to share a useful trick on accessing web pages offline on your Android smartphone. Go through the post to know about it.
We all know that while browsing through multiple sites you need a fast internet and most of us having slow internet connectivity that takes lots of time to load web pages properly. So, what if I tell you that you can download the complete website and browse them later even if you don't have an internet connection?
Actually, this is possible with an android app. We all love to browse the internet with our Android device. So, you can download all the web pages you need to read throughout the day and can browse the content even if you don't have the internet connection. Therefore, let's know how to download web pages for offline viewing in Android.
How To Access Websites Without Internet Connection On Android
Using Offline Browser:
Offline browser is an awesome Android app which let you to download all the web pages you need to read during the day. You can save the web pages to read it when you have no wifi or internet connection.
Step 1. First, of all you need to download and install the app "Offline browser" on your Android device.
[appbox googleplay it.nikodroid.offline]
Step 2. After installing the app, you need to open the app and you will see the screen like below simply click on the "+" icon to add the link.
Step 3. Now on the very next page, you need to enter the link that you want to download and the Title (The name you want to save). Now, hit the download button.
Step 4. Now wait for some time until the browser finishes the link for offline viewing.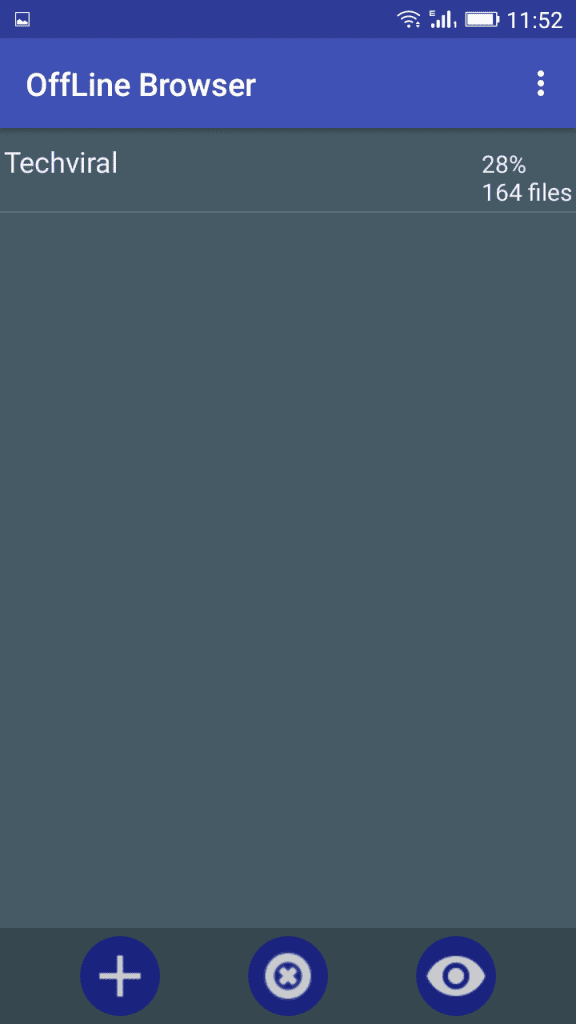 Step 5. After the download, you will get to see the screen like below. You can now open it without the internet connection.
That's it! you are done. You can now browse the save web page without the internet connection.
Also Read: How To Show CPU Temperature in Android Status bar
Using Google Chrome:
Chrome has a dedicated download button, so you can easily download videos, pictures, and entire web pages with just one tap. Chrome also has downloads home right inside Chrome, where you can access all the content you downloaded, even when you are offline.
Step 1. First of all, you need to install Google Chrome browser on your Android smartphone. If you already have, then update it.
[appbox googleplay com.android.chrome]
Step 2. Now open the browser and visit the web page which you want to download.
Step 3. Now you need to long press on the link and then choose the option "Download Link" as shown in the screenshot below.
Step 4. Now you have to wait for few seconds until the browser downloads the web page.
Step 5. Once download tap on the saved link to open the webpage without the internet connection.
That's it! This is the easiest way to download Webpages offline. You can save the web pages and can use it in offline mode too!
Similar Apps To Browse Offline 
#Pocket
[appbox googleplay com.ideashower.readitlater.pro]
Pocket is an android app which let you browse the best and most interesting stories on the internet. If you find any interesting story, you can save it for later view. Once saved, you can access those saved link without using the internet.
#Opera Mini
[appbox googleplay com.opera.mini.native]
The Opera Mini browser for Android lets you do everything you want online without wasting your data plan. It comes with an offline feature. Users just need to tap the + button on the search bar to save the page to read it offline.
#Dolphin Browser
[appbox googleplay mobi.mgeek.TunnyBrowser]
Dolphin Browser is another popular Android browser which is fast and best suitable for private browsing. The browser comes with an awesome bookmark feature with several add-ons that let you save web pages to PDF. So, if you have a PDF reader installed on your phone, you can use this browser to save web pages in PDF format to read it offline.
Video:
[su_youtube_advanced url="https://www.youtube.com/watch?v=6LC-EeFFOKY"]
So, above is all about how to download complete website for offline viewing. This will help you a lot if you want to visit any site regularly! You won't need that extra data to visit the same site again and again. Hope you like the post! Share it with your friends too.