Advertisements are essential for website owners to generate revenue, but they can ruin your browsing experience entirely. Ads can also be used to inject viruses such as adware, Malware, and spyware into your computer.
In Chrome, there is an ad-blocker that automatically removes spammy ads, but it does not remove all ads. So, to protect your web browser from endless ads, you need to start using ad blocker extensions.
As of now, there are many Adblocker extensions available for the Google Chrome web browser. You can install any extensions to remove unwanted ads from the web pages. Also, some of the ad-blockers offer a few additional security & privacy features like Tracker blocker, DNS changer, etc.
List of 10 Best Ad Blocker Extensions for Google Chrome Browser
Hence, in this article, we will list down some of the best ad blockers for the Google Chrome browser. All of these Chrome extensions were available for free, and you can use them on the Edge browser as well. Let's check out.
AdBlock is a Chrome extension that can remove ads and pop-ups from most popular websites. The extension works fine even on Facebook, YouTube, Twitch, and other popular websites.
Over 60 million users right now use AdBlock, and it has over 350 million downloads. The AdBlock extension blocks ads and pop-ups, blocks third-party trackers, blocks malicious ads with Malware, and improves the page loading time.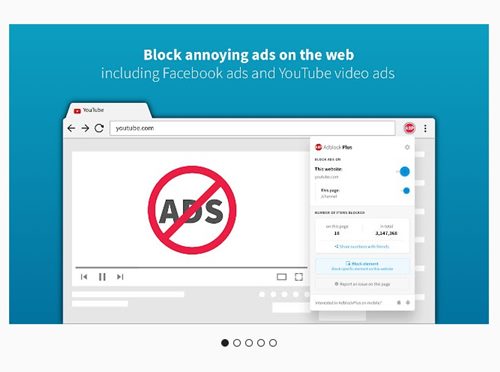 Adblock Plus is more popular than Adblock, and it has been downloaded over 500 million times from the Chrome web store. You can easily remove ads, video ads, banner ads, pop-ups, etc., from your favorite sites with Adblock Plus.
The chrome extension does a great job by blocking trackers, fighting off destructive malvertising, and giving you a faster browsing experience.
If you are searching for a Chrome ad-blocker extension that can give you complete control over ad-blocking, then look no other than Fair AdBlocker. Guess what? With Fair AdBlocker, you can not only block annoying ads but also protect your privacy by blocking online trackers.
It can remove all sorts of ads from the web pages, such as autoplay video ads, youtube ads, banner ads, interstitial page ads, overlay ads, and more.
With AdBlocker Ultimate, you can block ads on your Chrome browser more efficiently than any other ad-blocker extension. Guess what? The Chrome extension is powerful enough to block even acceptable ads or allow advertisers.
The ultimate goal of the extension is to remove ads so that you can focus your attention on the content you want. It also blocks Malware and tracking to prevent your web browser & privacy.
Ghostery is slightly different from all other extensions listed in the article. It's an extension that shows what advertisers are tracking you.
The Chrome extension has an anti-tracking feature that removes all your data points and unwanted ads. Ghostery also provides complete control over the ads you want and don't want to see.
AdGuard AdBlocker is a lightweight Chrome extension on the list that uses half as much memory as other ad-blocker extension uses. The Chrome extension can remove all sorts of ads from the web pages, such as video ads, rich media ads, pop-ups, banner ads, etc.
The good thing about AdGuard AdBlocker is that it also reads the anti-block scripts, so you don't need to turn off the extension while visiting such sites.
uBlock Origin is an ad-blocker, but it's designed to make your processor and RAM more efficient. It's a great Chrome extension to block ads and speed up your web browser.
Once installed, uBlock Originautomatically stops your web browser from loading heavy ads that could eat your device's resources. In addition, it can remove all sorts of ads from web pages.
A lightweight extension for Chrome, AdBlocker by Trustnav blocks all sorts of ads like every other ad-blocker. It runs in the background without affecting the performance.
It can remove ads from Facebook, YouTube, and other popular platforms. AdBlocker by Trustnav can even remove pop-ups, pop-unders, sponsored stories, etc.
Despite not being very popular, Adblocker Genius PRO still serves as one of the most effective ways to block ads. It not only blocks ads, but it also blocks website that has Malware or virus content.
You can use this Chrome extension to block phishing websites, hide website page content, filter ads, and more.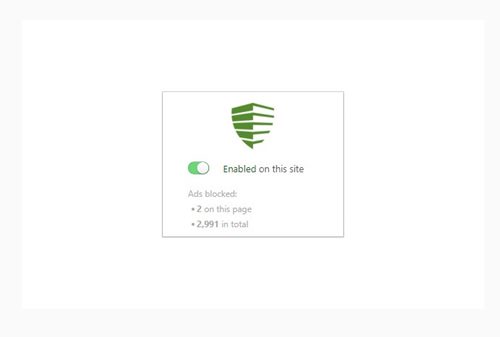 As the extension's name says, Easy Ad Blocker is a Chrome extension that lets you easily block video ads, annoying banners, pop-ups, and more. The latest version of Easy AdBlocker can even block phishing websites and Crypto miners.
By eliminating the ads, Easy Ad Blocker dramatically improves the performance of your web browsers. The browser extension works fine on every popular website you can think of.
Blocking ads on the Chrome web browser is pretty straightforward. You can use any Chrome extensions to remove ads from your favorite web pages. I hope this article helped you! Please share it with your friends also. If you have any doubts about this, let us know in the comment box below.