Music is something without which our world could feel very dull. Almost everyone in this world likes music, which can't be ignored. Music has the power to soothe our minds and make us calm.
Several reports have already displayed the immense benefits of listening to music daily. It can not only help you deal with stress but also can lift your mood.
List of 15 Best Apps To Enhance Music Experience on Android
However, you need to start using third-party music players to get the best music listening experience on Android. Below, we have shared some of the best free music player apps for Android. Let's get started.
The music creativity app is loaded with intense tools and functions that you can use to create your music. Working with this app couldn't be easy as its tools have many functions that are not easily understood.
You will have to learn this app before you can use it. After that, you can easily make your music on your Android device. This app is a great deal, although it is not free, and you have to pay for it.
This type of app works with any music player on your android device to help you find the lyrics of the songs. You can install this app and, after that, use its functions within other music players to find the lyrics of any song.
If you love listening to music along with the lyrics, then you should try this app, as it is the best app that can provide you with lyrics of most tracks.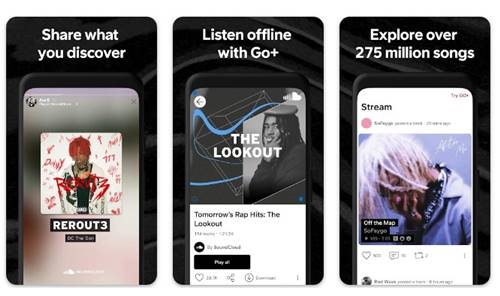 The biggest collection of tracks that you can ever find is only on this app. This app has a huge collection of songs. If you are trying to find any song and cannot get it anywhere else, then you don't have to worry, as you will surely get it on this app.
You can use this app to download or stream the music of your choice. Just use its search function to find the track you want to hear and download it or play it online.
Another music creation tool for android is also packed with intense features that you can use to make beats, music, etc. This paid app does have a free trial pack in which the feature to export your creations is disabled.
Hence in the free app, you cannot save your music, but you can try all the app's features before getting to the pro version. In this app, you get over 200 amazing instruments.
One of the popular apps in India that can easily find the latest bollywood tracks. You can also use this app to either play or download the latest songs.
You can find songs in Hindi, English, Tamil, Telugu, Marathi, Kannada, Punjabi, Malayalam, Bhojpuri, Rajasthani, and many more Indian languages. Just give it a try, and you will love this cool app.
This superb app can help you find any song on the network by just listening to it. Yes! You just have to get close to the playing music, and this app will recognize it through your device's mic.
It will then find the song and lyrics for the same. You can also download or play the song you found through this app.
This one is a great choice if you want something simple, functional, lightweight, and provides crystal clear sound.
Dub Music Player is a stunning music player, beautifully crafted with realistic and material design in mind and packed with some extraordinary powerful features.
Equalizer & Bass Booster is a volume slider with live music stereo led VU meter and five band Equalizer with Bass Booster and Virtualizer effects.
Improve the sound quality of your Android device with the first true global Equalizer, Bass Boost, and Surround Sound.
BlackPlayer is a Free elegant modern local Music player. It's easy to use and one of the fastest out there. The best part of BlackPlayer Music Player is it supports the standard local music file formats such as MP3, WAV, and OGG.
jetAudio is one of the highest-rated and most downloaded media players; now, you can listen to the same high-quality sound on your Android phone using jetAudio.
It plays almost any digital music file and provides a high-quality sound with various effects.
MediaMonkey is not a traditional audio player app. The app has many features, including organizational features for podcasts and audiobooks and the ability to sort songs by the composer. The app also has its equalizer.
Well, if you want to take the audio equalization of your Android to a whole new level, then you need to download and install Bass Booster Pro from Google Play Store.
The app features many equalization technologies, including techno, dubstep, and metal, among other, presets you will not find in any other apps.
With the help of Super Bass Booster, you can hear superior sound quality because it significantly improves the sound effects and takes your Android's bass enhancement and 3D virtual sound to an entirely new level.
This app consists of a volume enhancement tool, a bass enhancement tool, and much more.
Spotify is a free music streaming app that offers you endless hours of music content for free. You can use Spotify to listen to music for free, but you need to adjust to the commercials.
The premium version of Spotify removes all ads and unlocks superior audio quality. So, it's one of the best music player apps for Android you shouldn't miss.
You can access and use Amazon Music for free if you are an Amazon Prime subscriber. Amazon Music is available as a standalone app for Android. You can download it on your phone and log in with your Amazon account.
Amazon Music shares many similarities with Spotify but has less music. Overall, Amazon Music is a great music player app for an enhanced music experience.
This is all about the best apps for android that you can install to enhance the music experience. These apps are available on the Google Play Store and can be downloaded for free. If you want to suggest us any other music player apps for Android, let us know in the comments below.