AMD is to launch some new processors in January, but as usual, its price and other specs detail already leaked ahead of its launch. At the same time, these processors are officially revealed to be lower-TDP models.
The company has already launched Ryzen 7000 X series processors, but now, it plans to unveil the non-X series of the Ryzen 7000 processors. Let's discuss all the leaked detail regarding this non-X series.
AMD Ryzen 7000 Non-X Series: All Details

The company wants to launch more affordable and low-power consumption processors, so they have decided to launch Ryzen 7000's non-X series, which includes three processors.
The models are named Ryzen 9 7900, Ryzen 7 7700, and Ryzen 5 7600. And a website called VideoCardz has leaked a promotional slide related to these processors that reveals the specs and prices.
Leaked Specs
As these processors aim to be affordable, they all have downgrades in performance compared with X-series. And all these processors are based on Zen4 architecture.
According to the leaked image, AMD Ryzen 9 7900 will have 12 cores and 24 threads, and its base clock speed is 3.7GHz which can be boosted upto 5.4GHz.
AMD Ryzen 7 7700 will have 8 cores and 16 threads, and its base clock speed is 3.8GHz which can be boosted upto 5.3GHz.
AMD Ryzen 5 7600 will have 6 cores and 12 threads, and its base clock speed is 3.7GHz which can be boosted upto 5.1GHz.
And all these processors will have the same TDP (power consumption), which is 65W.
While another leaked slide revealed the gaming performance of the Ryzen 9 7900 paired with the AMD RX 6950X, which showed that it is 19% faster than the Ryzen 5900X.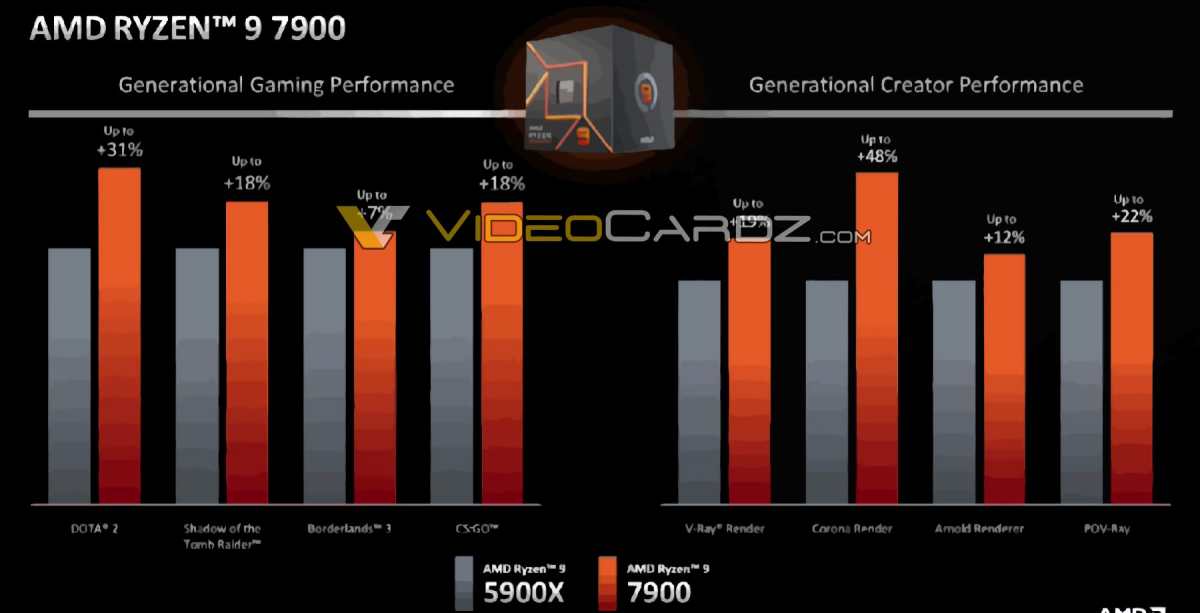 Leaked Prices
Ryzen 5 7600 is said to get a price tag of $229.
Ryzen 7 7700 will cost $329, which is $70 less than Ryzen 7 7700X.
Ryzen 9 7900 will be priced at $429.
Release Date
The processors series is said to get launched on 10 January 2023 because the time around the CES 2023 event will be the perfect time for the launch of tech products.