Right now, there are more than billions of users who are using an Android device. On our Facebook page, we receive multiple messages from our users regarding how to speed up slow Android smartphone. Many people have a concern about why Android devices slow down with time. There could be multiple reasons behind it, like junk files, faulty hardware, bugs, etc.
In most cases, it was the apps running in the background that slows up the devices. On a Windows computer, killing processes and apps is easy due to the task manager's availability. However, on Android, there's no such option to kill apps. Users can kill apps by going through the Apps settings, but that requires lots of time, and it can be tedious.
If you are wondering how you can improve your device performance and battery life, you need to use the Android task manager apps. These task manager apps or app killers for Android can find and kill apps running in the background.
Also Read: Best Android Apps – Fun, Useful & Unique Apps You're Not Using
10 Best Free Android App Killers in 2021
Therefore, in this article, we have rounded up a list of best app killers for Android that can be used to improve the smartphone's performance and battery life.
If you are searching for an app to speed up your phone, free up the memory, and save the battery usage, you need to give KillApps a try. Guess what? KillApps is one of the best app killers available on the Google Play Store that can kill all running apps in just a simple tap. Not only apps, but KillApps can also close background tasks and services as well.
The name of the app says a lot about the app. Task Killer is an Android app that tells you about the processes, apps, and tasks running in the background. With Task Killer, you can kill selected apps and processes running in the background. Also, it has an Auto Kill feature that prevents apps from restarting after being killed.
Well, Taskmanager is a useful and lightweight Android app to kill apps running in the background. The Google Play Store listing doesn't say much about the app, but it has every feature that you need to manage your Android apps. It has a feature that kills all running apps in just one tap. Also, you can create a custom list to ignore apps that you don't want to kill.
Well, Greenify is not precisely an app killer as it puts the app into hibernation mode. However, Greenify is heavily popular amongst Android users, and it can identify and put the misbehaving or idle apps into hibernation mode. By doing so, the app dramatically improves your device performance and minimizes lags or battery leeching. The app works on both rooted and non-rooted Android smartphone, but it works the best on a rooted device.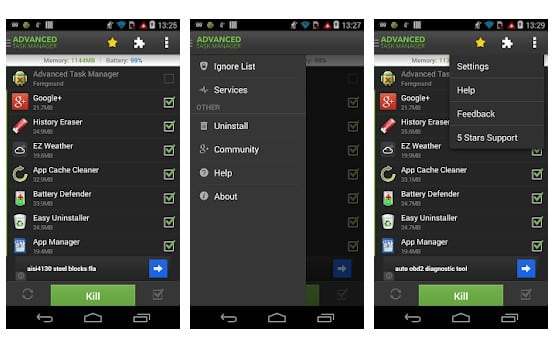 Advanced Task Manager is one of the best and top-rated Android task manager app available on the Google Play Store. It serves as an Android optimization app because it offers a RAM cleaner, app killer, battery optimizer, etc. The Advanced Task Manager provides users two different modes to kill apps – Manual and Auto mode. In the manual mode, you can kill apps, games, set up a regular kill, startup kill, etc. On Auto mode, the app kills all apps and tasks running in the background.
Castro is a little bit different than all other apps listed in the article. It's an app that helps you gain complete information about your device. Castro offers a set of tools to monitor your battery consumption rate, processor statistic, WiFi details, sensor details, app details, etc. You can use the app to find out problematic processes apps. However, you need to kill the apps manually.
Skit is for those who have been searching for a simple and smartest application manager for Android. The Android app provides you a wealth of details about all user and system applications. Not only that, but it also offers users an option to end any activity or service.
Well, SystemPanel 2 is one of the advanced task manager apps on the list, which lets you view and manage just about everything possible. It shows active apps, records app battery usage, CPU, and wake lock usage. Not only that, but it also analyzes the recent battery consumption. Apart from that, it also lets you disable individual services of apps, system packages, etc.
Servicely is a battery saving app on the list which lets you disable/enable permanently any service on your device. It shows a detailed overview of every app that are installed and running in the background. However, on the downside, Servicely works only on rooted Android smartphones.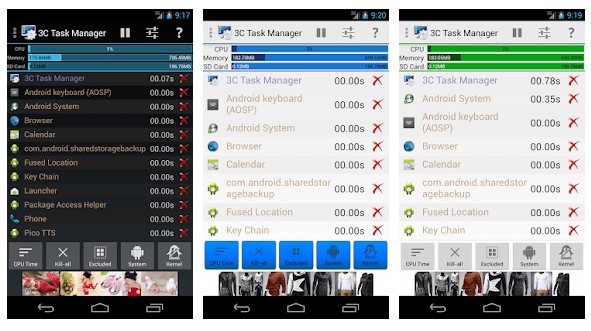 Although not famous, 3C Task Manager is still one of the best task manager app for Android. Unlike all other apps, 3C Task Manager also used the Accessibility services to stop apps on non-rooted devices. If you have a rooted device, then you can use the app at its full potential. For instance, you can kill any apps, processes, view kernel processes, etc.
So, these are the best Android app killers you should try to speed up your device. If you know any other such apps, let us know in the comment box below.