Our phones are now called 'Smart' for a reason. Smartphones running on Android and iOS mobile operating systems can do many things you could have never expected. If we look around, we will find that technology around us is evolving at a rapid pace. Nowadays, our smartphones are capable enough to handle complicated and multiple things simultaneously.
If we talk mainly about Android, you will find apps on the Google Play Store for different purposes. Some apps can make your life much more comfortable, like automation apps. These are the apps that help users to automate different tasks on Android smartphones.
In this article, we have decided to share a list of the best Android apps that could help you automate different tasks. These apps provide shortcuts, configurations, triggers, and rules to help you get more out of your Android smartphone.
List of 10 Best Android Apps To Automate Tasks
Before exploring the list, please remember that most of the article's apps work on non-rooted devices, but if you have a rooted device, you can explore some hidden features. So, let's explore the list of best Android apps to automate tasks.
Well, aProfiles is a little bit different than all others listed in the article. On this app, you need to create a profile and assign tasks. You can change multiple device settings by activating a profile.
For example, you can activate a profile to switch the phone to silent, lower screen brightness, and turn off the internet connection in just one tap.
IFTTT is not exactly an Android automation app, but it will let you connect over 630 apps to work together. For example, you can set create an automation job to backup your Android photos to social networking sites automatically.
Similarly, you can automate the process of backing up important files, photos, and contacts to cloud storage services.
Skiplock used to be a premium app, but after receiving lots of support from users, it was made free for everyone. It's a simple app that lets you skip past the lock screen when connected to a designated WiFi.
That means that you no longer need to enter your lock screen password whenever connected to a set WiFi or Bluetooth device.
Tasker is by far the best and most advanced Android automation app available on the Google Play Store. With root access, Tasker can control the software, hardware, and different aspects of Android.
What's more interesting is that Tasker allows users to create triggers to launch specific apps, widgets, and other features automatically. Right now, Tasker has over 200 plugins to do different tasks.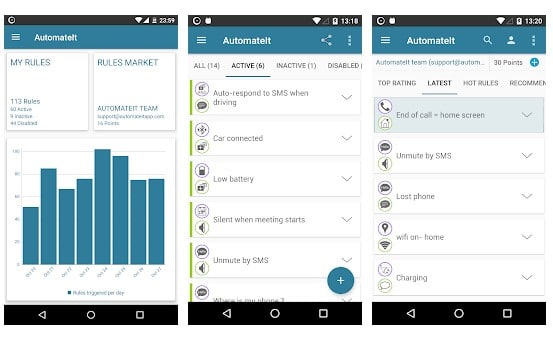 It is one of the best and most popular automation apps you can use on your Android smartphone. With AutomateIt, you can easily create rules to perform different tasks like sending SMS when you reach specific GPS locations, launching the app when connected to any particular WiFi, etc.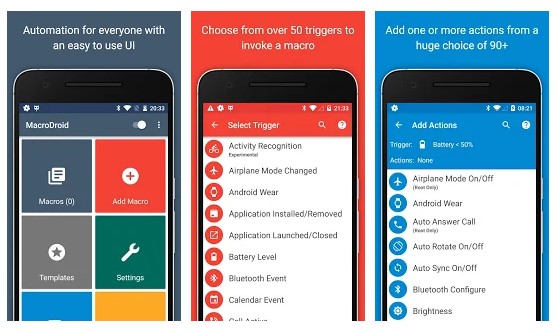 Well, MacroDroid is another excellent option in the list you can consider to automate Android tasks. On MacroDroid, you need to create custom macros to perform specific actions. You can also choose from hundreds of built-in macros as well.
The app works on both rooted and non-rooted devices, and it's the best Android automation app that you can use right now.
Ever wanted to record phone calls automatically? If yes, then you need to give Call Recorder – ACR a try. Guess what? Call Recorder – ACR allows users to automate the entire call recording process. The app got the ability to record both incoming and outgoing calls on your Android smartphone.
As the app's name says, the Automate Android app allows users to automate various tasks on Android smartphones or tablets. Like every other Android automation app, Automate also allows users to create a flowchart to perform different tasks.
For instance, you can create your automation to change audio volume, Bluetooth, GPS, WiFi, sending SMS, etc.
Droid Automation is another best event-driven task scheduler app for Android that allows you to automate repetitive tasks. Compared to all other apps listed in the article, Droid Automation is lightweight and pretty easy to use.
To put specific tasks in automation mode, you need to create a profile, add tasks, and select the triggers.
Power Automate from Microsoft is another best Android automation app that you can use right now. Unlike all other apps, Power Automate is meant to assist your business workflows.
For instance, you can set the app to alert you when you receive an email from any particular contacts; you can choose to record your work hours, etc.
So, these are the best Android automation apps that you can use right now. If you know of any other such apps, let us know in the comment box below. I hope this article helped you! Please share it with your friends also.