Popular OEMs like Samsung, Xiaomi, Huwaei, LG, etc., have already integrated many gesture features on their phones. Modern smartphones now allow users to use gestures like pull-down, two-finger swipe, double-tap, etc., to access certain features of the UI. However, the gestures features were missing on most of the old smartphones.
If you have been using an older version of Android, then the chances are that your phone misses out on the vital gesture features. Also, gesture support is missing on lots of third-party Android skins.
So, if you are using an older version of Android that doesn't have gesture support, you need to install a third-party Android launcher. There are plenty of Android launcher apps available on the Google Play Store with gesture support. These launcher apps allow you to customize the experience to your preference.
Best Android Launchers With Gesture Support
In this article, we will share some of the best Android launcher apps with gesture support. So, let's check out.
If you want to enjoy the interface of Pixel devices on your Android device, then you need to try PSOL Launcher. It's a launcher that's designed to replicate the feel of Android 10.
If we talk about the Gestures, PSOL Launcher right now supports 7 different gestures such as double tap, one finger swipe, and more. Apart from that, PSOL Launcher also provides you with many customization options.
Opener is not a launcher app; it's an app that lets you open others apps just by drawing gestures on your screen. With a simple gesture on the home screen, Opener can launch sets of installed apps.
You can set gestures to open system settings, applications, call settings, shortcuts, and more. Overall, this is a great gesture app for Android.
The Launcher app for Android provides you with all features that you need to manage Android more efficiently and smartly. If we talk about the gesture features, the launcher is both Gesture and hotkeys supported.
It provides fully configurable gestures and hotkeys to access certain features. For instance, you can turn off the screen with a double-tap or show the notification panel with a swipe.
Action Launcher is another top-rated launcher app on the list, which brings in a wealth of color, customization options, and unique features.
If we talk about gestures, the app provides users with many gesture options. For instance, it supports swipe left/right gestures to access certain features like app drawer, quick page, etc.
Guess what? Lawnchair Launcher provides a pixel-type experience on Android. The app offers a wide range of customization options, and it has gesture support.
The gesture feature of Lawnchair Launcher allows you to set double-tap options, touch & hold options, home button/back button tap options.
Nova Launcher is a popular app that brings in a wide range of customization options. With Nova Launcher, you can customize almost every corner of Android with ease. If we talk about gestures, it has a long list of gestures and inputs.
With the pro version, you can unlock some advanced gestures combinations like Doube tap + Swipe up, Two Finger Swipe up, two-finger rotation, pinch out, pinch in, etc.
Microsoft Launcher is a go-to choice for many Android users who have been searching for a perfect launcher app. The app doesn't offer a wide range of customization options, but it surely doesn't miss out on the important ones.
If we talk about the gestures, it provides lots of gestures swiping shortcuts like swipe up action, swipes down, two-finger swipe up, two fingers swipe down, etc.
Apex Launcher is one of the top-rated Android launcher apps available on the Play Store. The launcher app offers free icon packs, themes, and many privacy features.
If we talk about the gestures, the launcher app offers convenient home screen gestures like pinch, swipe up/down, double-tap, etc.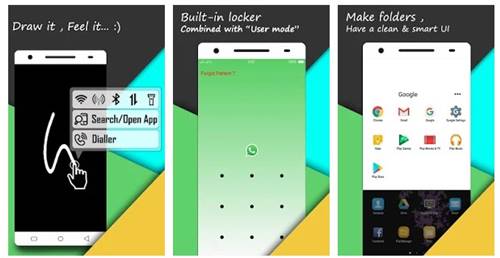 AUG =or 'Android Unique Gesture' launcher is an Android app that offers plenty of gesture options. In fact, Gesture is the heart of the AUG launcher.
It provides various gesture options to run apps, run shortcuts, run services, and control phone options such as hotspot, WiFi, Bluetooth, etc.
Although not famous, Pear Launcher is still one of the best launcher options for Android. The great thing about Pear Launcher is that it offers a wide range of customization options. For instance, you can create custom swipe actions, change icons, set icon labels, etc.
If your phone doesn't support gestures, you can use these launchers to enjoy Gestures. If you know of any other such apps, let us know in the comment box below. I hope this article helped you! Please share it with your friends also.