If you have been using Android smartphones for a while, then you might be well aware of Android Mods. Now, what are mods? Well, Mods are nothing else than apps that tend to increase the performance and look of your smartphone. Not only that, but a few mods can also add new features.
Just like Android apps, there are plenty of Android mods available on the web which you can use right now. So, in this article, we have decided to share a list of the best Android mods that you would love to use.
25 Cool Android Mods you Should Use
These Android mods will add new features to your Android smartphone. So, let's check out the list of best Android mods you should use.
1. Protect your Screen Privacy
You would not like to let anyone see your screen while you are doing some private job on your Android device. You cannot stop people from pointing to your screen but can easily prevent your screen lights from reaching them. Screen Filter App applies such filters to the Android screen, such as nobody could look at the screen content from any angle but you would see your device content easily!
2. Round-Edged Display
The Cornerfly app makes the edges of your display screen slightly rounder on Android. This helps to give that aesthetic look to the device. Try out this free app and you can grasp that amazing display screen modification!
3. Power Backup and Performance
Underclock the speed of your device processor or increase it by using the Kernel Auditor app. You can, therefore, decide to either increase or decrease the performance of your device and even boost the battery performance through doing that. It's up to you now how you use this app to get the best performance by increasing the processor speed or the best battery life by decreasing the processor speed.
4. RAM Boosting
RAM plays the most important role in the performance of your device. The ROEHSOFT RAM Expander app is made for those people who are lacking RAM space on their devices. This app lets them expand the RAM space by using internal or external storage as virtual RAM. This is an amazing app, as the benefits it grants are quite great!
5. Gestures for Fingerprint Scanner
Now the fingerprint scanner on your device could also help you reach your destination on the Android device quickly. Make up the fingerprint scanner gestures for your custom apps or settings through the Fingerprint Gestures app!
6. Increase the Loudness of Speakers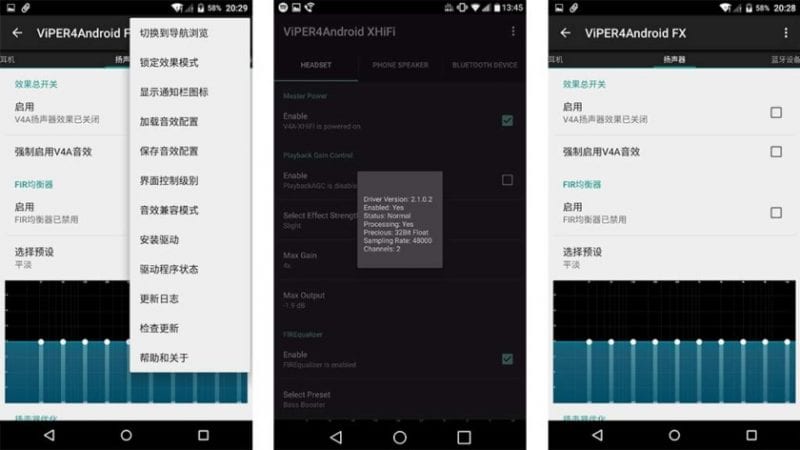 Viper4Mod is an amazing mod for audio enhancement. You could say that if it is used on any device, it would easily convert that device into a great music device. The ultimate enhancements that you could achieve in the audio quality could only be done only through this app. So many tweaks and features are there inside this app that you would never end up creating all-new audio quality and tone on your device!
Audio visualizers are great fun to add some moving excitement to the device. The navigation bar of the Android could be transformed into an audio visualizer that tweaks its looks while playing any music or audio. This could be achieved through the MUNIZ Nav Bar Audio Visualizer app. You can use it to add various types of visualizers and even create your custom one.
8. Battery Bar in Status Bar
The status bar on your Android could be utilized well for the update regarding the battery level. Although the battery icon is available right before in the Android status bar, the slider battery level could be added to it through the Energy Bar app. This converts the background of the status bar to the battery level indicator.
9. More Tiles to the Quick Settings
Tile Extension for Nougat is the app that lets the users add more custom tiles to the quick settings of the Android device. This means that if you are willing to have any specific option as a toggle in the quick settings bar, then you can do that simply through the above app.
10. Recycle Before Permanent Deletion
Have you ever witnessed the requirement for a recycle bin for the Android device, too, as it is available there on Windows and Mac? This helps to prevent the sudden deletion of any data or information. The dumpster app introduces the recycle bin inside the Android, and everything that the user deletes goes into the recycle bin first. You can then ensure that none of your app updates, images, or data gets lost suddenly as it would be first placed or shifted to the Recycle bin by the Dumpster.
11. Lock Screen And Heads-Up Notifications
Floatify lock screen app for Android adds an Android O Lockscreen with blurred background on your smartphone. You can Quick Reply texts directly from the lock screen itself. There are many other features included in the app, like Smart Wake, which let you turn on the screen as soon as you pick up the phone.
12. Double Tap the Screen On and Off
This awesome android app adds an extraordinary feature that lets users turn on/off their Android screen by just tapping on the screen. Users can also change the number of taps to avoid screen off.
13. Access web pages in full-screen mode
There is an app that goes by the name Fluscrn that lets users use every pixel on the screen to provide a better experience for reading books, watching videos, and playing games. With fullscreen app, you can force all apps to immersive Full-Screen Mode.
Want to replace the traditional notification center? Well, with the Material Notification Shade app, you can bring the features of Android Oreo to your notification panel. This app is fully customizable and comes with a few themes.
With Navbar apps, you can turn your Navigation bar to blue, red or anything you want. With this app, you can add a cool image as a background to match the navigation bar automatically.
16. Turn Android Into iPhone
Well, everyone gets bored with the smartphone at the time. So, if you are bored with your Android interface, then you need to try out the xOS Launcher for Android. The launcher can transform your Android interface into an iOS. Moreover, this launcher will let you experience super speedy and smooth operation.
17. Turn Your Android Into Windows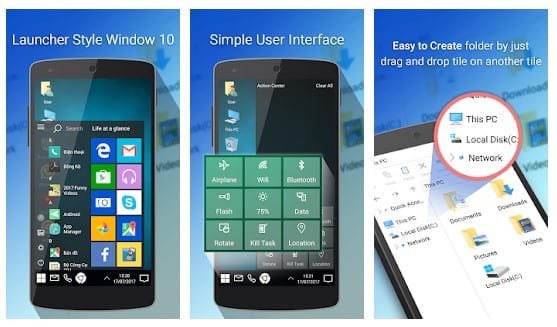 Are you looking for a computer launcher-style windows launcher for your android phone? Do you love the new style of windows 10 launcher? Are you bored with Android's User Interface and want to enjoy the Windows launcher on your Android phone? With Computer Launcher for Windows 10, you can experience the computer launcher Metro IO for Windows 10 on Android devices.
18. Easy Way to Adjust Volume
Well, there's an app available for Android devices that allows users to adjust the volume in a much easier way. The app is known as Volume Slider and it will help you to ditch the physical volume button of your Android. The app adds an icon on your home screen that you can use to control the volume. It will show you a volume slider that you can use to control volume levels without pressing the physical volume button.
19. Privacy Screen/Privacy Filter
If you value your privacy, then you will love this app for sure. There's an app known as Screen Guard that can help you to hide your screen from people around you. Normally, this app allows users to apply an overlay of patterns and colors on the top of the screen, which makes things difficult for intruders to read what's written on the screen. The app is different from night mode apps because it hides the text content from your screen.
20. Add Cool Battery, Processor, and Memory meter on Status Bar
Well, you can use the app known as Pixbars to add thin lines right under the status bar. These thin lines will show you the battery, processor, and memory percentage. The app is pretty much similar to the Energy bar, which had been already listed in the article, but Pixbars can add multiple lines to the status bar.
Well, if we look around, we will discover that Android smartphones are getting smarter. Now they are smart enough to perform different tasks automatically. There are some of the best Android apps available on the Google Play Store, like Macrodroid, which allows users to create macros. With Macrodroid, you can trigger different actions during any particular event. For example, you can turn on power-saving mode automatically whenever your phone's battery reaches the 30% mark; you can switch the phone to silent mode when you enter the office (requires GPS).
22. Enhance Gaming Performance With L Speed
Well, if you have a rooted Android smartphone, then you will love L Speed for sure. L Speed is a modification that combines multiple tweaks to improve the overall performance of your device. It will reduce significant lags, extend battery life, improve gaming performance, etc.
23. Change the Notification Panel
Well, you don't really need to have a rooted Android device to change the look of the Notification panel. You can make your notification drawer look outstanding by using the Power Shade Android app. With Power Shade, you can customize the base layout of your Notification panel as per your wish. Not just that, but with Power Shade, you can read, snooze or dismiss notifications as well.
Yes, you read that right! The Muviz app for Android adds a music visualizer to your phone's navigation bar. Not just on the navigation bar, but the app can also add a music visualizer on the Status bar. What's more interesting is that Muviz works on both rooted and non-rooted Android smartphones. So, It's another cool Android mod that you should use.
Want to enjoy the all-new Android Pie's Navigation Gesture on the older Android version? You need to use the Navigation Gesture app. With Navigation Gestures, you don't need to buy a new phone or wait for the next Android update to arrive on your smartphone. The app adds navigation gestures on your Android smartphone without root access. With the Navigation gesture, you can swipe left to move to the next screen and swipe right to move to the previous screen.
So, these are some of the best mods that you can use on your Android smartphone. I hope this article helped you! Share it with your friends also. If you have any other doubts regarding this, let us know in the comment box below.