Apple rolls out iOS 15.2 update and adds features like Apple Music Voice plan and the new iPhone parts and service history tab in settings. This feature gives more information about the repaired parts in users' devices.
The new iPhone parts and service history section in the settings tab will allow the users to see the service history of their devices and confirm that the parts which are used to repair are genuine.
Last month, Apple announced the self-repair program that will roll out next year. The company has said that the iPhone model with iOS 15.2 or above will show if any part of the device is replaced or not, like battery, display, and camera.
Apple Now Shows a Service History of Repaired Parts in iPhone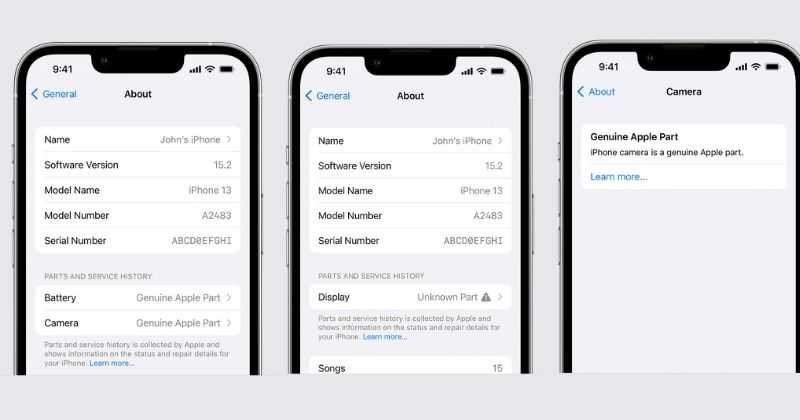 iOS 15.2 will be available to all users this month and will bring the new feature to iPhone. The new service history will show different information depending on the iPhone model.
The users of iPhone XR, iPhone XS, iPhone XS Max, and old models will see if the battery is replaced or not. And users of iPhone 11, iPhone 12, iPhone 13 will see if the battery and display are replaced or not. The iPhone 13 models can also check if the camera is replaced.
All the Apple users can see a "Genuine Apple Part" option next to the part in the history of that particular part that is repaired. One can click on that part and see more information like date of service and more.
In a new support document, the iPhone users who installed iOS 15.2 or above can go to Settings >> General >> About to access Parts and Service History. However, the Parts and Service History section will be seen only if the device is repaired.
If a part installation is incomplete, then the "Unknown Part" message will be displayed. This means the part was replaced with the non-genuine component. That particular part was already used in another iPhone.
Apple has added the "Parts and Service History" to the iPhone along with a change that the company is making to iPhone 13 models. At the time of release, it was said that if you replace a broken display on iPhone 13 without specialized tools and components from Apple, it disables Face ID.