The design of the iPhone 7 should not be a revolution. But it could usher in new colours. As we know, Apple iPhone 7 launch is just months away. Designer Martin Hajek has pushed out the render of upcoming iPhone 7 and believe me, they look pretty exceptional.
Apple iPhone 7 Renders: "Space Black" Might be the Colour you Desire
As we know, there are many reports coming from various sources which claims that Apple will come up with much darker colour than Space Grey and we can easily imagine that the colour could be formal black. There are also several reports that claim that iPhone 7 will come up with Space Black colour.
So there could be a good news for Apple fans because black colour could be appealing. As we also seen Apple's Macbook comes in black colour. However, iPhone fans are stuck in Silver and Rose Gold colour out there.
So the question arrives, How the Black Apple iPhone 7 will look like? Martin Hajek has created iPhone 7 renders and compared three colours that are Traditional Space Grey colour, Deep blue colour and Space Black colour. Martin Hajek's realistic looking renders actually added a few complex upgrades of his own.
As we know iPhone 6s are available in Gold, silver, space Grey and Rose Gold colours but these are actually common colours which are used by various smartphone manufacturers today. However, Rose Gold is the colour that has no or less competition in a market.
The render shows new iPhone 7 will have no 3.5mm socket for headphones. According to the various rumours, absence of headphone socket in iPhone 7 is much trending. From the above image, we also get a glimpse of new Home button, that looks like having Force touch capabilities.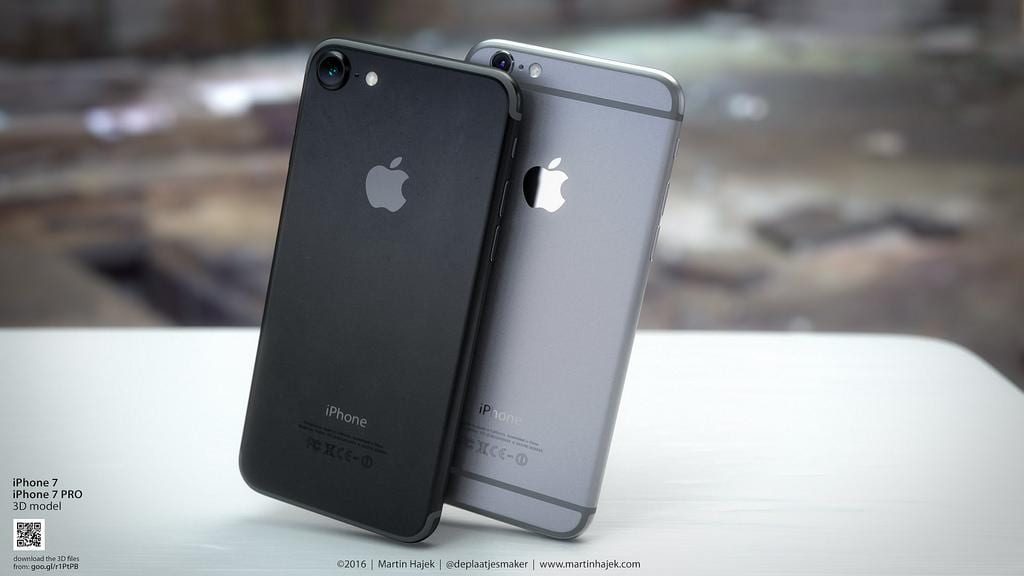 Now in the below image we can see camera lens is been enlarged and expected to have a more powerful sensor and the antenna lines of the phone have been moved to the top and bottom of the phone.
Tim Cook the CEO of Apple said in an interview that the new iPhone 7 will convince users to upgrade to the device. with this statement, we can imagine that something big is in the bucket. Till that, if the Martin Hajek's renders are anything to go by, then undoubtedly iPhone 7 looks amazing.
For more images, you can check out Martin Hajek's website.