Your wait is over now. Apple has officially launched iPhone 14 series in every region through its "Far Out" live event. And the best part is that there is no price bump.
The early known fact is that its pre-order starts this Friday, September 9. Besides, all the details about what's new in these iPhone 14 models and what every model will cost you.
What's New In iPhone 14 Series
iPhone 14 series includes four new models: iPhone 14, iPhone 14 Plus, iPhone 14 Pro, and iPhone 14 Pro Max. The new model in the family is the iPhone 14 Plus, which is the replacement for the mini version.
This iPhone 14 Plus is exactly the same as the iPhone 14 base model; the only change is that it has a larger display. Let's start discussing all the models below.
Design & Color Options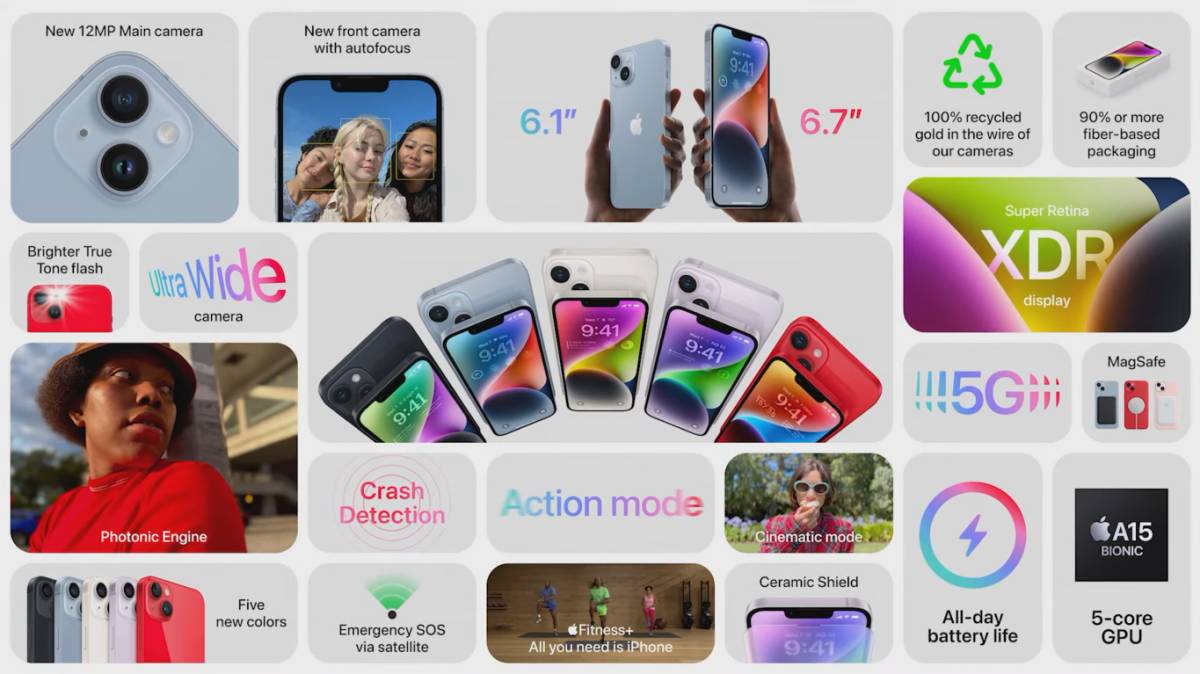 The non-pro models have the same design as the iPhone 13, but iPhone 14 Pro models come with some changes in the design, such as a more immersive look of the camera bump and new glossy chassis.
And if you notice the display of this series, there is a little boundary cutout, and the host also mentioned it in the event. In comparison, there is a new notch too in pro models, which we will discuss below.
Also, all iPhone 14 models got improvements in their flashlight, which is Adaptive True Tone Flash.
iPhone 14 and iPhone 14 Plus comes in five colors Midnight, Light Purple, RED, Starlight, and a new shade of Blue.
The Pro models have two new colors, Space Black and Deep Purple, alongside the other two, Silver and Gold.
Display
The latest iPhone 14 series comes with a Super Retina XDR display with HDR and Dolby Vision capability, and its HDR brightness capability is higher than 1200 nits, while the Pro models have 1600 to 2000 nits HDR brightness support.
With all that, all iPhone 14 models also have a Ceramic shield.
The models have Apple's custom OLED with HAPTIC Touch, and the iPhone 14 and iPhone 14 Pro display size is 6.1 inches. Besides, the iPhone 14 Plus and iPhone 14 Pro Max display size is 6.7 inches.
Camera
The non-pro models have a 12MP main camera which is said to be a 19% upgrade from the iPhone 13's main camera with OIS support. The front camera got many new improvements, such as new autofocus.
And this camera is a 12MP powerful lens with faster focus and a larger sensor. Besides, iPhone 14 also has a new faster aperture photonic engine for low light improvement.
Also, there are many improvements in the video section. As we know, iPhones are the only smartphone used for cinematography, so it allows recording at 4K with shiftable support of 24fps and 30fps.
The iPhone 14 Pro models have the most advanced cameras in Apple history, with a new 48MP main camera and a new 12MP Ultra Wide camera with all features of non-pro models.
And there is a new feature for video recording, which is Action Mode, that will allow users to record video with more stability while recording something unstable or actionable.
Performance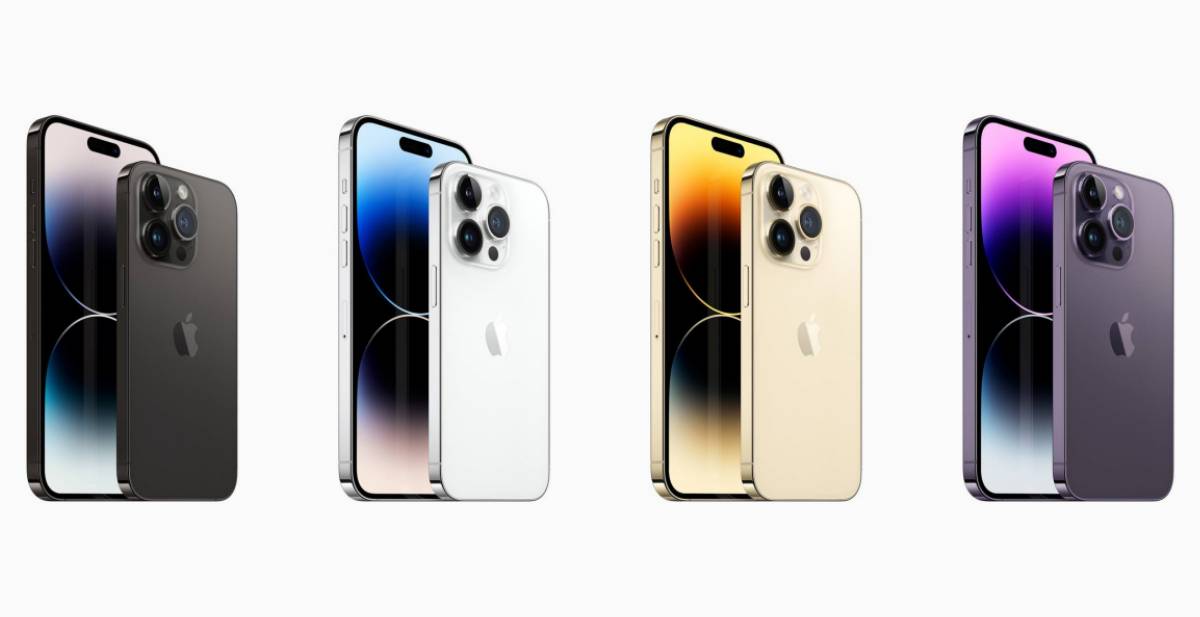 iPhone 14 and iPhone 14 Plus has the same A15 Bionic chip as last year's iPhone 13, but Apple said that it is 18% faster than the last year's.
But to be honest, the iPhone 14 base model seems completely unworthy of buying because it doesn't have something new from than iPhone 13 but has a performance bump.
While the iPhone 14 Pro models have a new A16 chip which is said to be the fastest chip in the whole smartphone industry, as for the connectivity, all models are 5G supported.
Battery & Charging
Apple has mentioned that the non-pro models of iPhone 14 have All-day battery life, and the iPhone 14 Pro models are said to have an All-day battery life, but its capacity will be larger than non-pro models.
The company hasn't revealed many details about the charging and battery of the iPhone 14 series, but it mentioned that MagSafe charging is supported.
New Features
eSIM
All iPhone 14 models will have this eSIM support which is aimed at creating a new ecosystem where every iPhone user will have a virtual SIM rather than a physical one.
But let me be clear that there will be a slot too, and one of the benefits of this eSIM is that if your iPhone gets lost and someone tries to remove so, it can't be possible, and you can track your device by cellular services.
Crash Detection
This feature is also available in both Pro and non-pro models, and this feature will help users if they get into an accident so their iPhone will automatically call emergency services.
And there will be a timer of 10 seconds in sending an SOS, or if you're mistaken, so you can cancel it.
Emergency SOS via Satellite
This is the most important feature for all iPhone models, but it will arrive in US and Canada in November this year. This feature will provide the ability to connect with emergency services with the connectivity of the Satellite.
Apple has made this technology possible in just iPhone rather than keeping a special device, but you just have to point to an antenna for better connectivity.
Dynamic Island (New Notch Design)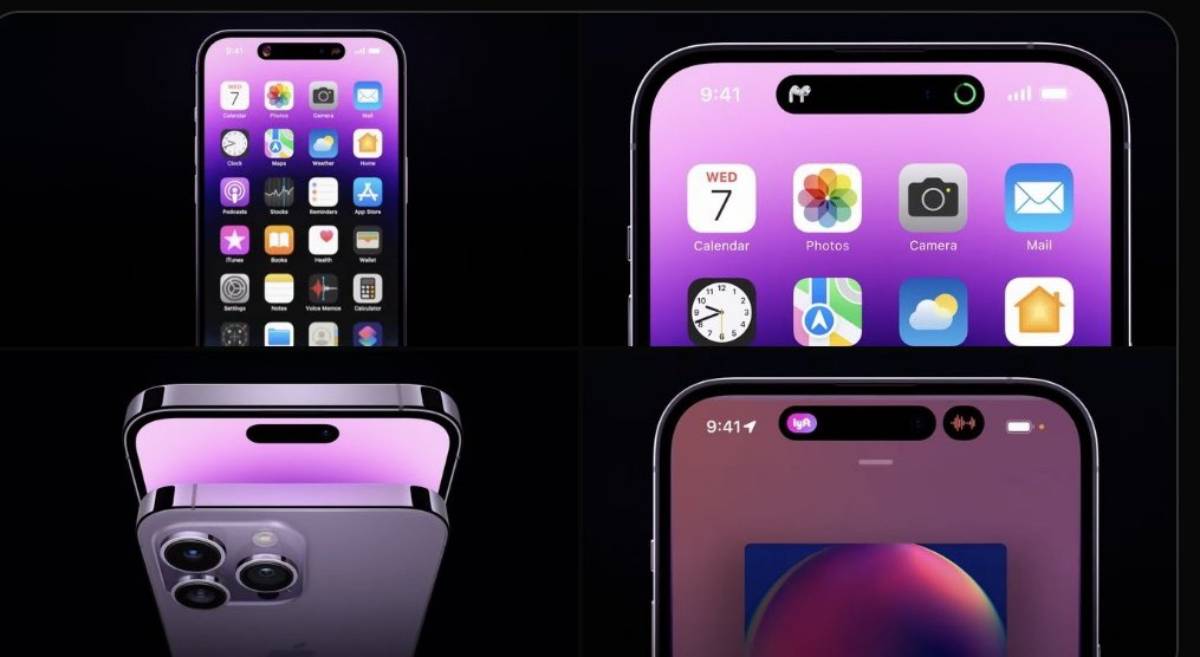 There is a new pill-designed notch in the pro models of iPhone 14. The new notch is more than just a notch. And it can perform integration with many apps.
Apple named it "Dynamic Island," as you see in the above image, and it will show you much integration in its animation, which is really great feature from Apple because any Android twerker hasn't done something like that.
Always-On-Display (AOD)
The Pro models got a new Always-on-Display feature. With this feature, your iPhone 14's display will automatically get dim and run on 1hz when it will not in use, and it will show you some major integration of the lock screen, including some widgets.
Price & Availablity
The pre-order for iPhone 14 series will start on September 9, and its availability will begin on Friday, September 16. Here is a list of all model's costs.
iPhone 14 – $799
iPhone 14 Plus – $899
iPhone 14 Pro – $999
iPhone 14 Pro Max – $1099
For a piece of advice, I'll recommend iPhone 14 Pro to buy because it seems to be the best in this series in terms of features and pricing. Let me know your thoughts in the comment section below.