With the growing use of technology, it has become easier to manage our finances. You can use an advanced cash app like Dave to borrow money instantly. A cash advance is a short-term loan offered by a bank or an alternative lender.
Today, you have many cash advance apps like Dave. Most of the best cash advance apps for Android & iOS provide you with similar functionality as Dave, often with better features in terms of cash availability.
So, if you search for the best apps like Dave for a cash advance, you have landed on the right page. Below, we have shared some of the best free cash advance smartphone apps. Let's get started.
How do Cash Advance Apps work?
Cash Advance is very similar to Buy Now Pay Later apps. On Buy Now Pay Later, your purchase and pay for a product later. However, on Cash advance, you borrow a sum for use during emergencies and pay it back later.
For example, you can borrow $100 a few days before your payday from the Cash Advance apps during emergencies. Once borrowed, the cash advance app will deduct the sum directly from your paycheck once it arrives a few days later.
You might think of Cash Advance as Personal Loans, but they are different. On Cash Advance, you're using your money; hence the apps don't charge you interest. However, cash Advance apps usually charge monthly fees between $1-$10 to use their services.
So, cash advance features in these apps are free to use, but you need to pay monthly fees that range between $1 to $10 per month.
List of Best Cash Advance Apps like Dave
Now that you know what Cash Advance is, you may want to know the apps that offer such features. Here are some of the best apps like Dave to get cash advance quickly.
Chime is a financial technology company, not a bank. It provides banking services through The Bancorp Bank or Stride Bank, N.A.; Members FDIC. Millions of users now use the app, which lets them control their money the instant transactions and daily balance alerts.
Chime differs from Dave as it doesn't offer cash advance facilities. However, eligible users can claim up to 200#$ via SpotMe, a feature allowing overdraw accounts up to 200$.
However, the SpotMe amount depends on the user's repayment history. Besides that, Chime also allows users to send money to friends, and family members, with zero transfer fees.
2. Varo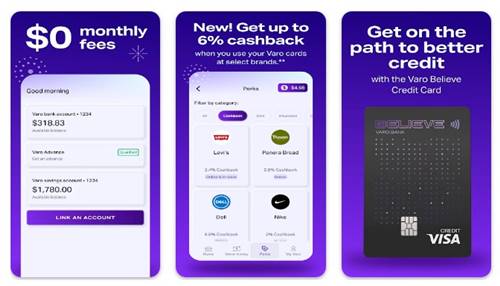 Varo is one of the best cash advance apps on your phone. Like the Dave app, this offers similar cash advance services, but the eligibility requirements are quite high.
First, a user needs to have an active account that has been active for at least 30 days. Second, within 30 days, you should make a transaction of at least $1,000. Also, an active Varo debit card is required to be linked to the bank to get the cash advance facilities.
If your account qualifies, you can borrow up to $100 to cover your unexpected expenses. Varo cards also provide fantastic cashback offers on selected brands.
3. Brigit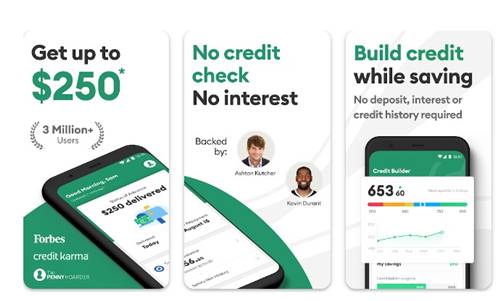 If you are looking for the best cash advance app to avoid expensive overdraft fees, then Brigit could be your best pick. Both Dave and Brigit share lots of similarities.
The service offers you $250 of paycheck advances and doesn't charge interest on the self. However, the problem is that you must pay a monthly membership fee of $9.99.
By paying the membership fees, you also avail of other features like free account monitoring services and tools to analyze your earnings and spending habits. Brigit automatically deposits cash into your account when it's low.
4. Earnin
Earnin isn't as popular as Dave, but it's still one of your Android smartphone's best cash advance apps. The service allows you to access up to $100/day or $500/paycheck.
The good thing about Earnin is that it's a completely free service; you can only pay a tip that you think is fair for its service. Besides the cash advance and paycheck, Earnin also offers other benefits like the Notification service that notifies you when the account balance dips below a certain threshold.
Also, a cash-out feature can instantly deposit up to $100 in your bank account to avoid overdraft fees. Overall, Earnin is an excellent cash advance app like Dave.
5. MoneyLion
MoneyLion is a personal finance, mobile banking, cash advances, and investing app. It's available for Android and iOS and facilitates ent services – RoarMoney and Instacash.
The RoarMoney pays you two days early and lets you earn up to $daily by shaking your smartphone with Shake N Bank. The Instacash provides you with up to $250 in cash advances.
However, like Brigit, MoneyLion also follows strict rules in picking subscribeTherefore, The requirements to satisfy the eligibility are pretty high— Users must also open a checking account at MoneyLion to get pay advances.
6. Branch- Personal Finance Loans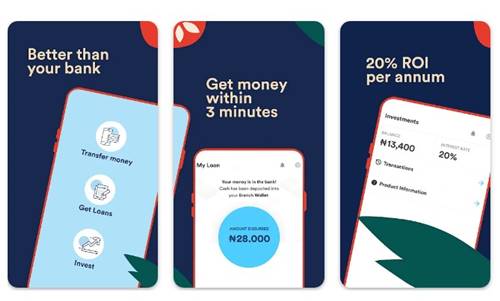 If you are searching for an app that can provide the simplest and most secure way to borrow, save, and improve your financial health from the convenience of your phone, then Branch- Personal Finance Loans could be the best pick.
Like every other app on the list, Branch- Personal Finance Loans provide a cash advance of up to $150 per day, or you can take $500 off your paycheck. However, Branch has strict requirements for its cash advance facilities.
First, you need a salary account with two salaries from the same employer. Second, you must have a checking account and a debit card at the supported bank. Third, Branch doesn't offer its services to remote workers.
7. Even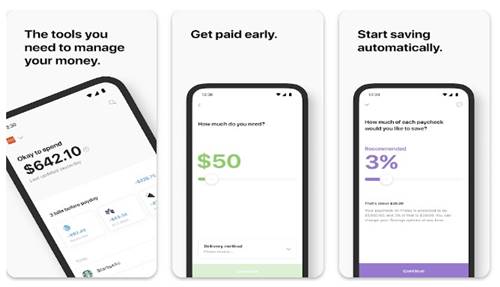 Ethe ven app provides the tools you need to manage your money. Like every other app on the list st, it Even lets you get paid early. However, to use it, employment to open an account with Even for the employees.
Once the open account is created, employees can borrow up to 50% of their unpaid wages for a given pay period. There are no transaction fees, but you must pay the monthly membership fee.
Another best thing about the Even app is its InstaPay feature that works with more than 18,000 banks to deposit cash to your bank account within one business day.
8. Empower
Empower is another best app like Dave that offers features like Instant Cash Advance. With Empower, you can get a cash advance of up to $250 when you need it the most.
The good thing about Empower is that it doesn't have credit checks and late charges fees. You only need a monthly membership plan that costs around $8.
Empower also has a feature known as Early Paycheck Deposit that allows users access to their paycheck up to 2 days early. Overall, Empower is an excellent Dave alternative that you can use today.
9. SoFi
SoFi is a one-stop app for managing your finances. This one is designed to help you get your money right, save, spend, earn, borrow, and invest.
This one is slightly different from most other apps in the article. It offers cash advance services through the SoFi credit card. And since it's the bank, the credit limit is usually very high.
With SoFi, you can avail of a minimum cash advance; the maximum cash advance limit for the day is up to $1,000. However, you must have a SoFi credit card to use its services.
10. Axos Bank
Axos Bank is probably the best early paycheck app that comes very close to Dave regarding features. It is a full-fledged digital banking service offering checking and saving accounts.
Axos offers many investment options, loans, personal finance management tools, and more. To get your money up to two days early, you need to use the Direct Deposit Express feature, which lets you access the money early.
Axos Bank also specializes in other banking-related features such as depositing checks, paying bills on schedule, transferring funds, etc.
11. mPokket
mPokket is a bit different than all other apps on the list. It's not exactly a cash advance app, but it can help you get Instant Personal loans at affordable interest rates.
Signing up with the app and getting an instant personal loan is easy. After the approval, the app transfers the cash directly to your linked bank account.
The reason we have listed mPokket is its flexible repayment options. Also, the app rewards you for timely repayment, and the processing & loan management fee is nominal.
Download: Android
12. Klover
Klover is a great instant cash advance app like Dave on the list. The app claims to provide you with a cash advance of up to $200, even when your payday is two weeks away.
We like that Klover works on a point-based system where you can earn points by taking surveys and watching ads. Once you have collected some handsome points, you can cash them out for a bigger advance.
Klover also has a set of budgeting tools that you can use to create saving goals, track your credit score, earn extra points when you reach your goals, etc.
13. Beem
Beem is another top-rated instant cash advance app on the list. It has its services available in over 5200 cities.
With the cash advance, with Beem, you can get $20-$1,000 of the funds you plan and add it to your Been Wallet. The Plus and Pro plans of Beem also unlock the instant cash option.
Besides the cash advance, Beem lets you file federal and state taxes for free in any region. So, it's an all-in-one app to grow your credit score and manage your financial requirements.
The only thing is that Beem is now available only in the US. So, if you live in the US, Beem might be the best pick for you.
All the apps listed in the article are available for Android and iOS, and you can download & install them from the respective app stores. So, these are some of the best apps like Dave to get cash advances quickly and instantly. Let us know if you want to suggest similar apps in the comments below.