It's no doubt that images and videos are right now the mainstream social networking platforms. Every other day, users share new photos and videos. If you spend endless hours scrolling down and exploring social media feeds, you might know that the trend of animated photos, GIFs, and videos is high on these platforms.
These days, adding filter effects and animation to videos is relatively easy, thanks to many photo editing apps available on the Google Play Store. So, if you are also searching for ways to animate a still photo, you are in the right place. This article will share some of the best apps to help you animate a still image.
Also Read: 10 Best Android Apps to Blur Photo Background
List of Best Apps To Animate Photos On Android
It's worth noting that hundreds of apps to animate photos are available on the Google Play Store, but only a few work. So, in this article, we have listed the manually tested apps. These apps are working and are highly popular on the Google Play Store. So, let's explore the list of best apps to animate photos.
Motionleap is an Android 3D picture editor app that offers filters for adding motion to your picture. Guess what? With Motionleap, you can quickly animate still photos and turn them into something short and interesting. What's more interesting is that Motionleap also allows users to freeze a few parts of the images, apply filters, etc.
If you are searching for ways to create GIFs using your photos and videos, ImgPlay might be the best pick for you. Guess what? The user interface of ImgPlay is much cleaner than Pixaloop, and it's not bloated with useless features.
However, the only downside of ImgPlay is that it sticks a watermark on your images, which can't be removed unless you purchase the premium version. The app is available for Android and iOS, and it's one of the best Android apps to animate photos.
With Movepic, you can easily create live photos, wallpapers & gifs with animated effects. The great thing about Movepic is that it allows you to animate anything in light motion photos simply by drawing a path.
Also, you can manually adjust the speed of the photo loop animation. However, on the downside, the app's free version adds a watermark to the edited images.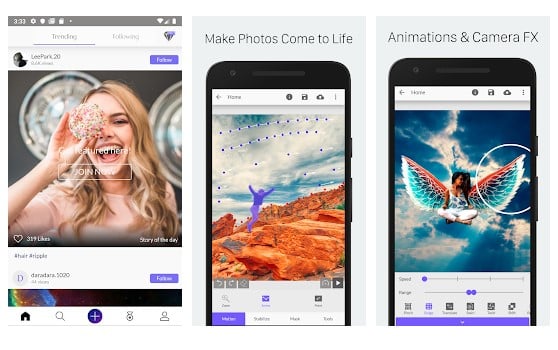 If you have been searching for ways to create visual stories from still images, then StoryZ Photo Motion might be your best pick. Guess what? StoryZ Photo Motion can make your pictures move and come to life.
The app is a little bit advanced, but it offers many exciting and useful features. For example, to make your photos come to life, it uses programmed paths of movement, overlays, and color filters.
PixaMotion Loop is a relatively new yet popular live photo, live wallpaper, and moving background creator that you can use on your Android smartphone.
Unlike all other animator apps, PixaMotion Loop also got a video maker to create unique short videos. Its motion-on-image editor is capable enough to create stunning live photos in motion.
Zoetropic offers many 3D effect tools and Camera FX to immerse your photos. Compared to other apps on the list, Zoetropic is extremely easy to use.
To make a photo move, you must set the motion points, mask the areas you wish to keep still, and customize the motion points with overlays and audio.
VIMAGE is a cinemagraph creator app that lets you animate still images. With this app, you can add hundreds of moving photo effects, filters, presets, and overlays to your photos. The app can turn your precious images into creative living pictures.
Lumyer is a video editor that lets you add effects to videos. However, the good thing is that Lumyer works with photos as well. To animate pictures, you need to take an image from the camera or the gallery to get amazing animation effects.
Not only that, but Lumyer also got the ability to turn your photo into an animated GIF and video.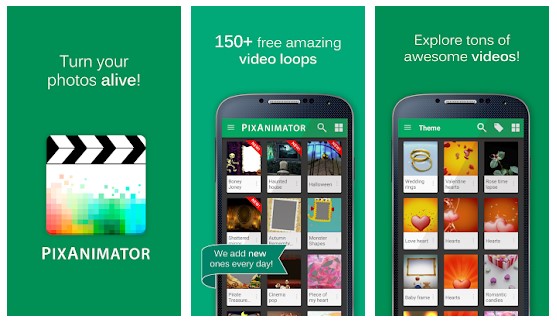 Well, if you are searching for an Android app to turn your photos into awesome video loops, then PixAnimator might be the best pick for you. It lets you use the images stored on your gallery, camera roll, Facebook photos, etc., to animate. Apart from that, the app receives new loops every day.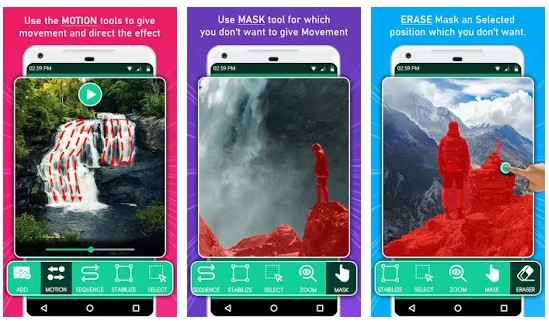 Photo Animator & Loop Animation Editor is a relatively new Android photo animator app on the Google Play Store. With Photo Animator & Loop Animation Editor, you can quickly transform memorable photos into beautiful animations.
The app offers a bunch of exclusive overlays, motion effects, etc.
ToonMe is an amazing Android photo editing app that turns your portrait shots into a cartoon or vector style.
The application is free on the Google Play Store, and it just takes a few seconds to turn your photo into a cartoon or vector art. You also get a full-body cartoon maker, vector portrait templates, etc.
Moving Pictures & 3D Pictures from Imagix is an app that lets you create live photos, wallpapers, and moving themes.
Thanks to its motion on an image editor, creating stunning live photos in motion is easy. The app was previously called Pixamotion, and it's one of the best apps to animate photos on Android you can use today.
If you are searching for a fun photo animator app for Android, look no other than Revive. Revive Face Photo Animator is an app to create an animation from any photo.
To get started, you only need to take a selfie, add a lip sync effect, and animate your face. The only drawback of Revive is that most of the features are locked behind a paywall. You only get a handful of choices on the free version.
You can use these free Android apps to animate a still photo. I hope this article helped you! Please share it with your friends also. Also, if you know of other such apps, let us know in the comment box below.