If you are a businessman, many people will hand over their business cards to you during meetings, networking events, and conferences. However, you will not find their business card when you really need it.
It's not easy to keep all those business cards in your pocket, the only solution for that is to save all their details in contact with your phone, but it doesn't make any sense to type all the details one by one.
List of 10 Best Apps to Scan Business Cards
Here in this article, we will tell you about the best Apps to Scan Business Card and Digitize Contacts on Android; All the below features application is available on Google Play Store.
If you are searching for a lightweight and simple to use Android app to manage and exchange business cards, then look no other than CamCard. With CamCard, you can quickly scan and store your business cards, exchange e-cards with people nearby, and more.
Also, CamCard allows you to add notes & reminders to contacts, search contacts, navigate contact addresses on a map, and more.
BlinkID is an Android app that helps you keep all your documents in one place. On BlinkID, you need to create a Wallet, and store all your cards in it, such as Membership cards, loyalty cards, library cards, and more.
You can scan and save all kinds of paper, plastic cards, and more. Apart from that, the app also allows you to share your documents as PDFs, images, or text via mail or any other app installed on your smartphone.
Well, Business Card Scanner by Coove is one of the popular business card scanner apps available on the Play Store. The app is known for its accurate business card scanning and reading features.
The android app features an AI-powered image reading tech that accurately scans and reads business cards in over 30 languages. Once scanned, you can export the business card as contact, Excel, Outlook, or Google Contacts.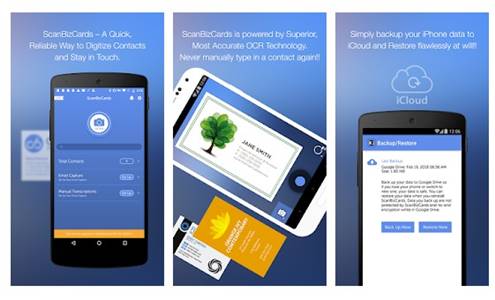 ScanBizCards Lite features many advanced features; you can directly export all your business cards to CRM software, and ScanBizCards can export cards to CRM platforms like Salesforce and SugarCRM.
This card scanning application will scan the card on your phone OR submit the card for a 100%-accurate manual transcription.
DigiCard is a relatively new Android business card reader application available on the Google Play Store. The app uses Optical Character Recognition to scan texts from a business card.
Once scanned, it also lets you edit the text recognized by the app. Apart from that, DigiCard can also be used to create your business cards. It offers multiple export options like exporting your cards to the device's contact list, saving as vCard, saving as CSV file, etc.
BizConnect is the most preferred card scanning application. Professionals prefer this application due to its accuracy.
With BizConnect, you will never get the visiting card details wrong, thanks to its stringent leveraging of OCR and human intelligence. You can also scan up to 10 cards at a time.
CardHQ is a free card scanning application that supports multiple languages worldwide. The application is entirely free but not so accurate.
Sometimes you have to edit the contact details manually. You can also Auto send an introduction email for each name card scanned and Auto backups all cards.
Haystack Digital Business Card application will allow you to create your needed digital business cards in seconds; you can create as many cards as you want.
There are no limits. The app will also allow you to share your digital business cards via email, text, VCF, vCard, and NFC.
This Business Card Reader will instantly transfer your business card data in more than 25 languages right onto your smartphone.
All your information will be synced with you all the devices; You can also share biz contact data from BCR via e-mail or SMS and export it to Excel.
This application is equipped with advanced OCR technology to scan business cards. You need to scan the QR code and fetch all the card details. You can also create your digital business cards with it.
These are the best apps for Scan Business Card. I hope this article helped you! Please share it with your friends also. If you know of any other such apps, let us know in the comment box below.