According to the latest reports, the well-known Taiwanese multinational computer and phone hardware and electronics company just launched its first gaming smartphone, Asus ROG Phone simply to beat Razer's gaming smartphone.
Asus ROG Phone – Snapdragon 845 SoC, 3D Vapour-Chamber Cooling, 512GB Storage
If you thought you had heard the term "gaming smartphone" for the last time, you made a mistake. It all started with the Razer Phone; since then we had the Xiaomi Black Shark, Nubia Red Magic and now the Asus ROG Phone.
What defines a smartphone for gamers? As there is no way to put a GTX 1080 in such a small space, and creating a custom graphics chip would be a lot of work, manufacturers need to follow other paths.
In the case of the Asus ROG Phone, we have here a flashy design, a series of accessories, and the fastest mobile processor that Qualcomm has ever released.
The AMOLED 6-inch screen has Full-HD resolution, 18:9 ratio, and 90 Hz refresh rate for greater fluidity. There is also HDR support, and the image processing chip increases local contrast even in videos and games without high dynamic range.
The display can detect ringing even if you're wearing gloves, and there's something that Asus calls AirTriggers. These are "ultrasonic buttons" that can be activated with only 20 grams of force.
There are two buttons on the bottom edge (with the device horizontal), and one on the upper right corner. You can configure them to run macros within games, or open certain apps.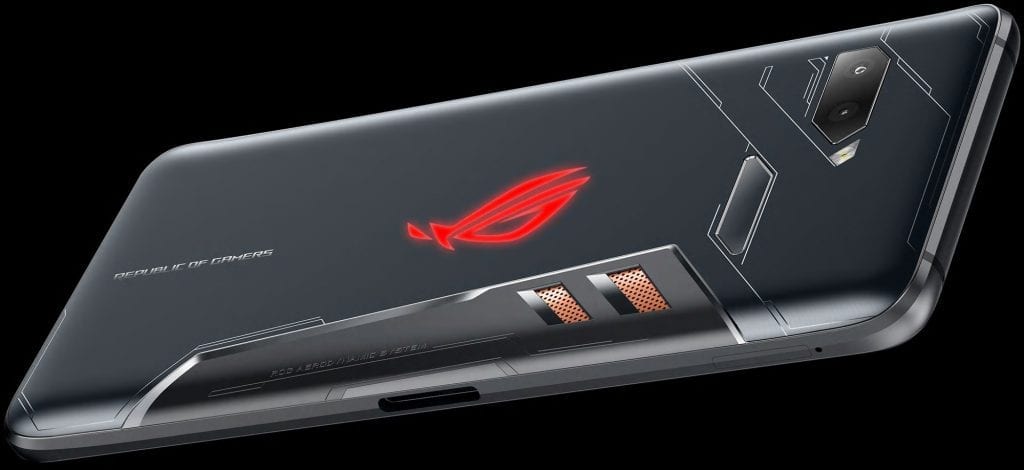 The device features a custom version of Snapdragon 845 that runs at up to 2.96 GHz or 200 MHz more than the standard model. In "X Mode", the processor runs at a high minimum clock to avoid gagging, as well as keeping tasks on only the four fastest cores.
To prevent overheating, the ROG Phone has a copper diffuser and a 3D steam chamber that transfer heat from the CPU to the body.
It also comes with an accessory called AeroActive Cooler, a fan that fits in the back "to accelerate heat dissipation".
This is just one of the ROG Phone accessories. We also have a gamepad, called Gamevice, that places physical buttons on each side of the screen.
You can use it by playing on your smartphone or broadcasting the image to the TV with WiGig Dock, which wirelessly stream using Wi-Fi 802.11ad 60 GHz.
If you want, you can dock the device in the TwinView Dock, which has another 6-inch screen and a 6000 mAh battery.
It turns a portable console with additional features such as rear cooling and four front speakers.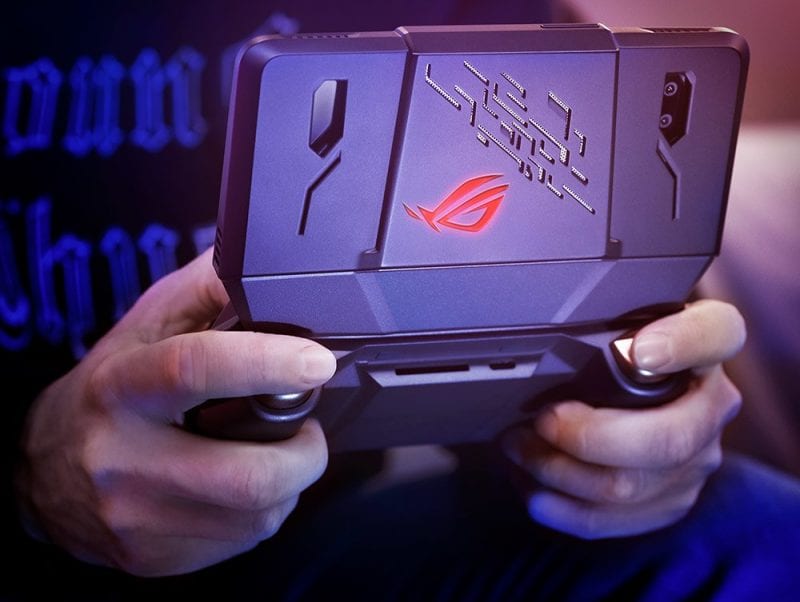 finally, the Mobile Desktop Dock lets you connect your smartphone to a monitor, keyboard, mouse, 5.1 speakers and Gigabit Ethernet connection.
As for the other specifications of the ROG Phone, we have here 8 GB of RAM LPDDR4X, 128 GB/512 GB of internal storage, and 4000mAh battery with support for Asus HyperCharge. They are 8.6mm thick and weighs 200g.
It has two USB Type-C ports. One is on the left side, next to a proprietary Asus accessory port, and has USB 3.1 and 15W support. Meanwhile, the port at the bottom supports USB 2.0 and 20W charging. In addition, there is a 3.5 mm jack for headphones.
The front camera is 8 megapixels. On the back are the dual 12MP + 8MP camera, the digital player, and the logo that – of course – shines with LED lights. You can choose the colour and effect as well.
How much will it all cost? Asus does not reveal the price but says it will launch the ROG Phone in the third quarter.
So, what do you think about this? Simply share all your views and thoughts in the comment section below.