If you use banking services on your computer, you might know about the OTP messages. OTP or One Time Password is an authentication method where an SMS containing a secret code is sent to your registered phone.
One-Time Passwords (OTPs) are used everywhere, from logging into social networking sites to verifying credentials for fund transfers. This is indeed a great security feature, and it's far more secure than having only user-created passwords.
User-created or static passwords can be used multiple times without requiring your phone, but an OTP requires you to have your phone where you will receive the secret code. The amazing thing about OTP is that the code sent on the SMS expires once it's used.
So, if your smartphone is filled up with OTP messages that are no longer valid, you can choose to delete them. To ease the delete process and declutter the SMS inbox, Google Message introduced an exciting feature that auto-deletes one-time passwords after 24 hours.
Steps to Auto-Delete OTP Messages After 24 Hours on Android
Hence, if you are looking for ways to free up some storage space on your smartphone and declutter your SMS inbox, it's good to turn on the Auto-Delete for OTP messages on Google Messages app. Here's how you can enable the feature.
1. First, head to the Google Play Store and search for Google Messages. Next, open Google Messages from the list of apps, and update the app.
2. Next, open the Google Messages app on your device and tap on the three dots as shown below.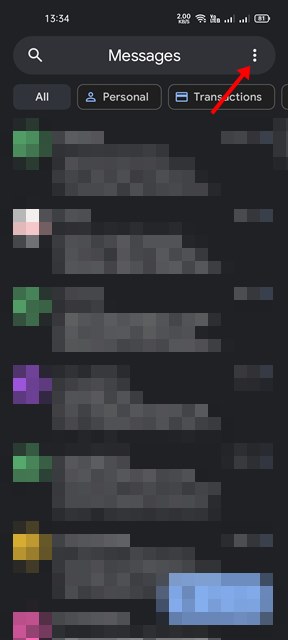 3. From the list of options that appears, tap on the Settings.
4. Now, on the Settings page, tap on the General settings option as shown below.
5. Next, scroll down and tap on the Message organization option as shown below.
6. On the Message organization page, scroll down and enable the toggle for 'Auto-delete OTPs after 24 hours'
That's it! You are done. This is how you can Auto-delete OTP messages after 24 hours on an Android device.
Other Ways to Increase Security?
Apart from OTP, you can also take a few other steps to protect your online and banking accounts. For example, you can create a super-secure password for your online accounts to defeat hackers.
Alternatively, you can turn on two-factor authentication on your social networking sites to protect them. On Techviral, we have already shared a detailed guide on how to turn on two-factor authentication on Facebook, Instagram, Twitter, etc. So, make sure to go through those guides to increase your online accounts' security.
Well, one-time passwords were essential, but once they were used, they became invalid. Hence, deleting those messages to clean your SMS inbox makes sense. I hope this article helped you! Please share it with your friends also. If you have any doubts about this, let us know in the comment box below.